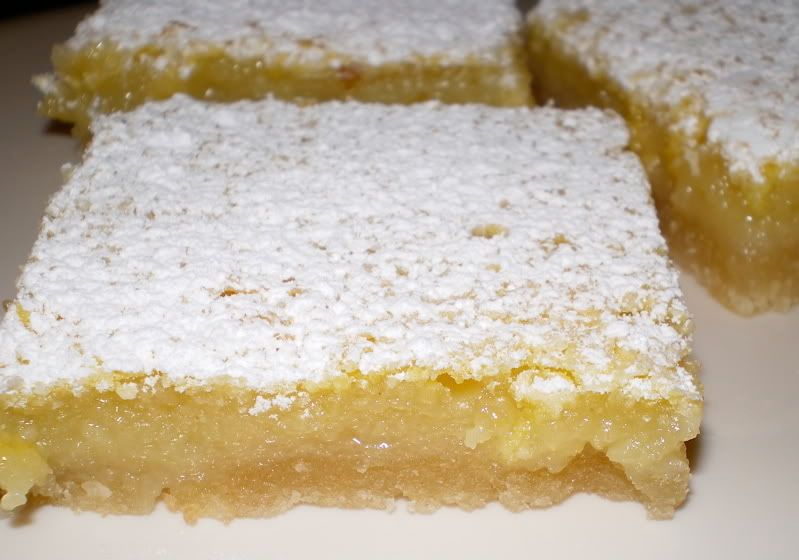 There's something I find absolutely delicious about lemon desserts. In fact, lemon might just actually be one of my top three dessert flavors... and I say "top three" to be conservative since I can't think of what flavor I consistently like better. Lemon is light. Lemon is refreshing. And lemon gives ya that fabulous little "
zzzzing!!!
" where your jawbones meet. DJ hates that! hahahahahahahaha
While most of the US has switched the clocks over to Daylight Saving's Time, it's still dark in the morning when I get to work and it's cold and wintry in many places because it really still is winter. Since I'll be gone on vacation when the seasons change later this month, I thought I'd do an early "Welcome Spring!!!" post and share a recipe for Lemon Squares.


And since I know how closely you're watching the ticker on the right side... why don't we pause for a moment and talk about the elephant that's in the room. No, not my butt

thankyouverymuch

! I know it's not exactly the smallest thing around but it's also not big enough to be considered the elephant in the room with us. The only thing THAT BIG would be... OMG - totally excited.... my vacation!!!! We leave on Monday and I can't wait! I've been busily crossing off items on my to-do list and I think I'm almost ready to start packing. Can't start it too early or I'll just keep adding and adding more stuff all weekend... so I have to chill... be patient... and wait... until Sunday. But aside from doin the laundry and paying a few bills due while we'll be gone I think I'm on track. And since we're leaving on St. Patrick's Day, you know DJ and I have our outfits all picked out! hahahahah I've got a shamrock tiara that lights up, shamrock earrings, a glittering green bow tie, a green shamrock t-shirt and a sparkling green shamrock lei that lights up!!! DJ's got a bright green top hat, huge green sequined bow tie, green Mardi-Gras style beads
and a green t-shirt that has a green-n-white garter with a shot glass around the arm band!!! Yes Siree Ricky Bobby we'll be styling as we get on the ship! LOL LOL LOL. People will look at us and say "wow, now

they're

a fun couple" (or perhaps they'll just think we're a pair of insaniacs to be avoided at all costs! hahahahahah). But it'll be fun and it'll be cute and maybe... just maybe, I'll post a pic when we get back ;-) And since one of my dearest co-workers had to chide me about my tiara, I posted a pic of that one now! LOL
This recipe for Lemon Squares is not super tart. They're certainly not tart enough for me but for DJ there's more than enough to get that little jawbone screetching "
zzzzzing!!
" going! LOL This recipe is a safe bet for middle-of-the-road tartness. You can, of course, adapt it to your liking for more sweet or more tart.
2 eggs
1 cup plus 2 tablespoons flour - divided
1 cup sugar
1/4 cup powdered sugar
3 tablespoons fresh squeezed lemon juice
1/2 teaspoon lemon extract
1 stick butter - cold
1/2 teaspoon lemon zest
Preheat the oven to 350F and use baking spray to coat a 9" square pan
In a mixing bowl, combine the lemon zest and granulated sugar. Using your fingers to mix and press until the sugar is moist and fragrant. Set aside.
Combine the butter, powdered sugar and 1 cup of the flour (reserve 2 tablespoons of flour for the filling) and press this mixture into the bottom of your prepared pan. Bake until light golden brown (about 2o minutes) then remove from oven.
While the bottom is baking, mix together the eggs, granulated sugar/lemon-zest mixture, lemon juice and reserved 2 tablespoons of flour. Be sure this is thoroughly combined and then pour it over the bottom while the bottom is still hot. Return to the oven and bake for 25-30 minutes.
Remove from the oven... cool for 10 minutes then cut into squares. Dust with powdered sugar. Eat and enjoy that fantastic little "
zzzzing!!
" where your jawbones meet :)