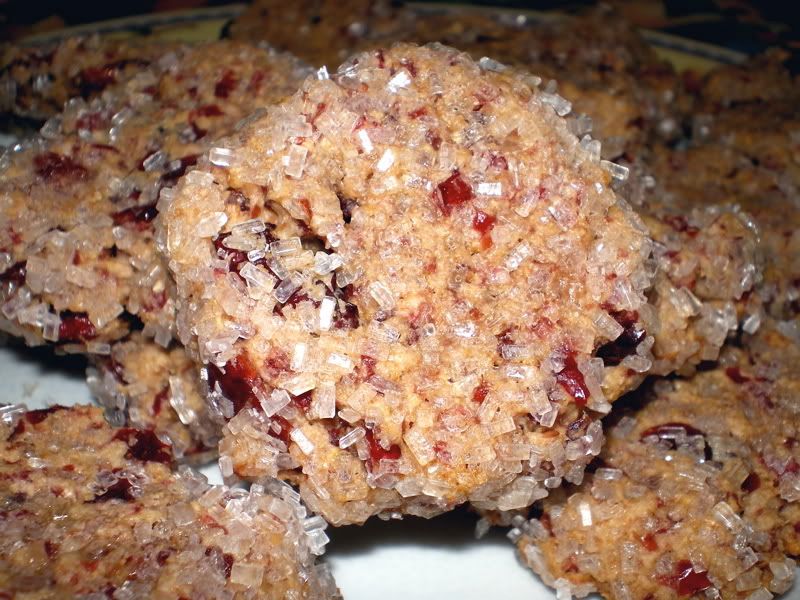 WOOHOO - - - It's Friday!!!
Yes, we've made it thru yet another work week and the weekend is upon us. That calls for a happy dance right there =) =) =)
Have ya noticed the countdown ticker on the right side of my blog pages? Not that I'm excited or anything!
LOL
!! DJ woke up this morning and said "oh yay, just one more week until we go on vacation". Of course I had to tell him it's actually 10-days away, but he's counting work-weeks so that's fine by me. Just one more week of work before our two week vacation. Can't wait! With the exception of the Pearl Harbor/USS Arizona, we've decided to fore-go the usual shore-excursions provided by the cruise ship and do our own thing. We've got cycling journeys lined up for each port and they sound like a lot of fun (plus a lot less $$ than the ship-sponsored stuff that just doesn't sound like "us").
We've also got our workouts planned and music downloaded. We're both doing the
Couch-to-5k
program as training for running a 5k. I was searching for workout music this week and found the most incredible stuff from
Podrunner: Intervals
that you
must
check out... especially if you're a runner (not that
I'm
a runner because most assuredly I am not... but hey, a girl can dream, right? heheheh). Aside from lounging around and enjoying the spa services, I'm actually looking forward to the cycling tours and keeping up my workout routine and
NOT
gaining a crapload of weight on vacation.
Oh and speaking of weight, I've lost another 4 pounds - yay! I'm still about 4 pounds from my
before-we-leave-on-vacation
mini-goal but I've still got 10 days to get even closer to meeting it. I know... 4 pounds in 10 days is a seriously unrealistic target but that's okay, even if I don't get there, just the closer I get
to
meeting it, the happier I will be =) And ya know, it's not always about the scale and how many pounds you've lost... more important is physical fitness and how you look and feel in your clothes.
I've upped my exercise and cut back my calories... and I started losing weight again. Sometimes it starts to feel like a "diet" which is not something I like. But ya gotta do whatcha gotta do =) I miss my creative cooking and I most definitely miss my sweets. I tell ya, the RPC has got a sweet tooth like there's no tomorrow! But there are still ways to enjoy sweets and not feel totally deprived.
Here's a recipe for Sparkling Cranberry Gem cookies that I found thru the King Arthur Flour Company website. While these cookies are low in calories they're definitely high in taste! They're made with wheat flour, cranberries and only a small amount of sugar and milk. I'll be making them this weekend and hope you do too! But whatever you do this weekend, remember they don't come around often enough so make it a good one :)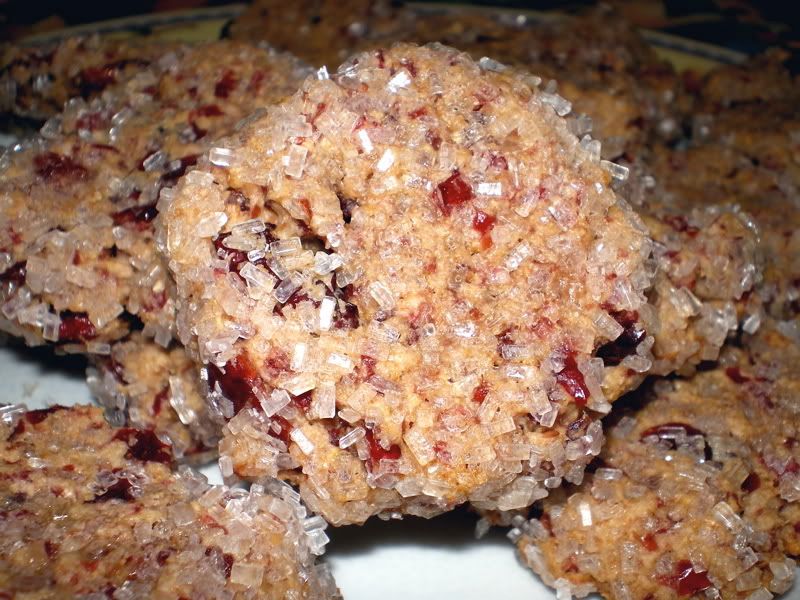 (adapted from King Arthur Flour)
1 cup flour (pref. whole wheat but all purpose is fine)

1 1/2 cups dried cranberries

2 tablespoons powdered sugar

1 teaspoon baking powder

1/4 teaspoon salt

1 teaspoon vanilla extract

6 tablespoons cold unsalted butter, cut into pats

3 tablespoons milk

1/3 cup coarse white sparkling sugar

Preheat the oven to 350°F and lightly grease two cookie sheets

Shred the dried cranberries (I use a Magic Bullet but a food processor works fine too) to the point where the pieces are about 1/4th of one cranberry. Combine with the flour, sugar, baking powder and salt. Then add the vanilla and butter... and mix until crumbly. Drizzle in the milk while mixing... the dough will begin to somewhat stick together.
Put the coarse sugar in a quart sized Ziploc bag.
Scoop the dough into about 1" balls and place a few of them in the bag. Close the bag, and gently shake to coat the balls with sugar. Place them on the prepared baking sheet, and use the bottom of a glass to flatten them to about ¼" thick. Repeat with the remaining dough.
Bake for about 15 minutes, until they're just
BARELY
starting to brown around the very edge; the tops shouldn't be brown at all. Remove them from the oven, and cool right on the pan.
Enjoy!!