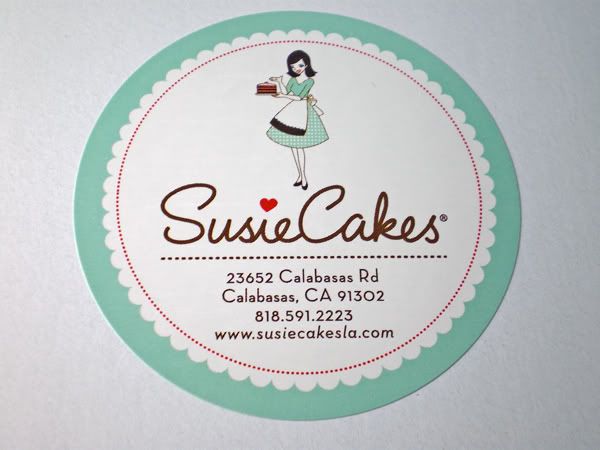 As I often say "tomorrow's another day"... and today (being yesterday's "tomorrow") was the day to try Susie Cakes. I love cupcakes... really and truly... I do! I do!! I do!!! I checked their website yesterday and considered going by there today but just as quickly I talked myself out of it. Uhm... for a while :) You see, I had to leave work early for a doctor's appointment... and then, after that, I had a hair appointment with Nick, my hair god who is absolutely amazing... laughs at my stupid jokes... tosses in his own cute jokes... makes me feel beautiful... and whips my hair into shape... oh, but I digress... uhm... back to cupcakes! LOL!! but THEN, after my appointment with Nick, yup, I was still on that side of town so I hit Susie Cakes in Calabasas. And boy am I EVER glad that I did!!!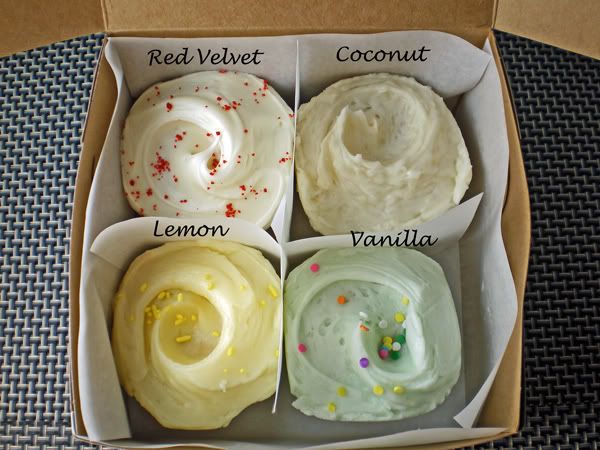 These cupcakes might just be the best I've ever had in my life... and Lord knows I've tried a LOT of cupcakes. The cakes were fresh and moist... not too sweet and definitely not bland. The cream cheese icing was so smooth and creamy with a very nice balance of flavors. The buttercream icing was flavorful and surprisingly not excessively sweet.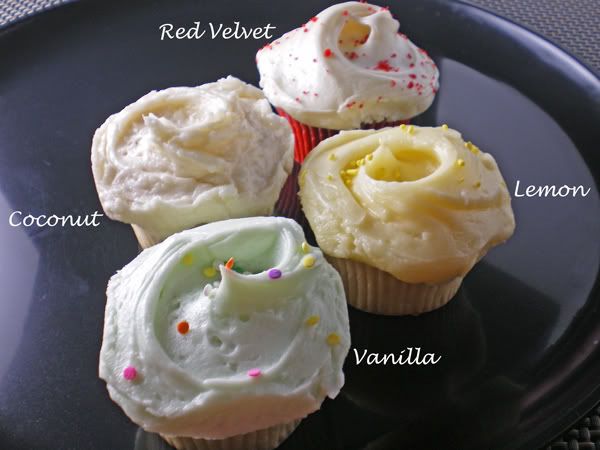 The vanilla was delicately flavored... clean and light but definitely "vanilla". The cake and icing were matched beautifully.
The red velvet was heavenly... just a hint of cocoa (unlike other places that mistakenly want to make this a chocolate cake which Red Velvet is definitely not meant to be) with a wonderful cream cheese icing that was darn near perfect. I can't believe how incredibly difficult I find it to take even a moderately decent picture of the inside of a red velvet cupcake! LOL! LOL! LOL!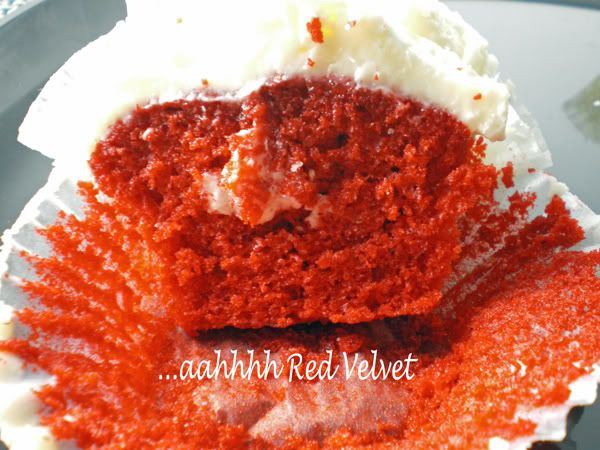 The lemon? O-M-G! Now THIS is how a lemon cupcake is meant to taste. Not too tart... not to sweet... fresh... citrus-y... really I can't imagine how this could be improved upon.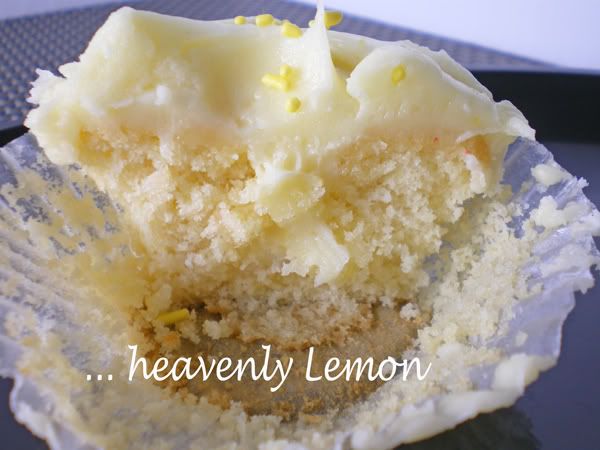 The coconut was delicious... the coconut was very fresh and not at all chewy - I'm not a huge coconut lover but dang this was really delicious!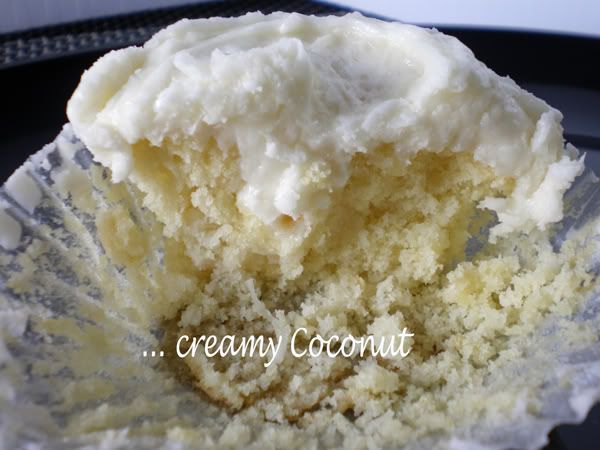 All in all, Susie Cakes knocked the ball straight outta the park... they blow those "famous" Sprinkles Cupcakes out of the water by a long shot. I only tasted these specific four flavors but there are so many others I must try (hey... it's research, folks, remember???) that I will simply have to go back... soon!!!
Definitely visit their website
http://susiecakesla.com/
They've got three locations so if you're ever in Southern California, you absolutely MUST visit Susie Cakes.
Wow... this was heaven!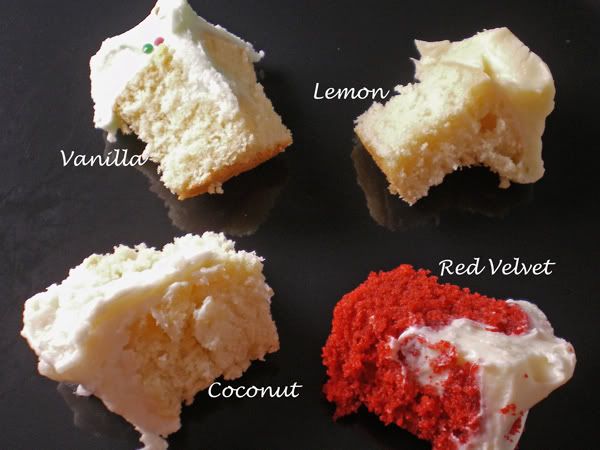 UPDATE::: 
04/27/08 
Since I originally wrote this post, I've been back to SusieCakes a few times and tried more flavors (no pics, sorry).  It's 3 miles from my office so I'm worried I'll be in trouble since I find them to be (so far) the absolute best cupcakes I've ever tried (and Lord knows I have tried plenty... all in the name of research, my lovies).  I've also sampled their strawberry, mint chocolate (so subtle, so clean, so flavorful) and pineapple upside down cupcakes (omg - I made some new happy noises eating this one... heaven in a cupcake!!).  My friend Rich... actually my dear dear wonderfully fantastic friend Rich (he'll read this... hehehe... I know he will! LOL) went with me one day last week and he agreed these cupcakes really are all that and a bag of chips!  He especially raved about the Chocolate/Chocolate cupcake saying (and I quote) "this chocolate cupcake ROCKS!!!"  Now I'm not a fan of chocolate but I know if Rich said it rocks, then it definitely rocks.  I can tell ya the strawberry was the very best strawberry cupcake I've had.  In particular, the strawberry flavor in the icing just leaps out and when paired with the delicious cake you know there's one heckuva party goin on in your mouth... your taste buds are doin the rhumba in all their happiness... they're shoutin oh yeah, now that's what I'm talkin about!!!... they're yellin WOOHOO THAAAAANK YOU!!
Yeah... SusieCakes remains on top.  Get thee to SusieCakes if you want some fantabulous cupcakes!