This morning I decided to venture over to Beverly Hills and check out
Sprinkles
. They're famous... very very famous... so my expectations were high.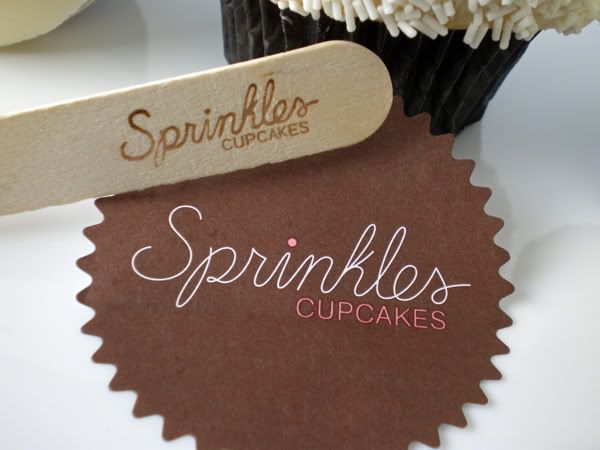 As I drove by in my first attempt to find a parking spot, I saw a line. Well, not just a line but a VERY LONG LINE. What? Huh? There's something wrong with this picture because I've never waited in a line to buy cupcakes before! I mean I've heard of people waiting in line at Magnolia Bakery in NYC because, well, that's

Magnolia Bakery

which was featured on Sex and the City and basically ignited the cupcake craze a few years back. This isn't New York City... this is Southern California... Beverly Hills... and we don't wait in line for cupcakes here. Or, wait... do we?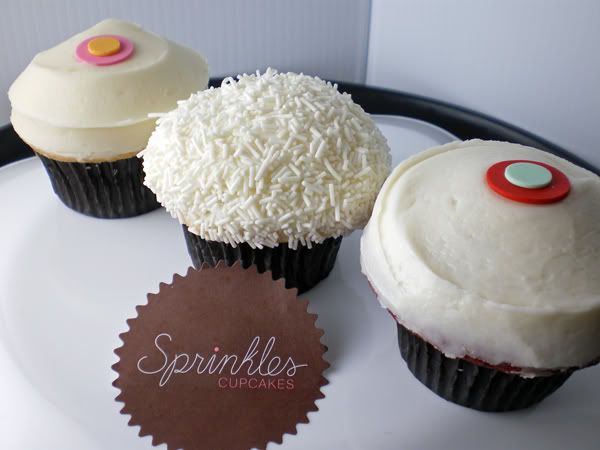 Luckily, after I parked and walked back I discovered what I thought to be a very long line was just a large group of people who'd already gotten their cupcakes and were just milling around outside.
whew!
But there was a full house inside and a short line of 2 people waiting outside... so I joined them. Trust me, when I first saw that "long line" I seriously, for about 30 seconds, considered just driving right home... but I'd come 35 miles... spent about half an hour in the car... and let's not think about how much money I'd spent in gas. No way could I go home empty handed!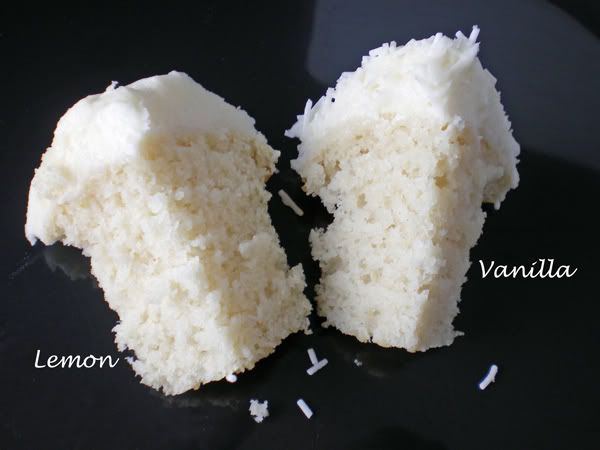 Sprinkles does not do mini-cupcakes... they only have full sized cupcakes so knowing I'd have to eat everything I bought...
hey, it's in the name of RESEARCH,

uhmkay

??
(see what I endure just so you guys can know my opinion! alright... call me a martyr if you wish -
LOL)
... I had to limit myself to just three.
The cupcakes are VERY fresh... very moist and tasty. The vanilla had a lot of really good vanilla flavor but sadly the lemon was **lacking** in flavor. Hardly any real "lemon" taste to it. The cake itself was regular vanilla cake and the icing had a very slight hint of lemon. That was disappointing on two levels... 1) their website description of this cupcake was a lot better than the cupcake itself... and... 2) lemon is my absolute most favorite flavor so I wanted this cupcake to knock the ball outta the park (a moment of silence please in honor of the deep despair I felt when it did not). The red velvet was so-so... the cake was great but the cream cheese icing was very bland w/truly just a minimal "twang" of cream cheese flavor :( When eating a regular sized cupcake I will typically quarter it so that I'm left with somewhat bite-sized pieces. This worked fine for the Vanilla and Lemon... but the Red-Velvet simply didn't cooperate... it just fell apart. Sure, it tasted the same but I couldn't get one whole piece to keep itself together well enough for me to photograph it. Eh, such is life.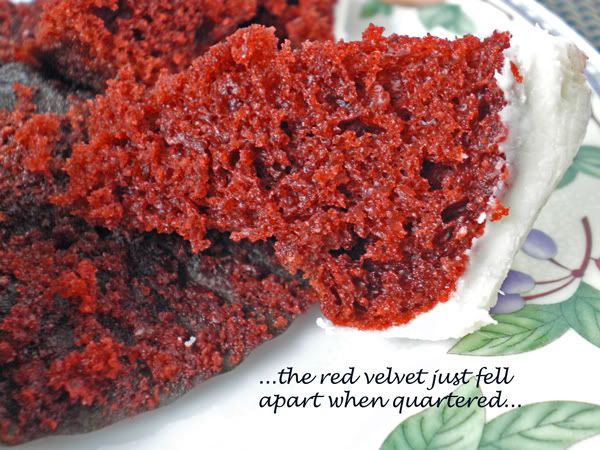 All in all, I was pleased with Sprinkles. The cupcakes were fresh and moist and in no way did I think they were sellin me yesterday's leftovers. They did a fantastic job of packaging up my three bundles of goodness which made me
very
happy since as I was prepping to take pictures I knocked the box completely over on it's side and the cupcakes looked no worse for it.
Would I go back to Sprinkles? Sure. The cupcakes are fresh and very tasty (though I do feel they slather on more frosting than necessary) and the sales staff was very efficient. Out of the past three days in a row that I had cupcakes, Sprinkles was the best. But I'll be brutally honest and say they can't hold a candle to
Vanilla Bake Shop
(which I posted about
here
) - a place that most definitely knows how to make one helluva tasty cupcake!