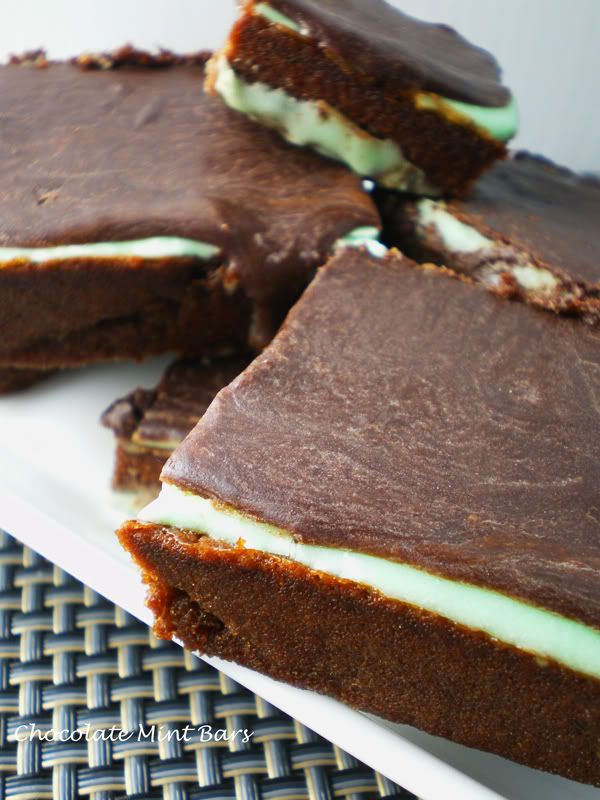 While I may not be a huge fan of chocolate, pair it with the freshness of mint and I'm instantly drawn in :) I came across this recipe a few months ago and it's been nagging at the corners of my mind ever since.

Are you familiar with a candy called Ande's Mints? A thin, light layer of mint paired with a small slice of chocolate. I consider a small slice of yum! Here's a picture. It's one of the few chocolate candies that I can eat one after another after another.

Chocolate Mint Bars are like a layer of chocolate brownies on the bottom... with a layer of mint... and then a thin layer of chocolate to top it all off. If you like chocolate and you like mint, I guarantee you'll like these. In fact, I'm so sure you'll like them I'll offer you a money back guarantee! Considering that reading my blog is free, I'm not too worried ;-)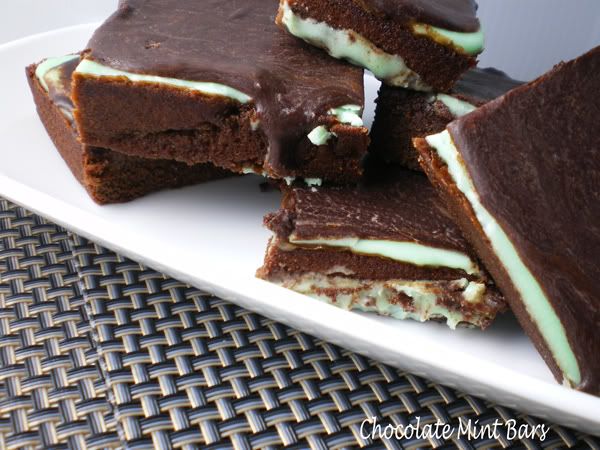 Chocolate Mint Bars
Adapted from Cooking Light magazine
March 2008 issue

Bottom Layer
1 cup all purpose flour
1/2 teaspoon salt
1 cup granulated sugar
4 eggs
1/4 cup melted butter
2 tablespoons water
1 teaspoon vanilla extract
1 (16oz) can chocolate syrup

Mint Layer
(note: this is the recipe as written... when I make this again I plan to make about 50% more of the mint layer so that it really shows up against the chocolate --- but use your own judgment on this)
2 cups powdered sugar
1/4 cup melted butter
2 tablespoons milk
1/2 teaspoon peppermint extract
2 drops green food coloring

Chocolate Glaze Topping
3/4 cups semisweet chocolate chips
3 tablespoons butter


DIRECTIONS
Preheat oven to 350F
Generously coat a 13"x9" pan with cooking spray

For the bottom layer:
Combine granulated sugar, eggs, 1/4 cup melted butter, 2 tablespoons water, vanilla extract and chocolate syrup... stir until smooth. Add flour and salt to the chocolate mixture and stir until blended. Pour into the prepared pan and bake for 35 minutes or until a toothpick inserted in the center comes out almost clean. Cool completely in the pan on a wire rack.

For the mint layer:
Combine powdered sugar, 1/4 cup melted butter, milk, peppermint extract and food coloring - beat with a mixer until smooth. Spread this mixture evenly over the cooled bottom layer. Note: this is the recipe however the next time I make this I will make 50% more of the mint layer.

For the glaze topping:
Once the mint layer has set (about 20 minutes)... combine the chocolate chips and 3 tablespoons butter in a microwave safe bowl. Microwave on HIGH for 1 minute or until the chocolate is melted. Stir well until smooth and then let it stand for 2-3 minutes. Spread the chocolate evenly over the mint layer. KEEP REFRIGERATED until ready to serve then slice into desired-size pieces and enjoy.