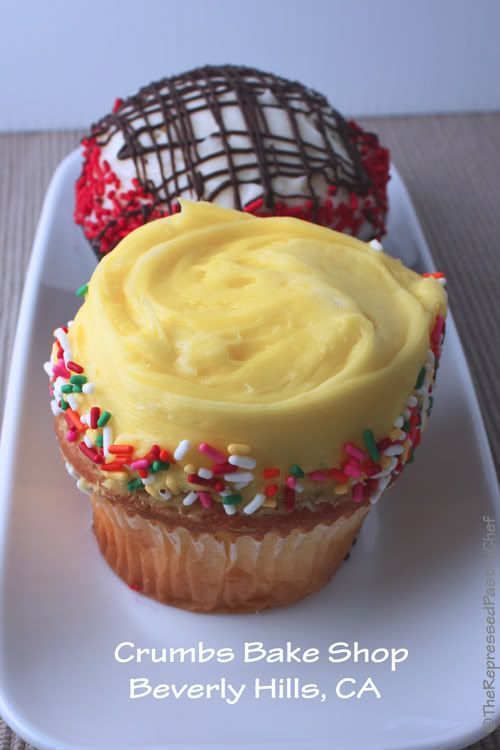 Thanks to a dear reader who emailed, I discovered a new-to-me cupcake bakery today. Located in Beverly Hills, Ca., just two blocks east of Sprinkles is a place that just blows them out of the water. They may not be as well known in SoCal as Sprinkles... and they may not have a long line outside like Sprinkles... but the cupcakes from Crumbs Bake Shop are better by a long shot!!!

At Crumbs Bake Shop, the cupcakes are not just big, they're enormous. Two people can EASILY share one and neither will feel sad about it. They are JUST THAT BIG!

The selection is enormous as well. Take a look at their online menu and you'll see just what I mean. Standing in the store with all those cupcakes in front of me, was, in a word, overwhelming. But I finally decided on two cupcakes... one red velvet and one lemon.

The red velvet cupcake is definitely a chocolate cake... actually more like devil's food cake... with just a hint of red color. It's topped off with a mound of rich cream cheese icing, drizzled with chocolate and surrounded by a ring of red sprinkles. Visually complicated... but the taste is rather simplistic - and that's a good thing! The cake is dense, but moist, and has a good chocolate flavor. The cream cheese icing is rich... very rich... and very thick. If you're not a fan of cream cheese icing, you might want to pass on this one.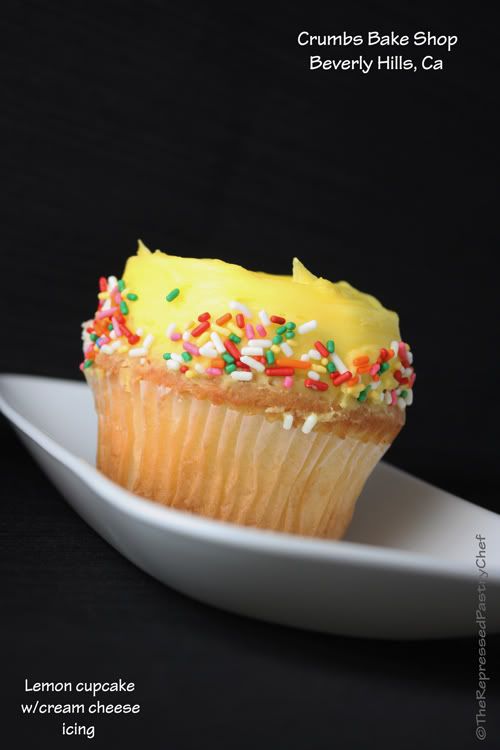 If you *are* a fan of cream cheese icing, you will truly love this! When eaten together in a single bite, this is a very good red velvet cupcake. DD said it was "super good" :)

The lemon cupcake was among the best I've had. The white cake was light and full of flavor... nothing bland about this cake at all :) The online menu indicates the icing is lemon buttercream and that's exactly what it tasted like... however... the sign in the store itself indicated this was lemon cream cheese icing. I didn't taste any cream cheese... especially in comparison to the icing on the red velvet cupcake... but I can surely tell you it tasted EXTREMELY GOOD. When paired together, like I said, this is among the best lemon cupcakes I've ever had.

Forget that "famous" place down the street - and don't wait in their line - cuz if you're in Beverly Hills and hankerin for a cupcake, by all means swing by Crumbs Bake Shop. You'll be glad you did!

Happy Happy!!