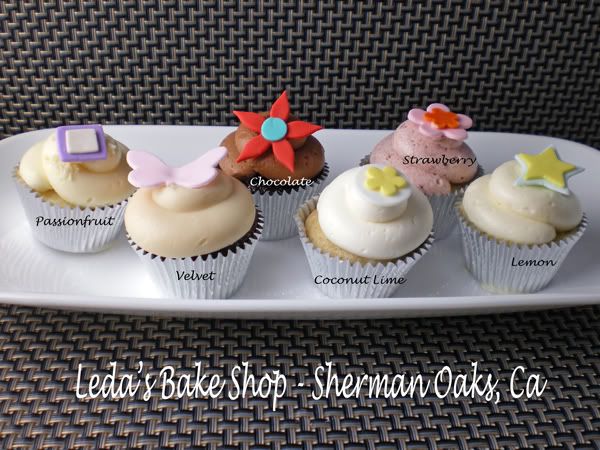 Hello my lovies!!! It's time for another cupcake review and this one brings both good news and bad news. The good news is if you're ever in Sherman Oaks, California, you simply must check out Leda's Bake Shop on Ventura Blvd because the cupcakes are divine! The bad news is they've changed their hours and currently only open for walk-in business on Friday and Saturday... from 10:30am - 6:00pm... so plan accordingly. But trust me... you must visit Leda's and check out the cupcakes!!!


Let me start off by saying Leda's cupcakes are fantastic. OMG just absolutely fantastic. Incredibly diverse flavors just bursting with freshness and taste. The cakes are on the dense side but are extremely moist and have terrific flavor.

With the exception of a kids vanilla and a kids chocolate, Leda's cupcakes are mini-sized. They are super cute and are topped with elegant fondant designs. The icings are AMAZING! So smooth and so fluffy and so light that you'd swear you're eating whipped cream frosting... only it's buttercream. The smoothest, the fluffiest, the lightest buttercream icing I've ever tasted!

Leda's offers 15 different cupcakes. Not all flavors are available every day but they rotate about 10-12 varieties. I seriously had a hard time deciding but eventually chose Choocolate-chocolate-chocolate, Coconut Lime, Lemon, Strawberry, Passionfruit and Velvet.

Chocolate-chocolate-chocolate - (described as devil's food cupcake filled with bittersweet chocolate ganache topped with chocolate buttercream) I'll be honest and tell you I'm not a big fan of chocolate in general. Some people crave the stuff... but I'm not among them. But I'll also be honest and tell you this was an amazing chocolate cupcake! The first time I can ever remember eating chocolate and wanting more, more, more!!! The perfect combination of flavors highlighted by a wonderful bittersweet chocolate ganache filling. This is one of the top 3 cupcakes I've ever had in my life and without a doubt thee best chocolate cupcake I've ever had. I will definitely have more of these when I visit Leda's again... and I will be visiting Leda's again :)

Coconut lime - (described as coconut cupcake with lime curd filling and vanilla buttercream) This cupcake is fresh and citrusy with a delicate balance of flavors that not surprisingly works beautifully together. The overall flavor was very refreshing and takes you on a tropical vacation... if only in your mind and mouth!

Lemon - (described as vanilla cupcake with lemon curd and lemon buttercream) In a word... awesome! The lemon curd is tart, the vanilla cake is flavorful and of course the lemon buttercream is out of this world. If you like lemon and you like cupcakes, this is one you'll really love!

Strawberry - (described as vanilla cupcake with strawberry cream filling and strawberry buttercream) This cupcake has an incredibly fresh strawberry flavor that could only come from using incredibly fresh strawberries. Nothing artificial tasting about it. This is a strawberry lover's dream come true.

Passionfruit - (described as vanilla cupcake with passionfruit curd and passionfruit buttercream) You don't often see this as a cupcake flavor but Leda's really does this combination beautifully. The passionfruit is very fresh and balanced wonderfully with the vanilla cake. It's not cloyingly sweet whatsoever - it's just super yummy!

Velvet - (described as delicious red velvet taste without the artificial coloring - topped with a rich cream cheese frosting) I'll admit the lack of red food coloring was aesthetically odd with this one... but a single bite removes all doubt. The cake has enough cocoa flavor without being a chocolate cupcake and the super smooth cream cheese icing has tremendous flavor. The balance is hard to beat. If you love red velvet, you owe it to yourself to try this at Leda's.

The packaging provided for the cupcakes is absolutely, top-notch and first-rate at Leda's. It seems so simple to put a dollop of buttercream on the bottom of each cupcake wrapper before setting it on the cardboard insert. Other places do it, not just Leda's. But Leda's must either do it differently or they must do it better because this is the very first time I've arrived home and had not a single cupcake move even a single inch. They absolutely 100% did not budge, not one single bit. Other cupcake bakeries could take a lesson from Leda's that's for sure because as you can see in the picture below, **this** is how you do it. The picture was taken about 90 minutes after they were bought and packaged... and after a 35 mile car ride home.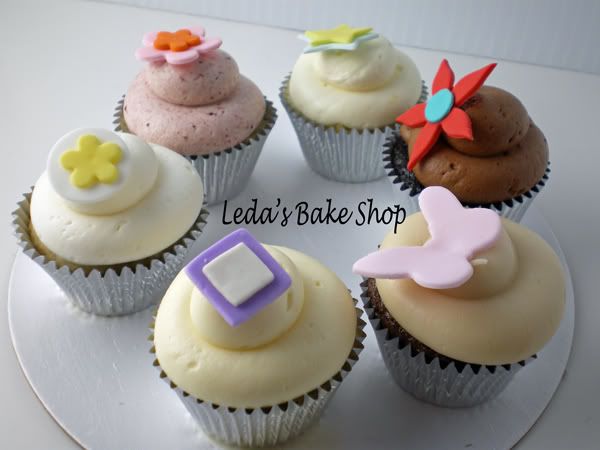 I really just can't say enough good things about the cupcakes from Leda's Bake Shop. The cupcakes are fabulous - they're fantastic - and they're special enough to certainly go out of your way for. The only two negatives (if you can even consider them to be negatives) are the cupcakes only come in mini-size and the store is only open Fri & Sat from 10:30am - 6:00pm. But really, that's not negative... that's just inconvenient and means you have to plan accordingly.

If you love cupcakes... or even just like them... and you find yourself in southern California, please stop by Leda's Bake Shop in Sherman Oaks. You won't be sorry!!