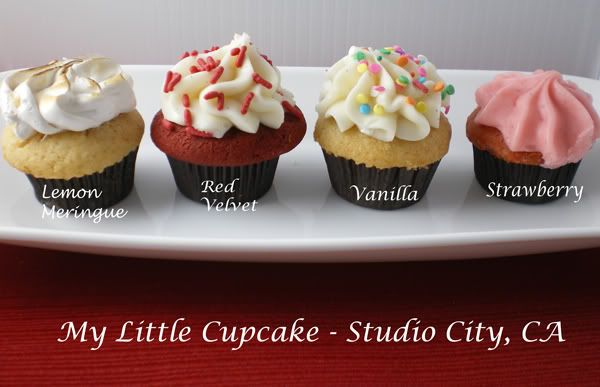 Back when I started reviewing cupcakes, little did I know just how many places there would be for me to try. I mean, I was fully aware of how popular cupcakes had become... and I knew they were big-business in Manhattan... and maybe I've just been out of the "trend" loop for longer than I'd realized... Eh, who knows. Either way, in southern California, the San Fernando Valley certainly has no shortage of cupcake bakeries. Last weekend I stopped in to My Little Cupcake located on Ventura Blvd in Studio City.


My Little Cupcake offers both full size and mini size cupcakes. The retail location is quite standard in looks and in function. Additionally, "standard" is a pretty good description of their cupcakes as well. Nothing bad... but nothing rave-worthy either.

I purchased 5 cupcakes... 4 minis in Vanilla, Strawberry, Red Velvet and Lemon Meringue... along with one full size Coconut cupcake. In a nutshell, here's my thoughts:
Vanilla - Moist cake, smooth icing; overall this had good vanilla flavor
Red Velvet - An enjoyable cupcake with good flavor but nothing extraordinary
Strawberry - There were tons of strawberries in the cake which gave this a very good flavor... BUT... the strawberry icing has a very artificial flavor to it
Lemon Meringue - Tasty lemon curd filling and instead of icing, there's true meringue topping (which was a bit too chewy). Aside from the meringue it was pretty nice actually.
Coconut (not included in the photo cuz, well, uhm... this full size cupcake just didn't fit on the cute lil tray with the other minis! LOL) - This cupcake is not for the faint of heart. It had a very strong coconut flavor which is probably a result of coconut in cake, coconut in the icing and toasted coconut on top. Now, I have come to really like coconut a lot... but this was too much for me. It was like coconut overload. It's probably best for the true, hard-core coconut lovers and afficianados among us

There was nothing really stand-out about My Little Cupcake. If you're on Ventura Blvd you might want to pop in and check them out... but within 2 miles you could stop in to Leda's Bake Shop and get a really fantastic cupcake instead :)

Happy happy!