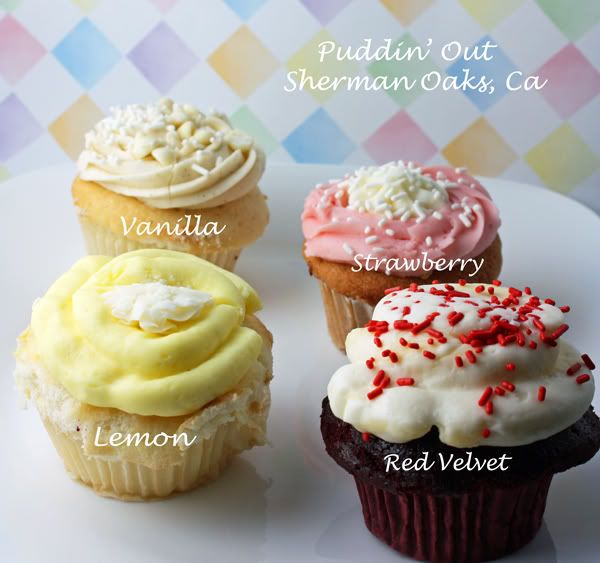 Last weekend was a blur. As usual I had more things to do than hours in which to do them. Ever feel that way? Surely, I can't be alone in this. But I made a few cupcake bakery visits just the same... only... I didn't have time to write my reviews :( But never fear, reviews are here! And the first is for Puddin' Out Cupcakes in Sherman, Oaks, California...

I truly wish I could find an actual website for Puddin' Out Cupcakes... but this is all I could find. I'd say it needs an overhaul but in reality it's like it needs to be created! Someone, anyone, please contact them and offer your web design services cuz these folks are in dire need of help in this area.

Puddin' Out Cupcakes is located in a strip mall on Ventura Blvd. It's really more of a "dessert shop" than a cupcake bakery because they have a lot of different desserts including brownies, cookies, cheesecake and 5 different flavors of pudding. But it's the cupcakes that drew me in... over 20 different kinds... and it's the cupcakes I bought :)

The cupcakes at Puddin' Out are big... very very big... like large muffin size! LOL. They're priced at $2.85ea and have very creative names with equally "creative" flavor combinations: (I'll type them out from the Xerox sheet "menu" I picked up since you can't find this out on their website)...

Apple Pie R Square - Vanilla cinnamon cake, apple caramel filling, vanilla/caramel frosting
Banana Cream Dream - Banana cake, spice custard filling, maple/chocolate frosting
Black Hole-in-One - White vanilla cake, chocolate truffle, vanilla/dark chocolate
Cappucino Bambino - Mocha cake, whip cream filling, cocoa/vanilla frosting
Chestnut Asylum - Chestnut cake, brown sugar spice custard, vanilla/malt frosting, dark rum
Cherry Heartfelt - Dark chocolate cake, cherry liquor filling, vanilla/cherry frosting, grenadine
Coconut Creamation - Dark chocolate cake, coconut cream, vanilla/chocolate coconut frosting
Espresso Delivery - Espresso cake, chocolate cream, coffee/dark chocolate frosting
Free Range Carrot - Carrot cake, walnuts, nutmeg, vanilla/orange frosting
Fudge Those Figures - Milk chocolate cake, chocolate chips, dark chocolate, creme de cocoa
Granola Graffitti - Granola cake, fig filling, mango/vanilla frosting
Yo Mama Mocha - Coffee cake, toffee cream, chocolate/coffee frosting
Lemon Meringue High - Lemon yellow cake, lemon filling, meringue/vanilla frosting
Oranga-Twang -Yellow orange cake, orange custard, vanilla/tangerine frosting, grand marnier
Peanut Butter and Jealousy - Peanut butter cake, peanut butter filling, vanilla/blueberry frosting
Pina Colada Collusion - Coconut cake, pineapple filling, coconut/pineapple frosting, rum
Plush Red Velvet - Red velvet cake, plush red velvet frosting, cocoa
Razzle Dazzle Rasberry (sic) - Dark chocolate cake, blueberry filling, chocolate/rasberry (sic) frosting
Rootbeer Float Your Boat - Rootbeer cake, vanilla cream, rootbeer frosting, whip cream and cherry
Sinnamon Love Bun - White vanilla cake, brown sugar, cinnamon, vanilla/cinnamon frosting
The Final Strawberry - Strawberry cake, strawberry filling, pink vanilla/strawberry frosting
Tiramasu Rex - Vanilla cake, marscapone (sic) filling, vanilla/coffee frosting, cocoa
Vanilla Vice - Vanilla egg nog, vanilla bean cream, vanilla, white chocolate frosting, vanilla vodka

Not every flavor is available every day since they rotate. On the day I went, I purchased 4 of them... Lemon... Red Velvet... Strawberry... and Vanilla.

All of the cupcakes that I tried were very moist, slightly dense and had an abundance of frosting that was "crunchy" (I find this is a typical result of using granulated or castor sugar instead of confectioners sugar... but since I didn't bake these, well, who knows! LOL). The one exception to this was the red velvet which definitely had a different icing... very smooth and creamy... which I would swear was cream cheese based however the description just says "plush red velvet frosting". Eh go figure. I'm calling it cream cheese icing based on having eaten it :)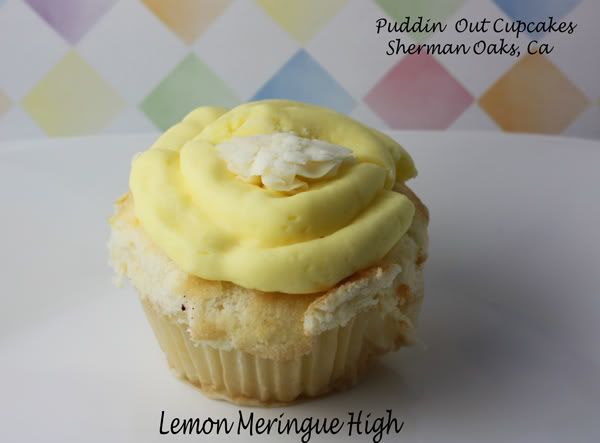 Lemon Meringue High is good, but certainly not exceptional. The description indicates this has a meringue/vanilla frosting but to me it's just regular buttercream.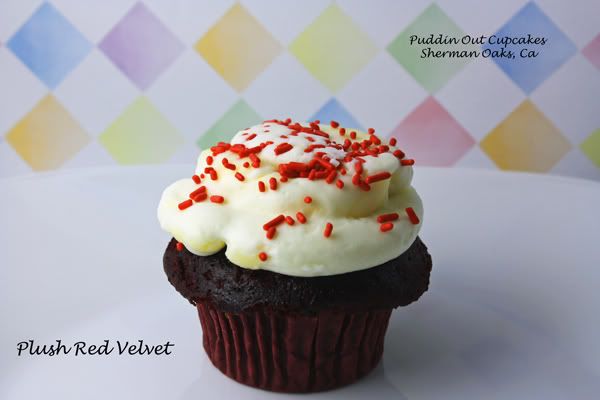 Plush Red Velvet is definitely a chocolate cake and suprisingly pretty good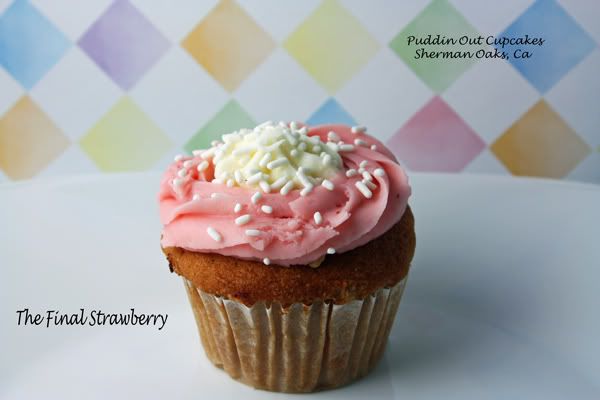 The Final Strawberry cake has good strawberry flavor however the cream filling is just "cream" - I certainly didn't detect any strawberry flavor to it... and the same with the frosting.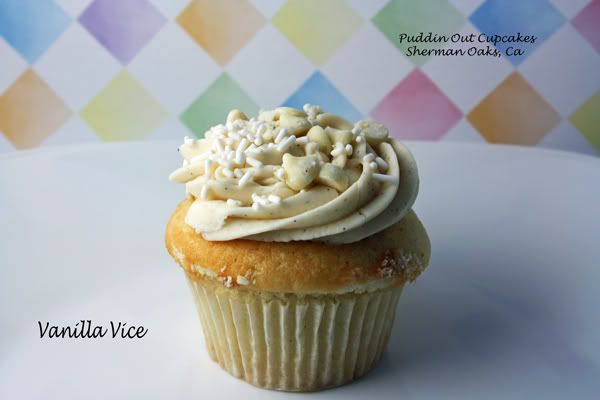 Vanilla Vice... in a word... confusing. I guess I'm a purist and like my *vanilla* cupcakes to be, well, I dunno, ***vanilla***. There is a boatload of vanilla bean flecks in both the cake and the icing. Not sure why it's described as 'vanilla egg nog' since I detected absolutely zero egg nog taste. The white chocolate frosting tasted straight vanilla with no chocolate flavor but there were definitely white chocolate chips on top. For me, a **vanilla** cupcake doesn't need white chocolate anything... but that's just me. You might like it that way :)

Lastly, while I am certainly no prude and consume my fair share of "adult beverages", I don't understand the use of alcohol in the cupcakes from Puddin' Out Cupcakes. Based on their menu descriptions, at least 5 of their cupcake flavors contain alcohol. Some people choose not to consume alcohol in any form for a variety of reasons... and I'm not sure everyone's going to want to give their children cupcakes that contain alcohol. I dunno. Like I said, I'm certainly no prude... but I just think there's no reason to have alcohol in cupcakes. Especially when such an ingredient is not fully disclosed on the display tag and the only way to know is to seek out a Xerox'd menu.

Overall, the cupcakes from Puddin' Out Cupcakes weren't bad at all. They're fresh, they're moist, they have an abundance of icing and come in a wide variety of flavors. If you're in the area, why not stop in and give them a try for yourself :)

Happy Happy!