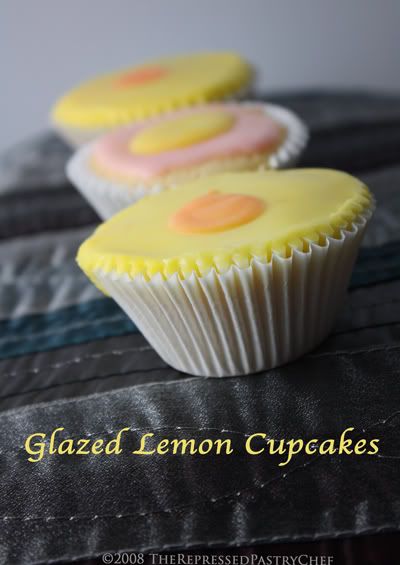 When the April edition of Bon Appétit arrived in my mailbox the beautiful Lemon-Raspberry cupcakes on the cover, immediately grabbed my attention.

I admit that I'm a sucker for most anything lemon. It's my preferred flavor for desserts. I'll never fight ya for chocolate anything but lemon? Oh yeah, I'll go to great lengths to enjoy some lemon goodness. Luckily most people in my circle prefer the chocolate so I don't have to throw down very often ;-)

The full recipe that was featured on the cover called for adding a dollop of raspberry jam in with the batter before baking. That was a deal-breaker for me since I've never successfully accomplished this. Usually the jam ends up sinking to the bottom during cooking and sticking to the wrapper even when I layer it in the middle or the top. Instead, I omitted the raspberry jam altogether and just made the lemon cake part and the glaze :) Instead of Lemon-Raspberry Cupcakes a lá Bon Appetít, I ended up with Glazed Lemon Cupcakes a lá The Repressed Pastry Chef :)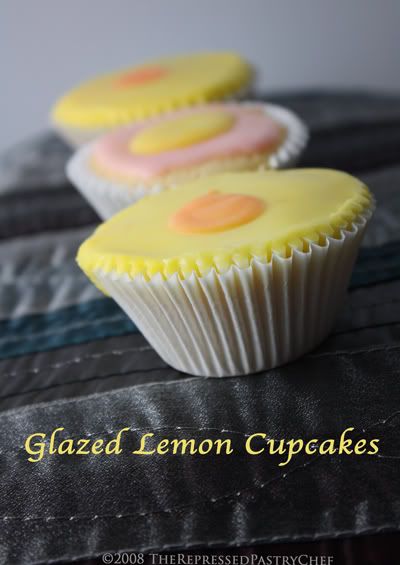 Glazed Lemon Cupcakes
adapted from Bon Appétit

3/4 cup (1 1/2 sticks) unsalted butter, room temperature
3 cups powdered sugar, divided
4 1/2 teaspoons finely grated lemon peel, divided
2 large eggs
1 1/4 cups self-rising flour
1/4 cup buttermilk
4 tablespoons fresh lemon juice, divided


Preheat oven to 350°F. Line 12 muffin cups with paper liners. Using electric mixer, beat butter, 1 1/2 cups powdered sugar, and 3 teaspoons lemon peel in large bowl until blended, then beat until fluffy and pale yellow. Add eggs 1 at a time, beating to blend after each addition. Beat in half of flour. Add buttermilk and 2 tablespoons lemon juice; beat to blend. Beat in remaining flour.

Drop 2 rounded tablespoons of batter into each muffin liner.

Bake cupcakes until tester inserted halfway into centers comes out clean, about 23 minutes. Cool cupcakes in pan on rack.

Meanwhile to make the glaze, whisk remaining 1 1/2 cups powdered sugar, 2 tablespoons lemon juice, and 1 1/2 teaspoons lemon peel in small bowl. Separate half the icing into a second bowl. To the first bowl add yellow gel or powder icing color. To the second bowl add pink gel or powder icing color. Spoon the pink glaze over 6 cupcakes. Spoon the yellow glaze over the remaining cupcakes. Let stand until glaze sets, about 30 minutes.