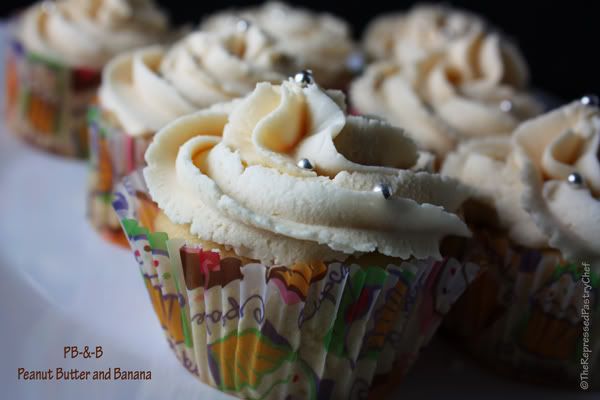 I had lunch last week my friend Rich. I've posted about him before. He's terrific - really - and I'm honored to be his friend. So we went to lunch and also stopped in at my favorite cupcake place, SusieCakes. It's only 3 miles from our office... a bit dangerous ;-) But Rich and I have been there before and he loves their chocolate cupcakes. Each month, SusieCakes has a "cupcake of the month" and for May it is Peanut Butter and Jelly. Now, I wasn't adventurous enough to try it but Rich was and he said it was good... but not as good as a PB&B would be... Peanut Butter & Banana. Today is Rich's birthday... and I'll be having lunch with him tomorrow... so in his honor, just for him, I made Peanut Butter & Banana Cupcakes :)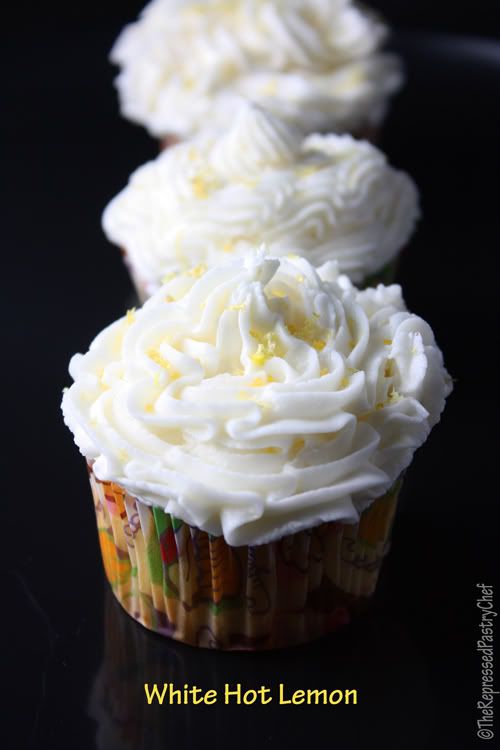 Now trust me... I don't scare easily when it comes to making something in the kitchen. Especially not when it comes to something from the sugar food group :) I'll happily tinker with a recipe adding a pinch of this, a dash of that and a spoonful of the other until I think it tastes juuuuuuuuuuust right. But... I'm allergic to bananas and that makes it really hard to tinker with a recipe until it tastes right. Completely fearless I chose not to dip my toe into the water... for my friend Rich, I dove in head first :)

I told DJ I was going to try and make these cupcakes... even though the combination sounded less-than-appealing to me. But he thought it sounded fantastic and agreed to be my official taster!! I can't really provide you with a true recipe because I just kept tinkering until I was pleased and DJ said the flavors were "balanced" (yeah, trust me, I had to teach him this concept! LOL). It's basically a butter cake batter with creamy peanut butter and a banana mixed in. The icing is my favorite buttercream recipe with peanut butter added. If you're interested, email me and I'll outline what I did to create these Peanut Butter and Banana cupcakes. I'm sure at some point Rich will read this and leave a comment to let you know how they tasted (right, Rich?!?! LOL)

But while I was at it, I also made a couple of other cupcakes.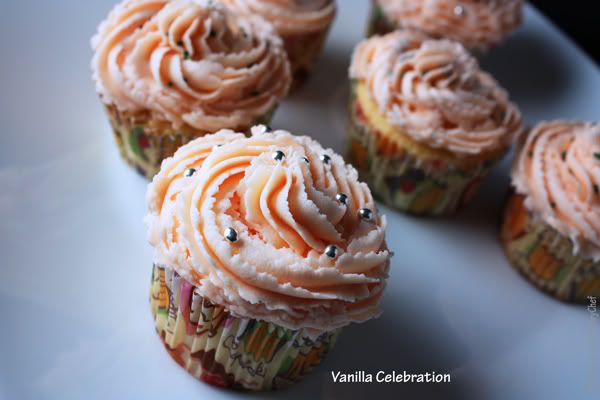 Nothing fancy but I had fun. I called them White Hot Lemon and Vanilla Celebration.

White Hot Lemon is basically a butter cake batter topped with white buttercream that has a teensy bit of lemon extract and lemon zest mixed in...and topped with more lemon zest. It's really more of a lemon-scented cupcake than something that's overtly lemon.

Vanilla Celebration is the same butter cake batter with extra vanilla mixed in and topped with colored vanilla buttercream. That's it :)

But it was the PB&B that was the most fun to make - and I hope Rich likes them!

Happy Birthday, Mr. Crankypants.... er... Rich!! You're the bestest, baby :) :)