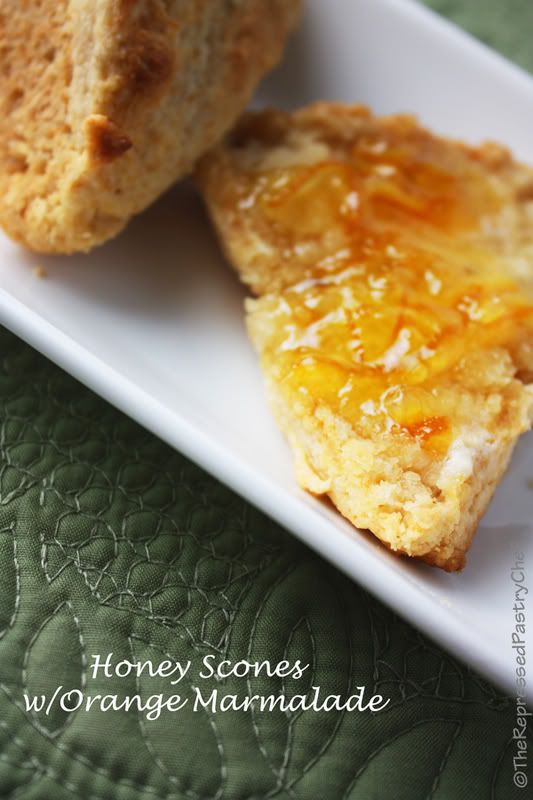 This weekend is Mother's Day. At least it is in the United States :) If you're not in the US, would you please leave a comment and let me know if your country has a holiday that celebrates mothers... and if so what is it called. I'd really like to know! I thought I'd post this a day early and give you a quick and easy recipe that you could whip up for Mother's Day breakfast or brunch. Honey scones.

I love scones. I make them a lot... and this is not the first scone recipe I've posted. When I mention scones, I'm often asked what a scone actually is since it's not a very "common" baked good found in the US. Oh, so sad. They should be offered more because they're a delicious cross between a muffin and a biscuit. And I happen to love them :) Sometimes I think scones have an unfortunate reputation for being dry... crumbly... tasteless. I assure you, a good scone is none of those - especially not when I make them :)

I called my mother today. Last week she asked that I make a cheesecake for her for Mother's Day. Of course, being the dutiful daughter that I am (haha, she doesn't read this! LOL)
I didn't mention how I've made two cheesecakes in the past week and I'm really kinda tired of making cheesecake and looking at cheesecake and thinking about cheesecake. No, I shared none of that with her. Instead, I just said "sure Mom, I'd love to make a cheesecake for you". So today I asked what kind of cheesecake she'd like since I was hoping to amp it up a little... give it a little ooompfh... maybe do lemon... or strawberry... or even add chocolate ganache topping... something... anything to make this task somewhat interesting. But... alas... she wanted a regular cheesecake. {sigh}. Okay, it's for my mom so I'll do it :)

I told her I'd made scones yesterday. Not once... but twice I made them because the first time I was a bit disappointed in how this recipe turned out. I mean it tasted great, sure, but they were too moist... too heavy... and didn't come out of the pan easily even after cooking them longer. It wasn't until someone asked me for the recipe did I realize I'd added **twice** the butter that the recipe called for. D'oh!! Kicking myself for making such an elementary mistake, I jumped off the sofa, headed into the kitchen (at 9pm no less!) and made another batch which DJ yummingly proclaimed turned out fantastic :) :) :)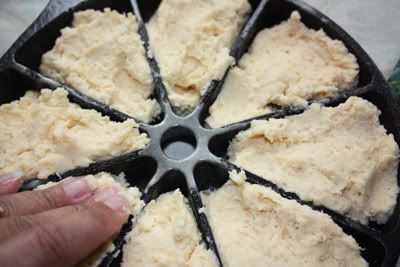 So when I told her I'd made scones, I could hear nothing but silence on the other end of the line. Finally she asked me "what's that"? I tried to describe it and it was pretty clear she just didn't get it. And that's okay... because now I can make these for her tomorrow. I know she'll like them :) I'll lug my cast iron scone pan over to her house and make them fresh in her kitchen. Of course, that means DJ and I will get to eat them too! LOL

Make some... for your mother... or just for yourself. They're quick... they're easy... and they're good. What more couldja ask for?

Happy Mother's Day!!!
(and don't forget... if you're not in the US, post a comment and tell me if they do something like this in your country. And if you *are* in the US, post a comment just the same... tell me something that comes to mind regarding Mother's Day).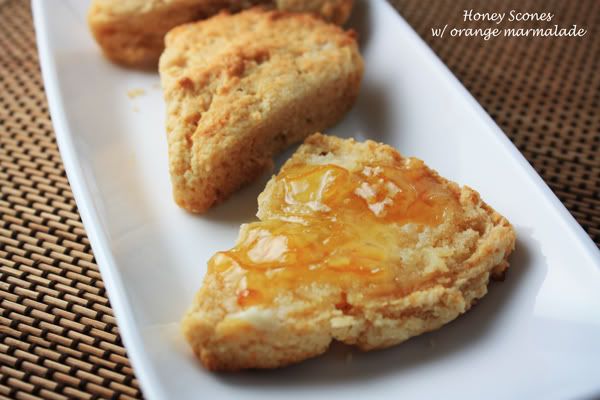 Honey Scones
2c all purpose flour
1T baking powder
1/4t salt
4T cold, unsalted butter cut into pieces
3T honey
1c cream

Preheat oven to 400F
Combine dry ingredients, cut in butter until crumbly.
Whisk honey and cream, add to the dry ingredients and mix with spoon - this will be thick, almost like dough

Press into greased scone pan... or... lightly flour a work surface, roll out the dough into a circle, cut into 8 triangle-shaped pieces and transfer each to a baking sheet lined with parchment.

Bake for approx 20 minutes or until golden brown on top. Cool for 5 minutes in pan then turn out onto wire rack and cool for another 5 minutes.

Serve warm with butter or whipped cream... and jam.

ENJOY!!!