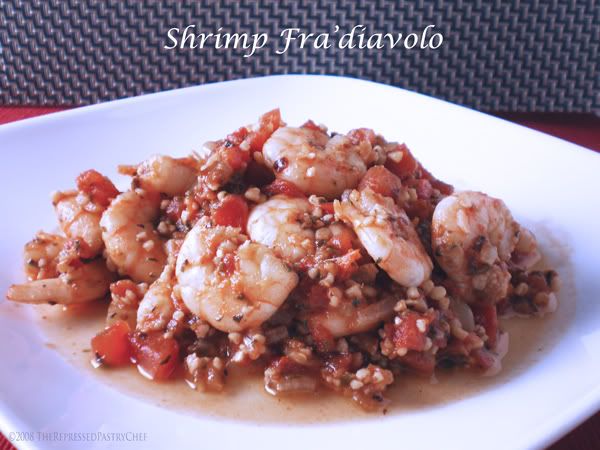 Shrimp is one of my favorite foods. Remember the movie Forrest Gump? I love how Bubba knew all different ways to cook shrimp. Now, I haven't seen the movie in a while but I don't seem to remember Bubba saying anything about Shrimp Fra'diavolo. No worries because I've got a sure fired hit of a recipe for it!

The way I do it calls for a *lot* of garlic.. you can see all the minced garlic bits in the picture. But don't worry, this recipe is easily adaptable and you can certainly use less garlic if you're not a big fan. You can also use fresh herbs in place of the Italian Seasoning that I use cuz, well, sorry - no herb garden on the grounds of my lovely chateau (haha!). The recipe will make about 4 portions... especially if you serve it over rice or pasta :)

Shrimp Fra'diavolo
adapted from Giada De Laurentiis' recipe

INGREDIENTS
1 pound raw large shrimp, peeled, deveined
1 teaspoon salt
1 teaspoon crushed red pepper flakes
2 tablespoons olive oil
1 medium onion, sliced
1 (14 1/2-ounce) can diced tomatoes (do not drain)
1 cup dry white wine
3-4 tablespoons minced garlic
3-4 tablespoons Italian Seasoning

DIRECTIONS
Toss the shrimp in a medium bowl with a pinch of salt and the red pepper flakes. Heat 2 tablespoons oil in a skillet. Add the shrimp and saute on high heat for about 1 minute the begin continually tossing until the shrimp are just barely no longer pink, about 1 to 2 minutes. Remove shrimp from skillet and set aside. Reduce heat to medium-high on the skillet and add onion and about one more teaspoon of olive oil to the pan, if necessary. Cook until the onions are translucent. Add the can of tomatoes, wine, garlic, and italian seasoning. Simmer until the sauce begins to thicken just a bit. Add the cooked shrimp to the pan and toss to coat. Cook for a couple of minutes, if desired add salt and pepper to taste, and serve either alone or over rice or pasta.

Have a delicious day!