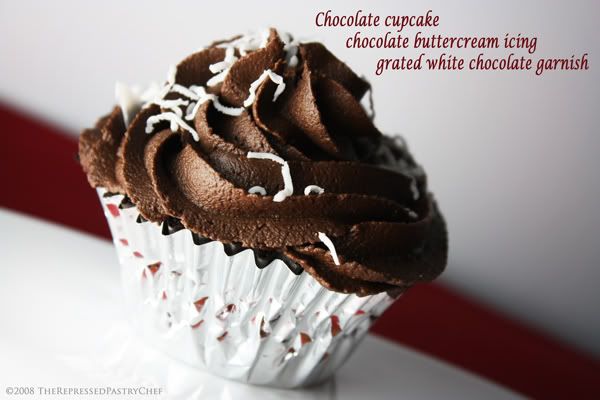 I think I've mentioned a time or two that I'm not a huge fan of chocolate. Now, before you start flooding my inbox with hate-mail and nasty-grams, realize that I don't **dislike** chocolate. It's just not a real draw for me. But trust me, if a box full of cupcakes magically appeared and they were all varieties of chocolate, I would most certainly indulge (note, I didn't say I'd eat *one* LOL!!). Tonight I made some chocolate cupcakes that were so far out of this world, I have to share with you how it's done so that **you too** can have your very own "Totally -O- Chocolate Cupcakes"

I read a lot of blogs. As a food blogger, I think it's my responsibility to (plus it's a LOT of fun!!). If you're into making cupcakes from scratch, I definitely suggest checking out this blog as inspiration. It definitely inspires me even though the recipes are far more complex than anything I'd really make or have a strong desire to attempt making. But you can pick up ideas anywhere and use them as a jumping-off point to create your very own masterpiece! And that's how my Totally -O- Chocolate Cupcakes came about.

For the cake part I followed a rather simple recipe but here's a few cupcake baking tips that I've picked up from others as well as from my own personal experience:

read and understand all directions before you start (I'm a dolt and read two or three times)
make sure you've added ALL the ingredients in the right proportions before filling the cups (when I made this recipe the first time, after the cupcakes were in the oven for about 2 minutes and I was cleaning up, I noticed I had a couple of eggs on the counter... eeep! I'd forgotten to add them so I quickly removed everything from the oven, poured the batter back into the mixing bowl, added the eggs and re-beat everything... easily avoidable disaster so don't be like me! LOL!!)

fill cups no more than 2/3 full (for me, I can only fill them 1/2 full since my "eyeballing" what I think it 2/3 full always is too much and overflows making a big mess)

if using nut or souffle cups as cupcake wrappers, be sure to spray the insides with baking spray (otherwise you'll never get those wrappers off... yes, I've had this happen a time or two... or ten! LOL!!!)

do not open the oven for the first 15 minutes of baking - resist all temptation - if you're insanely curious turn on the oven light and peek thru the door but -do not- open it ... leave your cupcakes alone and let them bake

Okay enough words of wisdom, let's get on with the recipe

Totally -O- Chocolate Cupcakes
1/2 cup butter, softened
1 1/4 cups super fine or caster sugar (granulated sugar *will* work)
2 eggs, room temperature
3/4 cup all purpose flour
1/2 tsp baking powder
1/4 tsp baking soda
1/4 tsp salt
1/2 cup Hershey's Special Dark Cocoa Powder
1/2 cup milk
1 tsp vanilla

Preheat oven to 375F
Measure flour, baking powder, baking soda, salt and cocoa powder into a small bowl and whisk to combine. Set aside.

Measure the milk then add the vanilla to it and combine. Set aside.

In a stand mixer cream butter until softened. Add sugar and cream until light and fluffy (about 3 minutes)

Add eggs, one at a time, mixing until well combined

Add about a third of the dry ingredients to the butter/sugar mixture and combine well. Add about half of the milk/vanilla combo and combine well. Add another third of the dry ingredients and combine well. Add the remaining milk/vanilla combo and combine well. Finally add the remaining dry ingredients and combine well.

Fill cups one-half to two-thirds full. Do not overfill!! Turn oven temp down to 350F and bake for about 25 minutes or until a toothpick inserted comes out cleanly.

Cool in pan for 3-5 minutes. Remove from pan and cool completely on wire rack.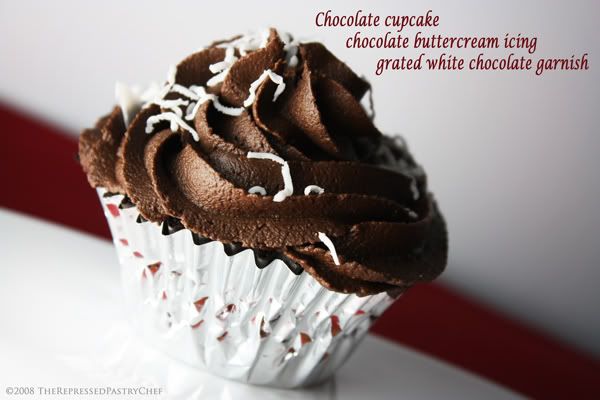 While the freshly baked cupcakes are cooling, you can start on the icing. Recall that here I provided my favorite recipe for buttercream icing. In order to make this what-I-consider-to-be amazing chocolate buttercream icing, I used this basic buttercream recipe and added Hershey's Special Dark Cocoa Powder. Now, I'm sure you *can* use other cocoa powders instead of what I used. How will it compare, you ask? Honestly, I don't really know since I used Hershey's Special Dark. If you use something else, write and let me know your results because I'm definitely interested :)

In the "How to Make Buttercream Icing" tutorial linked above, I mentioned the icing can be stored in the fridge. In writing the tutorial the other day, when I made that big batch, I didn't use it, I just put it all in a big ol mason jar and kept it refrigerated. When I wanted to use it for these Totally -O- Chocolate Cupcakes, I just brought it to a bit colder than room temperature and it was ready to use. I scooped a couple/three cups of frosting into a separate bowl, and added in a total of *about* 3 heaping tablespoons of Hershey's Special Dark Cocoa Powder and mixed by hand with a small icing spatula. I added the tablespoons one at a time to prevent a dark cloud of cocoa dust from descending over my kitchen (yeah, that's happened a time or two... or five LOL!!). You can add less or you can add more depending on how chocolaty you want the icing to be. The taste was great -but- the resulting color was more grey than dark brown so I added a bit of Wilton Icing Color in "Brown" to get it to the shade I wanted. Flexibility - it's a good thing :) If you're unfamiliar with Wilton Icing Colors, check out this link here.

That's it! That's really all there is to making totally orgasmic chocolate cupcakes. I'm not even a huge fan of chocolate but these are amazingly good. DJ is a big chocolate lover and while I won't tell you exactly how many in a row he scarfed down (okay, it was an odd number... more than 2 and less than 4) he loved them and raved enthusiastically these were the best chocolate cupcakes he'd ever had. THAT'S a compliment!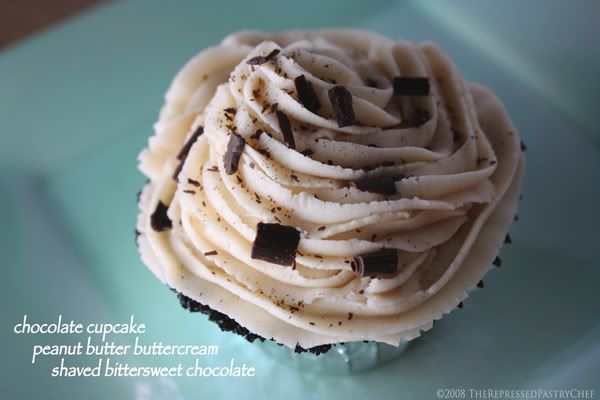 As a bit of a switch up (and to use up some extra icing I had from the PB&B cupcakes), I frosted a few with peanut butter buttercream. Topping off the chocolate cupcakes with peanut butter icing was goooooood :)

If you have a hankerin for some really good chocolate cupcakes, give these a try. And even if they're not "totally -O-" for you, I think you'll really like them - - - especially with the chocolate buttercream icing! M'mmm M'mmm Good!!!