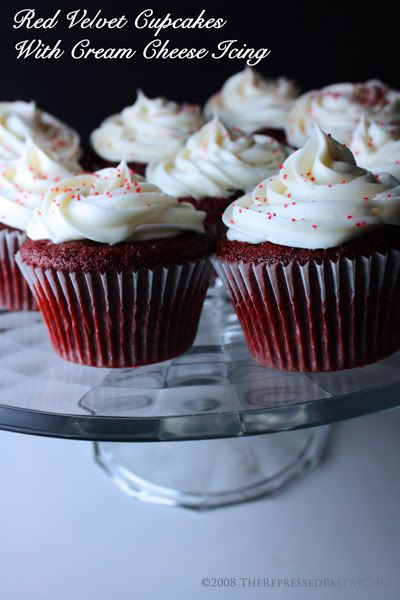 For the past few weeks I've been playing around with cream cheese icing. I have tried several recipes that were fabulous in taste, but the texture didn't set up enough to successfully pipe with a pastry bag. I am proud to say I've hit my "Eureka!!" moment and the picture above shows the result. And what better to pair my magnificient cream cheese icing with than my friend Allison's Amazing Red Velvet cupcakes. This combination is not only rave-worthy, it's like Lay's potato chips... betcha can't eat just one ;-)

I'm totally late to the party - and you'll quickly realize this as I tell you that only recently have I've become quite captivated with the lovliness of cream cheese icing. Now, granted, it's not a new item for me since I been aware (though not a fan) of cream cheese icing on cinnamon rolls. I tend to like my cinnamon rolls with just a regular sugar glaze but the RPC's palette is changing! In the past few months I've realized that a good cream cheese icing is great on cake! Not just on carrot cake (though it *is* fantastic on carrot cake! LOL) but also on lemon cake and red velvet cake too.

In the past few monthsI've come to appreciate Red Velvet cake. I don't just mean I've started to *like* it... oh no... I mean I've come to really appreciate it... understand it... and, dare I say LOVE it. That's a big step for someone who doesn't get all googly-eyed over chocolate. But from where I stand, Red Velvet is not a red-colored, chocolate cake... it's a multi-dimensional, complex cake that has just enough cocoa flavor to let you know it's there :) Oh and it's red-colored too! LOL

I've made a few different red velvet cupcake recipes... and if you check out the reviews I've posted of cupcake bakeries you'll see that I've tried *more* than my fair share of bakery-made red velvet cupcakes! Not that any of this makes me a connoisseur but I will say I've eaten a LOT of red velvet! LOL LOL LOL! A while back my friend Allison passed on the recipe she uses and I finally got around to making it. It is BY FAR the ABSOLUTE BEST red velvet that I've been able to make at home. This cupcake is incredibly moist and full of flavor. I made them this weekend for a pot luck of about 35-40 people and every single person who ate them came and told me how good they are. I had made three different kinds of cupcakes but it was the Red Velvet that got the raves!!! :) :) :)

A little while back I mentioned that I was looking for a cream cheese icing that would stand up like buttercream icing and perform well when piped thru a pastry bag. I even asked you guys to let me know if you had such a recipe... and no one did! I got so many emails letting me know that I'm not the only one who has been wanting such a recipe. Of those who contacted me, every last one of you had given up and resorted to using cream cheese icing as more of a thick, spread-with-spatula coating since it didn't set up for piping beautiful designs. At best, you were able to do very simple piping with a big round tip but nothing like ribbon edge, scalloped borders, basketweave or rosettes. The cream cheese icing recipe that I'm posting here can do just that! It performs like buttercream but has the definitive twang of cream cheese! It's not overly sweet which makes it perfect for a variety of uses. If you make it and find it's not sweet enough for you, try adding more sugar... but you may need to adjust the ratio of the other ingredients because it may alter how well it stands up.

The combination of Allison's red velvet cupcakes and my cream cheese icing is a real attention-getter. This is something you really *need* to have in your repertoire so bookmark this post... print it out... tuck it away in your recipe box. Whatever method that works for you and however you save your favorites. But either way, make these cupcakes!!!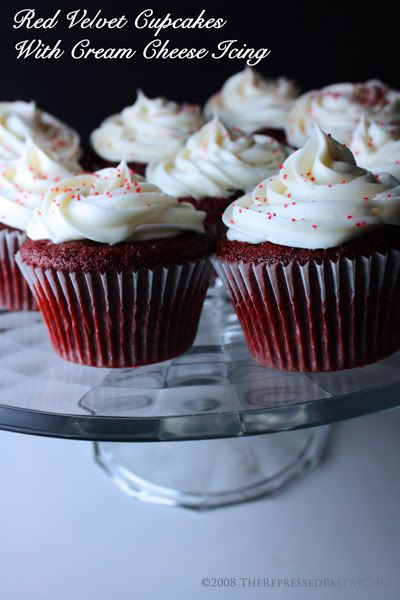 Allison's Amazing Red Velvet Cupcakes
adapted from the NY Times Red Velvet Cake recipe
1c cake flour
1/3c cocoa
1/2tsp salt
2/3c vegetable oil
3/4c sugar
1 egg
1oz (2T) red food coloring
1/2tsp vanilla
1/2c buttermilk
1/2tsp baking soda
3/4tsp white vinegar

Directions
Preheat oven to 350 degrees.
Line12-cupcake pans with cupcake liners and spray with cooking spray.
Whisk cake flour, cocoa and salt in a bowl.
Place oil and sugar in bowl of an electric mixer and beat at medium speed until well-blended. Beat in eggs one at a time.
With machine on low, very slowly add red food coloring (and water or syrup, if necessary). (Take care: it may splash.)
Add vanilla.
Add flour mixture alternately with buttermilk in two batches. Scrape down bowl and beat just long enough to combine.
Place baking soda in a small dish, stir in vinegar and add to batter with machine running. Beat for 10 seconds.
Divide batter among 12-cupcake pans, filling each about 2/3 full. Bake for 25-30 minutes, until a toothpick inserted comes out clean. (Mine cooked for 27 minutes.)

Note:: The recipe above has been scaled down to 1/3 of the original recipe. The original recipe yields 3 dozen cupcakes: 3½ cups cake flour ½ cup cocoa powder 1½ teaspoons salt 2 cups vegetable oil 2¼ cups white sugar 3 large eggs 6 tablespoons (3 ounces) red food coloring 1½ teaspoons vanilla 1¼ cup buttermilk 2 teaspoons baking soda 2½ teaspoons white vinegar


Em's Magnificent Cream Cheese Icing
adapted form the 06/98 Epicurious.com Cream Cheese Icing recipe
1 8oz pkg of cream cheese - room temperature, divided in three parts
2 tablespoons unsalted butter - COLD
1 tablespoon shortening
1/2 teaspoon vanilla extract
1 cup powdered sugar

Directions
Beat sugar and butter in large bowl until light and fluffy. Add vanilla and combine very well. Add the first third of the cream cheese and combine very well. Add the shortening and combine very well. Add the remaining cream cheese one piece at a time, combining very well after each. Gradually add the sugar and combine thoroughly until light and fluffy.