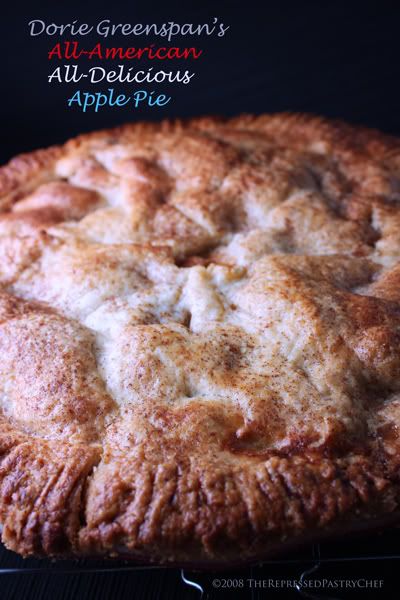 A few weeks ago, DJ had some time to kill as he was waiting on a machine shop to make a part for him. I know nothing about that sort of thing. He found his way over to William Sonoma and did some shopping for me. Among other goodies he picked up a gorgeous, red Emile Henry pie dish. I decided to make a classic apple pie... cuz I know about that sort of thing!!

If you're into baking, you really must get Dorie Greenspan's book Baking From My Home To Yours. I can't say enough good things about it. If I was going to make a classic apple pie, I would look no further than to Dorie for a recipe I knew would be fantastic. Using her book is like having a friend in the kitchen with you, talking you through things each step of the way. It's not just a book of recipes and pictures... though the recipes and pictures are fantastic... it's her way of explaining everything and giving you tons of pointers along the way that transforms it from a regular cook book to an amazingly-helpful, must-have, go-buy-it-now cookbook. Really, if you don't have this book - whadarya waitin for??!?!! :)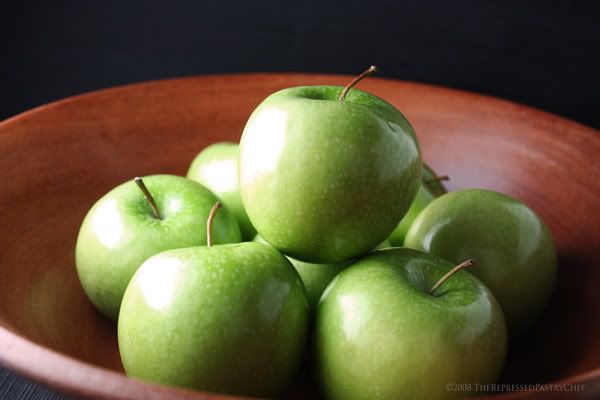 Since it was a day I was enjoying some quiet-time, and DJ was headed out, I asked him to pick up some apples... and the picture above shows the glorious ones he brought home for the pie. Granny Smith's are just lovely in a pie. Tart and sweet at the same time... firm enough to hold their beautiful shape but soft enough to go through with a fork without turning to mush. I could tell DJ was excited about the prospect of homemade apple pie by the beautiful fruit he selected. But in all honesty, the eight he came home with might've just been the eight closest in arm's reach when he got to the display ;-) I love him... but I'm realistic too! LOL

I figured if I was going to make this pie, I'd go all out and make the double crust as well. Having made the Lemon Meringue Tarts, I was confident I could make Dorie's pie crust. On page 442 of the book Dorie shares her recipe for what she calls "Good For Almost Everything Pie Dough". It doesn't look all that tough so I figured I'd be okay. Sure, it calls for a food processor... in fact she says "You'll need a large-capacity food processor to make a double crust" (notice the second word there? need!!)... but I don't own one. In fact a food processor might just be the only standard appliance not gracing the counters or cabinets of my kitchen. I've just never really found a reason to have one. But trust me... after trying to make Dorie's pie dough without it, a large-capacity food processor is pretty high on my MUST BUY list. If you've got a recommendation please pass it along as I'm now officially in the market for one :)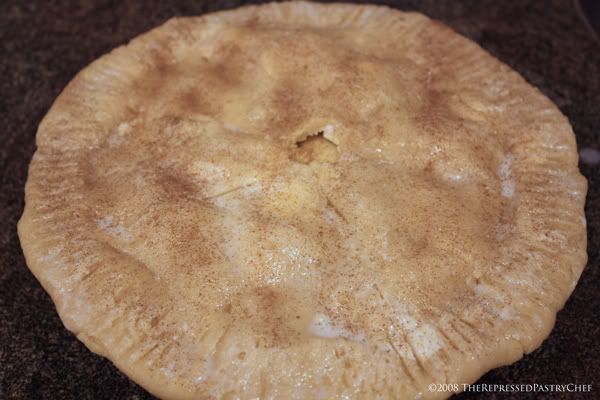 Side note... As I was writing this post, I had typed up a long paragraph about making the crust. It was detailed... it was witty... it was chock-full of good information... and sadly, it is gone. All because of a technical snafu that really chapped my hide. I walked away in a serious huff... and I came back about an hour later totally convinced I was unable to write that same paragraph again. Sadly I was right. Let's just consider it a sign from above shall we? Works for me! I'll try and give you the "Reader's Digest Condensed Version" and tell you the following: Making the pie crust by hand was "difficult". That's a lady-like way of phrasing it and I'll leave it at that ;-)

The dough recipe calls for 2 1/2 sticks of very cold or frozen butter... 1/3 cup very cold or frozen vegetable shortening... 3 cups of flour... 1/3 cup sugar... 1 1/2 teaspoons salt... and I was doing it by hand. In hindsight (which is 20/20 for a reason) there were signs spelling out BIG MISTAKE in flashing neon red letters that I somehow ignored. The dough came together just fine but I'm sure it was the warmth of my hands working the butter and shortening that interacted with the flour proteins in ways that Dorie didn't want when she created her masterpiece of a recipe and instructed "you'll need a large-capacity food processor". The dough came together fine... or so I thought... and it rolled out just fine... but when it came time to pick it up and get it in the pie dish... let me just say that it put up one helluva fight. Yes indeedy it did. More than once I had to put it back into a ball, refrigerate it again, take it out and try once more... and more than once, the dough proved the victor. But... using brute force, ignorance, sheer will and determination (not to mention some prayers and promises sent up! LOL), I got the bottom crust in the dish and amazingly, later-on was able to get the top crust positioned just fine. It took a bit of patching together where thin spots and holes developed but that just adds to the "rustic" quality of my pie... right? Right? RIIIIIIIGHT ;-) Thanks for being on board with this concept! Both of us appreciate it... both being me and my ego ;-)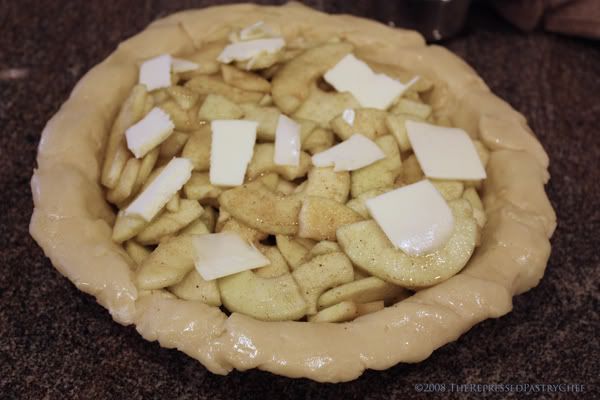 So moving on to the filling on page 300 of the book it's a pretty straightforward recipe. Apples... sugar... lemon zest... quick cooking tapioca (okay so I didn't have this and subbed flour which worked fine)... spices... and graham cracker crumbs (which I didn't have since **someone** (read: DJ) finished off the box of graham crackers without adding it to the grocery list... grrrr... but Dorie says you can sub dry bread crumbs so I did). Adding the crumbs as the first layer on the dough, before you spoon in the filling, is to help prevent the crust from being too soggy. Fantastic idea, Dorie! I didn't really have enough apples to make the pie as tall as I would have liked but that's okay - lesson learned for next time :) Place a few pats of butter on top of the apple mixture before you put on the top crust... then brush the top crust with milk and I chose to sprinkle on a combination of cinnamon and granulated sugar before I put it in the oven. Gives the crust a little extra flavor ;-) Now I'll be honest and tell you I'm not one to really eat the edges of the pie crust. Without the filling on it, the edge part just never tastes good. BUT... I gotta tell ya, that was definitely so not the case with this. The whole crust has a delicious flavor... including the edges. And the texture? It's light and flaky... and croissant-like. I can only imagine how much better it would be if I'd used a food processor when making the dough. Which leads me to my next point... I need a food processor. I need one. Right? If I'm going to make this pie crust again, I think I owe it to myself to have the right tools for the job... right? Riiiiiight! Again, I'm glad you're on board with this concept. You guys are THE BEST :)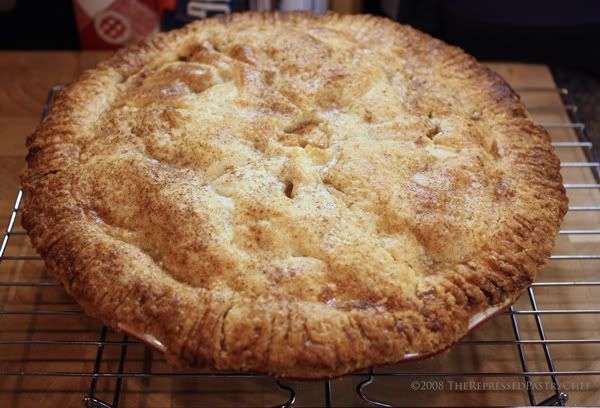 And if I need a food processor... then you guys need Dorie Greenspan's book Baking From My Home To Yours. I'm not sure about all the legal in's-n-out's of posting recipes from a copyrighted book online in a blog so I didn't do that here. If you're a lawyerly-type and want to email and let me know "the right thing to do", I'd love to hear it. Really, I would. Knowledge... it's a beautiful thing :) I tried taking pictures of a cut slice and learned something in the process... I'm not good at it. Always important to have a handle on your strengths and weaknesses ;-) The slice-shots stink... and I apologize for that. What can I say besides "whoops... sorry".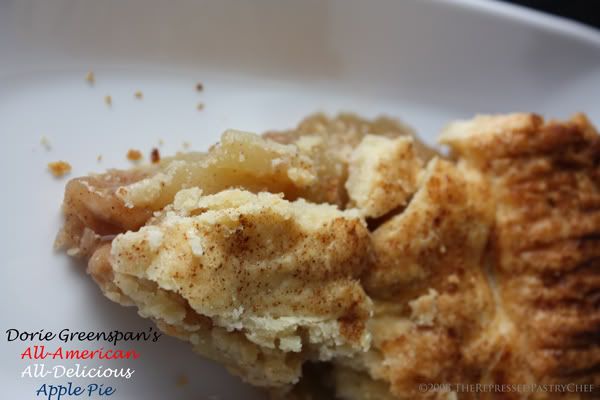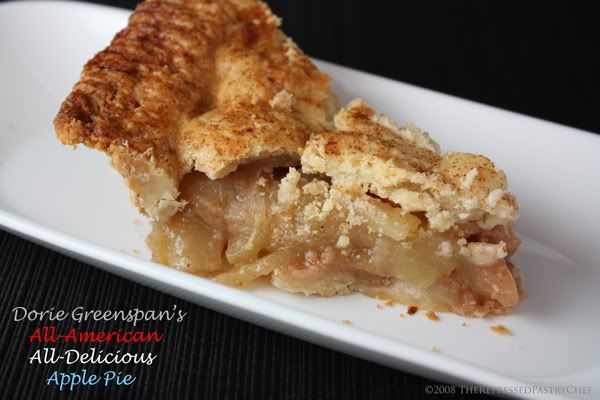 The flavor of this pie is sooooooooooooo good. M'mmmm.... and your whole house will smell delicious when you make this. And you will make this... I'm convinced! Or... okay... if you don't make this pie, you'll make another one. One that might be less intimidating... one that uses pie filling.... or one that uses frozen pie crust... but something tells me that after reading this entry your tummy is tellin you something... it's rumbling and saying "apple pie.... aaaaaaaple piiiiiiiiiie... APPLE PIE!!!". Independence Day is right around the corner and, well, Dorie DID call this her "All-American, All-Delicious Apple Pie"... maybe she's tellin you something too ;-)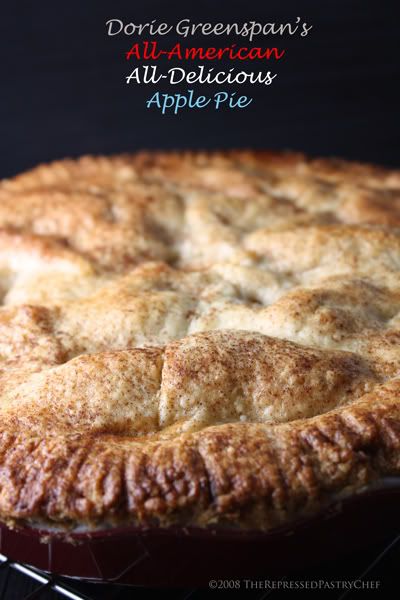 Have a delicious day!