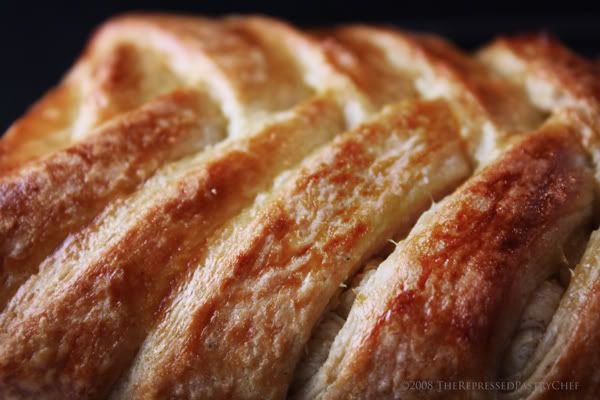 By far this has been my favorite Daring Bakers challenge. This month we tackled yeasted laminated dough and made the Danish Braid from Sherry Yard's book The Secrets of Baking. Having never made yeasted laminated dough... nor anything even remotely resembling a Danish Braid... I was intimidated to say the least. But taking it step-by-step I was able to convincingly complete this totally tasty treat :)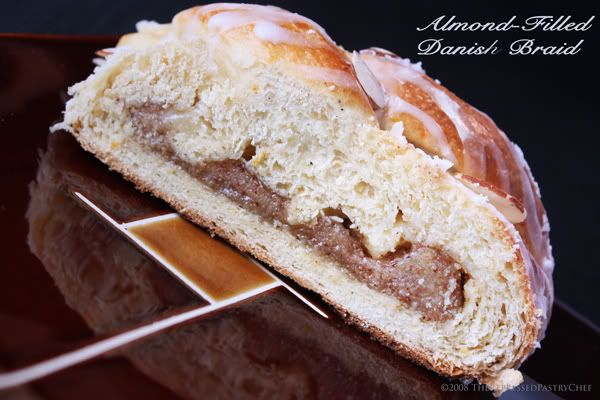 This month our hosts were Kelly of Sass & Veracity and Ben of What's Cookin ... and I have to thank them for a phenomenal choice. When I joined the Daring Bakers I really wanted to expand my baking abilities. Break out of my comfort zone of baking cakes, cupcakes and cookies... and branch out into areas that on my own I'd never attempt. This month's challenge really did just that and satisfied me on so many levels. I enjoyed this challenge so much that I baked it not just once... but twice! As I'm typing this post I have a second set of pastries baking in the oven and the aroma is downright intoxicating! The dough can be used to make danishes as well as croissants so I made apple-filled danishes... raspberry cream cheese danishes... marzipan danishes.. cheese danishes... braids... folds... stars... rounds... and of course croissants too :) If you're trying to sell your house, bake this dough!!! LOL!!!

I started off by making the filling... apple... almond paste (marzipan)... cream cheese... why decide on only one when you can make all three :)

First... the apple filling. Peel, core and dice a few apples... add sugar, cinnamon, vanilla bean, lemon juice and butter... then sauté to caramelize them. M'mmm m'mmm does this make an awesome apple filling :)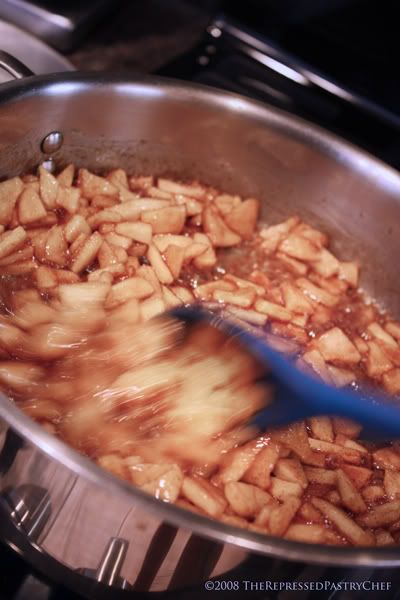 Next the almond paste... (yup, it's aka marzipan). Combine ground almonds and confectioner's sugar in a food processor, blender or Magic Bullet... then add an egg white. Couldn't be simpler :)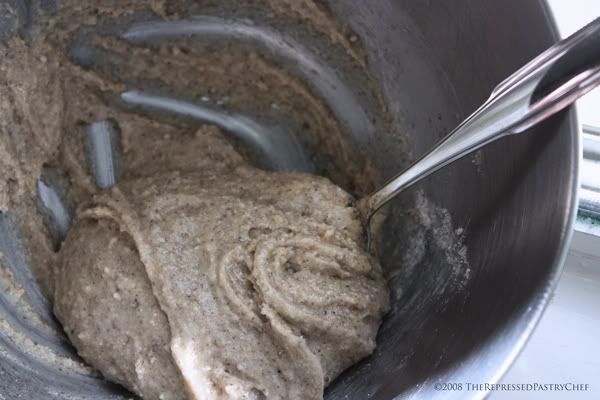 The cream cheese filling is out of this world.... cream cheese, sugar, vanilla and an egg. It's also from Sherry Yard's Secrets of Baking book.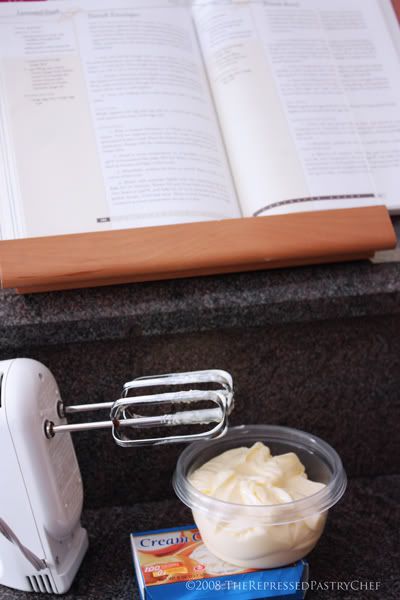 Making the dough itself isn't that hard... yeast, milk, sugar, orange zest, ground cardamom, vanilla extract, vanilla bean, eggs, orange juice, all purpose flour and salt. The best part is you get to use the dough hook on your mixer! I love getting to use the dough hook - makes me feel all "real baker" like ;-) And I love this photo showing the dough hook in action!!! (of course, you can always make the dough by hand... but that's more work than I'm up to usually! LOL). In French, this dough is called the detrempe... but I don't speak french so I just call it the dough :)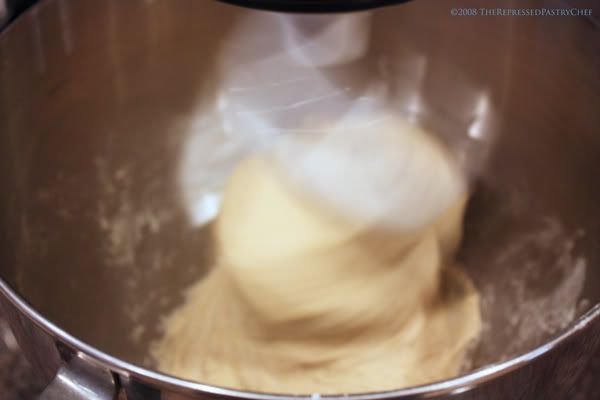 Then comes the butter block... who knew that butter and flour whipped up to be nice and light could make such an incredible contribution to the delicious pastry we're making! In French the butter block is called the beurrage but again, since I struggle to get words correct in English, I just call it a butter block :)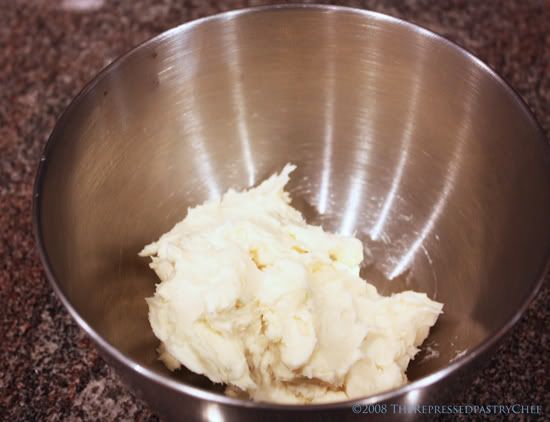 Okay now that we've got the dough made, it's time to roll it out into a biiiiiiiig rectangle... 18 x 13! That's big, especially considering most rolling pins are only 10" wide. After making this challenge recipe the first time I figured it was time to get a french pin... or at least a longer rolling pin since I really struggled with the required dimensions using a standard sized pin. Then I caught an episode of Alton Brown's Good Eats on Food Network and he said to just head over to the hardware store and get a length of PVC pipe for a lot less money. Dang that Alton is one smart cookie! DJ has a veritable hardware store in our garage and low-&-behold he had extra PVC pipe laying out! He cut it to 24", sanded the ends, made it all purdy for me and voila! I now have my very own custom sized pin. WOOHOO :) Thanks for saving me $50, Alton!! But anyway... roll out the dough to the biiiiiiiiiiig rectangle



Visually divide your rectangle in thirds... and on the center and right thirds spread out the beurrage... yeah... the butter block ;-)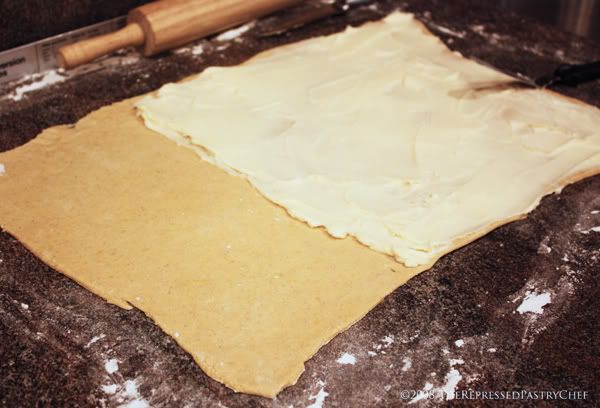 You're read to make the first turn of the dough... we're gonna fold this up like a tri-fold letter. Take the left third... the one with no butter-block... the nekkid one ;-) ... and fold it over the center third...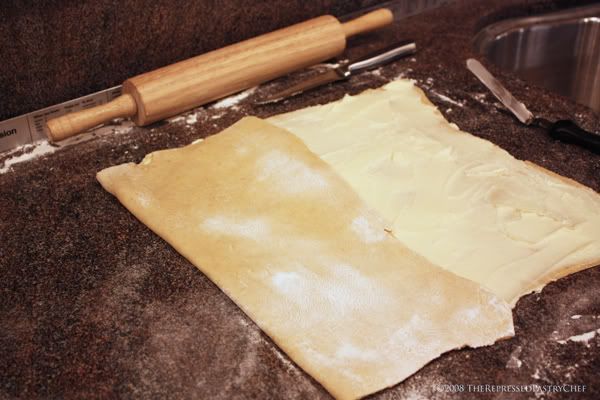 ... then take the right third and fold it over the the left part that's already been folded over the center part. Whew, that's a mouthful... a picture wouldn't hurt and luckily I happen to have one right here (hehehe I take pics of alllll the steps... I hope they're helpful to you cuz I know they're helpful as heck when I'm trying to make a new... and complex... recipe)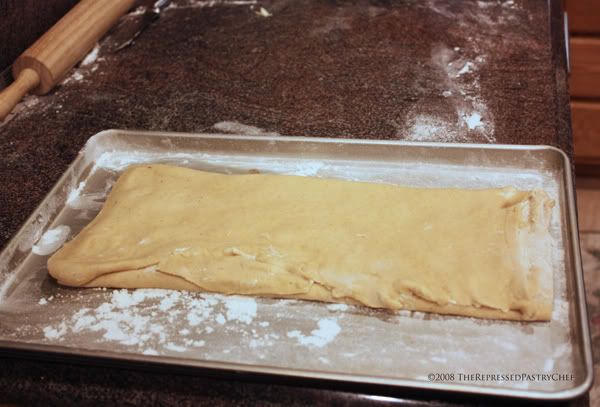 ... and there you have it... you've completed the first turn!! Woohoo!!! Nice job! Now stick this in the fridge for 30 minutes... then roll it out into that familiar 13 x 18 rectangle again... visually divide it in thirds... and fold it up. Only this time there's no butter block to add since all the butter is already in there :) That will complete the second turn of the dough and you refrigerate it for another 30 minutes. Repeat this two more times to complete the third and fourth turns. You make a total of four turns of the dough. At the completion of making the fourth turn, refrigerate the dough for at least 5 hours... or overnight.

Now the dough has had a nice long resting period... and I needed that resting period too because all those times of rolling it out with my lil pin on wretchedly-hot 108F day was w-o-r-k... WORK. Good thing I rested up because next we have to take that final turn and roll it out into an even *bigger* rectangle... 15 x 20 this time. Holy mother-of-pearl I thought the rolling would never end... but blessedly this was the laaaaaaaaast one :) Uhm... at least for this danish braid... I made a few ;-) Hey, who can stop at just one when you have such fabulous fillings, right? LOL

After rolling the dough to the 15 x 20 rectangle, visually divide it in thirds. The center-third is where you'll put the filling.. and the left- and right-thirds are where you'll make the angular cuts that will "braid" across the top to give this pastry the name "danish braid"... yeah... see... now you're getting it :)



ooooooh yes... all that aaaaah-MAY-zing filling... this one is apple but I also made almond, cheese and raspberry cream-cheese as well :)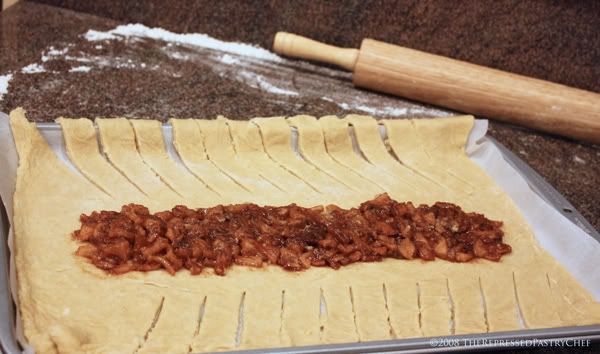 Start braiding... fold down the top and bottom ends to keep the filling inside... then take the strips on the left and right side and start folding them across, alternating left then right,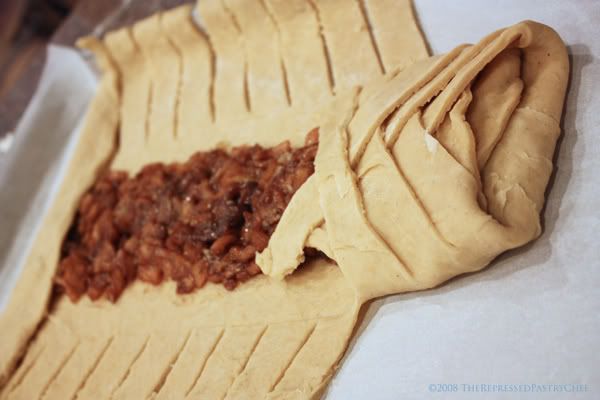 ...keep braiding until it's all corsetted up :)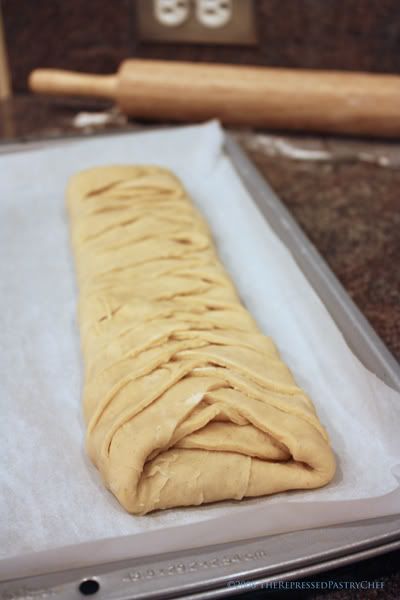 After all this, the dough is exhausted... and guess what? It wants to rest... again. But this time it won't be in the fridge, instead we'll brush egg on it first (gives the final product a glossy appearance) and proof it in a 90F controlled environment for about 2 hours until it doubles in size. While you're waiting you can start cleaning up the kitchen... or have a glass or two of wine. Hmmmm.... let's see... clean the kitchen or have some wine? Have some wine or clean the kitchen?? Yeah, I choose the wine :)

Once the wine-drinking... err... proofing is done (heh heh heh) pop it in the oven and bake to golden brown deliciousness... it's very simple, no glaze, no decorations, just an amazing caramelized apple filling... OMG... positively delicious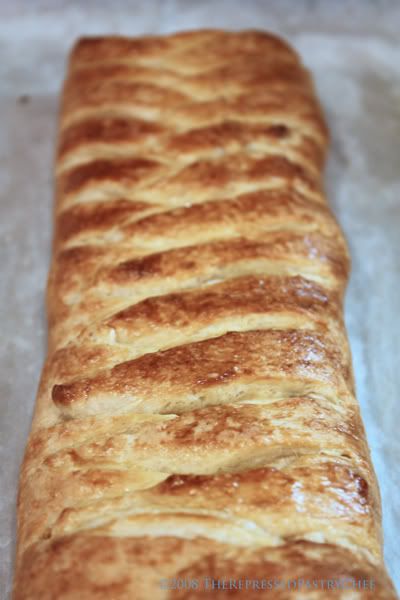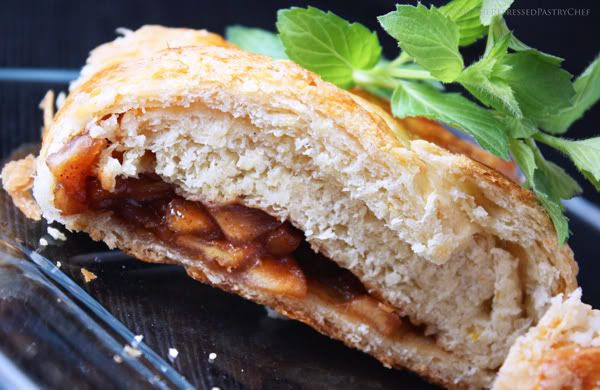 Here is the almond one... it's filled with homemade almond paste and after it was baked, I drizzled with a glaze of confectioner's sugar and milk... then sprinkled slivered almonds on top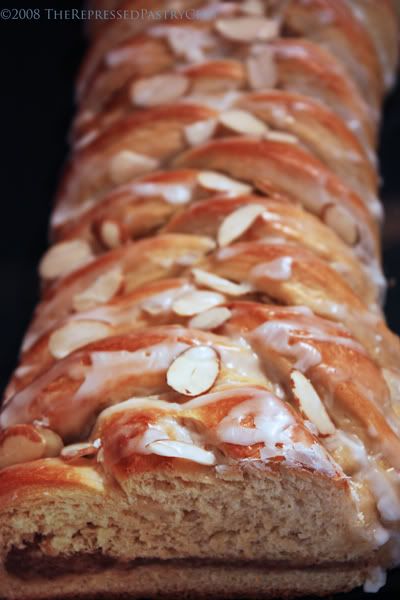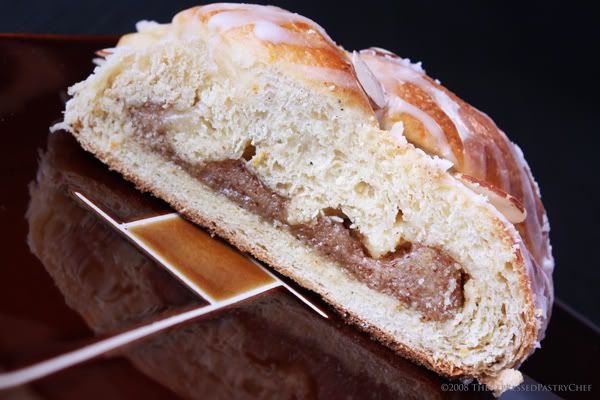 This one is raspberry puree layered on top of sweetened cream cheese... and with a streusel topping. To make the streusel I combined 1/4c sugar, 1/4c flour and 1T melted butter...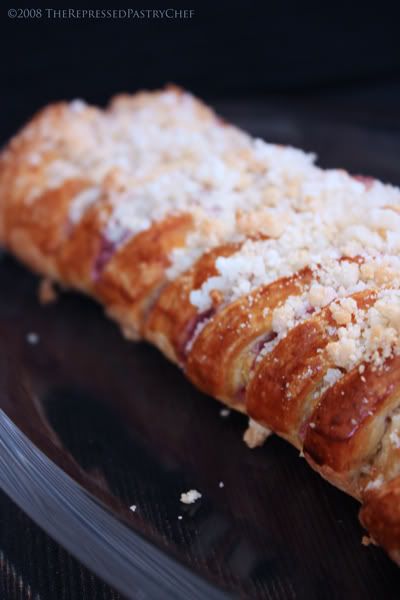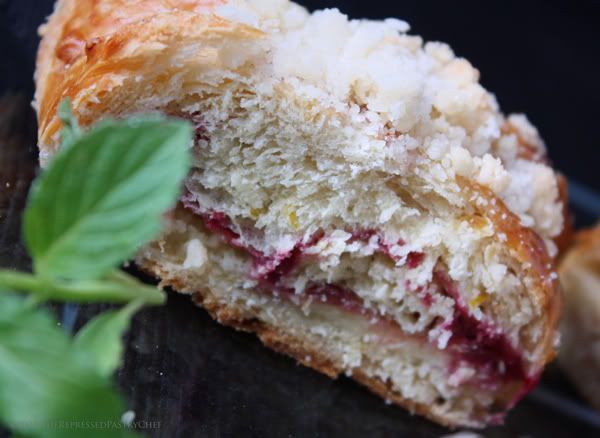 ... and the cheese danish... drizzled with a glaze of confectioner's sugar and milk...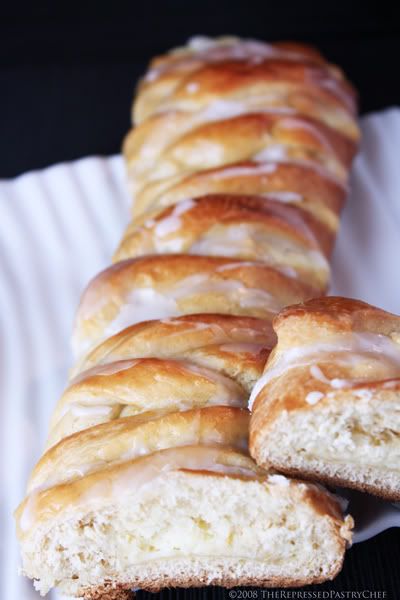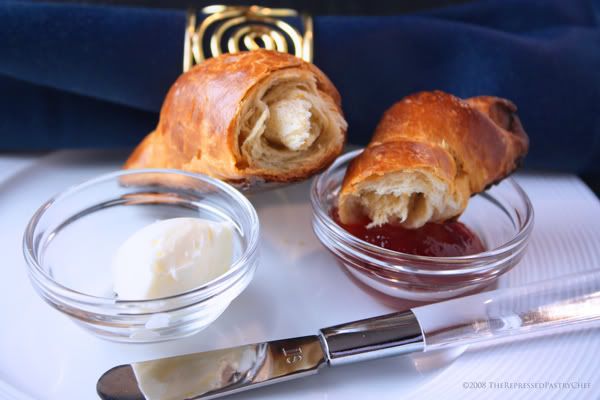 The dough is incredibly versatile. Along with the braids, I made other shapes/sizes of filled danishes too... stars... rounds... folds... and I even made a few croissants. It's feels great to be able to make these fantastic pastries. Once again I thank Kelly of Sass & Veracity and Ben of What's Cookin for such a challenging... and rewarding... recipe choice this month. If you want the full recipe, it's on Kelly's site... but do yourself a favor and go buy Sherry Yard's book The Secrets of Baking. On the right side of my blog page I have a list of cook/baking books on my shelf... Sherry's book is listed and there's a link that provides more information on it. If you're interested in expanding your baking horizons, I really recommend Sherry's book!!!

And now that you've seen the fruits of my labors, please check out some of the other Daring Bakers and what they did with this same challenge.

Have a delicious day!