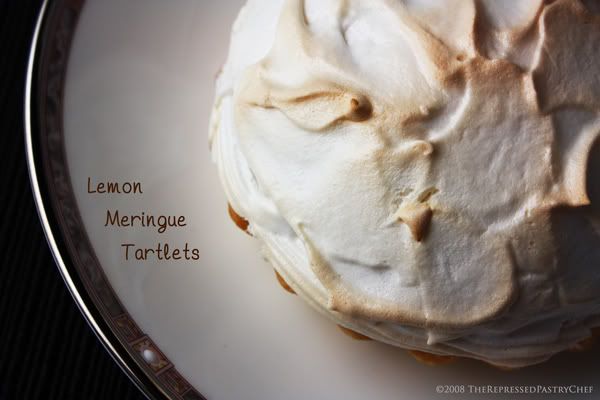 I'm not sure if I've ever mentioned how I love lemon desserts. Okay, okay... you're right... I have mentioned it a time or two... or ten! LOL!! I'll never be a chocoholic but a lemon-holic (uhmmm... not a word, huh?)... yeah that I could be :) Freely admitting that I've never made a lemon-meringue anything before, being a Daring Baker has expanded my horizons and given me confidence to try new things. Now, just for me (and my ego) ya gotta keep reading after the jump because even I am impressed with how this turned out. And for those of you who don't like reading and come to this blog only for the pretty pictures, there's lots more pictures inside...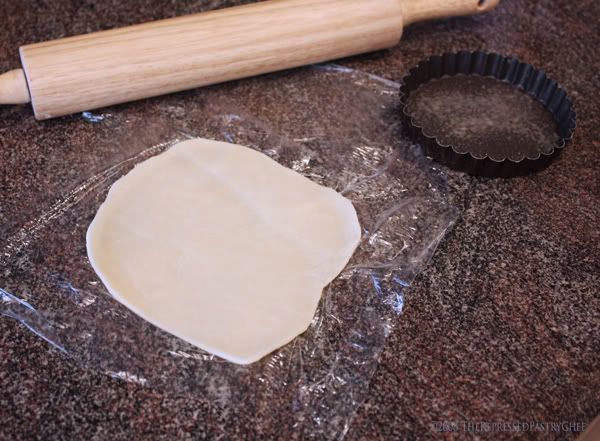 Last week, DJ had some time to kill and ended up at Williams-Sonoma. Among other things, he came home with this Emile Henry pie dish. Yes, in red! I love it! I love it! I love it!! Of course, I had to make a pie right away... and for such a gorgeous dish, only a lemon meringue pie would do :) But... but... but... he also came home with this set of tartlet pans. Tartlet? Tartlette? I've seen it both ways and I dunno which is right! LOL!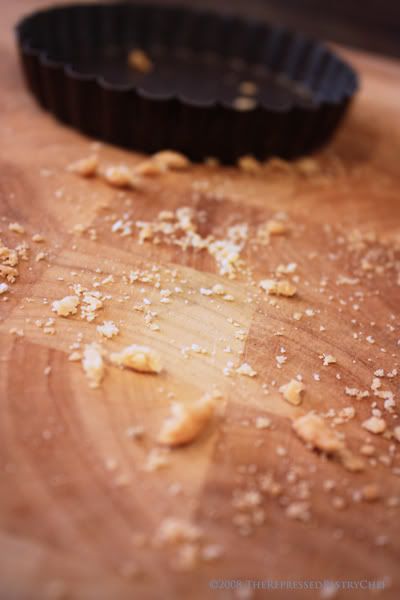 Back in January, before I was a member of the Daring Bakers, there was a Lemon Meringue Pie challenge. I saw so many beautiful creations as I perused their blogroll... but it was the tartlets (tarlettes? I still don't know!) that really caught my attention. I decided to hold off on using the Emile Henry pie pan and instead make Lemon Meringue Tartlets (that's the spelling I'm sticking with thankyouverymuch! LOL!) that way I could use my cute lil new tartlet pans and share with friends/family. Getting your very own mini-pie is really neat - and when you're giving them away, the presentation of your own lil mini-pie is totally more impressive than a cut-out slice of pie. Mini. Individual. Your own little pie :) People love this idea... and I love doing it :)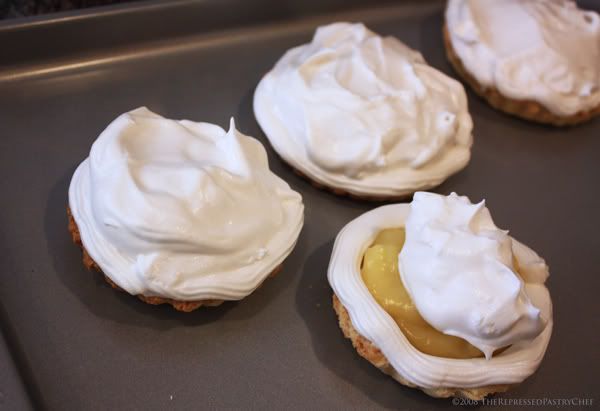 In making lemon meringue tartlets vs. lemon meringue pie, there's not a whole lot of difference. Just divide up your components and way you go! Divide your crust-dough into appropriate-sized balls, seriously coat your tartlet pans with a generous amount of baking spray (Baker's Joy is my choice), bake several crusts, fill each one , top each one with meringue and bake a bunch at a time. You still make the same amount of crust... the same amount of filling... and the same amount of meringue. It's the assembly that's a bit more time consuming - but remember, the presentation is sooooooooo totally worth it :)

I don't own a pastry cutter... never had one... never used one. When I bake, I like the feeling of working with my hands (clean hands, yes yes they're **CLEAN** hands thankyouverymuch! LOL!) because I find it very satisfying. I work the butter and flour together by hand so if you do't have a pastry cutter don't feel like you can't make pie crust. You can! You can! Y-E-S-you-can! Y-E-S-you-can! (uhm... yeah... that was my attempt at cheerleading and since I was never the cheerleader-type, it might have fallen flat... I know, I know... stick with the baking, Em... stiiiiiiiiick with the baking!).

Some might consider this a cheat but I'll reveal a lil secret here... I like to take some of the meringue, put it in a pastry bag and pipe it all the way around the top of the crust as a makeshift border. Because the tartlets are not all that deep, I find this makes everything MUCH easier once you've spooned in the lemon filling and you're ready to top with the meringue. I tried not doing the border and holy-mother-of-pearl it was just way too much effort for me to get the meringue topping all spread out nice and even-like. Color me lazy but that meringue border saved me a lot of time, effort and hassle :)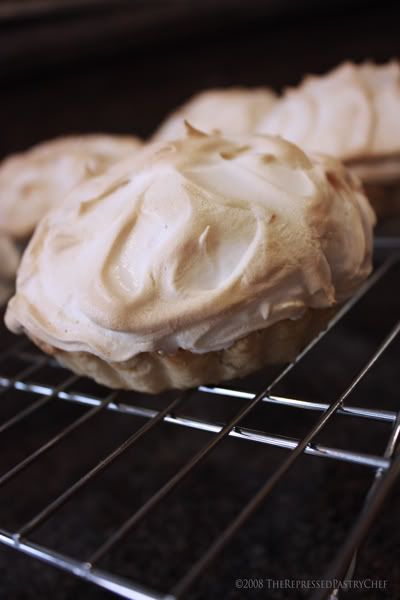 Realizing that not everyone will want to make individual lemon meringue tartlets, I've provided the recipe for making a regular pie. I didn't alter the ingredients one bit and it was enough for me to make 10 tartlets... each 3" in diameter. If you don't have tartlet pans but want to make the individual pies it's not difficult at all. Just take your dough, divide it in out, roll in the shape you want, bake them as flat discs, pipe a meringue border, fill with the lemon filling and top with the meringue. See, the tartlet pans are really not absolutely necessary and you CAN make the individual mini-pies without them :) If you're going to make the tartlets instead of the full pie, be sure to watch your baking times as the smaller size will bake up more quickly. And for sure, keep an eye on them during the final baking which browns the meringue. It might take a little bit of time for the meringue to go from white to beige... but in a flash it goes from beige-to-golden brown-to burnt-black so keep an eye on it... that's allllll I'm sayin ;-)

I think this is a fantastic recipe... absolutely fantastic! My sister was quick to say it tastes better than the often-chemical-laden ones you buy at the store. She and I grew up on lemon meringue pie so that was a wonderful compliment from her.

Have a delicious day!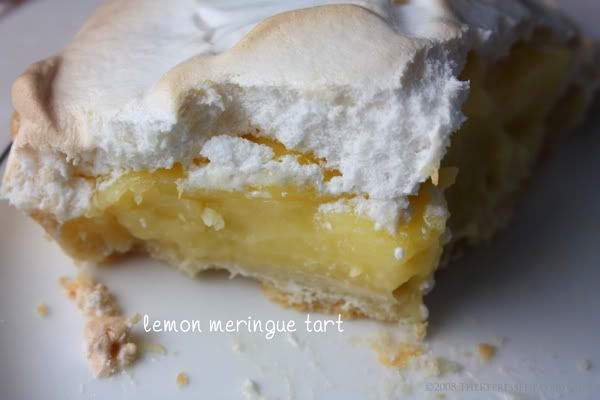 Lemon Meringue Pie
(from "Wanda's Pie in the Sky" by Wanda Beaver)


Lemon Meringue Pie
Makes one 10-inch (25 cm) pie

For the Crust:
3/4 cup (180 mL) cold butter; cut into ½-inch (1.2 cm) pieces
2 cups (475 mL) all-purpose flour
1/4 cup (60 mL) granulated sugar
1/4 tsp (1.2 mL) salt
1/3 cup (80 mL) ice water

For the Filling:
2 cups (475 mL) water
1 cup (240 mL) granulated sugar
1/2 cup (120 mL) cornstarch
5 egg yolks, beaten
1/4 cup (60 mL) butter
3/4 cup (180 mL) fresh lemon juice
1 tbsp (15 mL) lemon zest
1 tsp (5 mL) vanilla extract

For the Meringue:
5 egg whites, room temperature
1/2 tsp (2.5 mL) cream of tartar
1/4 tsp (1.2 mL) salt
1/2 tsp (2.5 mL) vanilla extract
3/4 cup (180 mL) granulated sugar

To Make the Crust:
Make sure all ingredients are as cold as possible. Using a food processor or pastry cutter and a large bowl, combine the butter, flour, sugar and salt.Process or cut in until the mixture resembles coarse meal and begins to clump together. Sprinkle with water, let rest 30 seconds and then either process very briefly or cut in with about 15 strokes of the pastry cutter, just until the dough begins to stick together and come away from the sides of the bowl. Turn onto a lightly floured work surface and press together to form a disk. Wrap in plastic and chill for at least 20 minutes.

Allow the dough to warm slightly to room temperature if it is too hard to roll. On a lightly floured board (or countertop) roll the disk to a thickness of 1/8 inch (.3 cm). Cut a circle about 2 inches (5 cm) larger than the pie plate and transfer the pastry into the plate by folding it in half or by rolling it onto the rolling pin. Turn the pastry under, leaving an edge that hangs over the plate about 1/2 inch (1.2 cm). Flute decoratively. Chill for 30 minutes.

Preheat oven to 350ºF (180ºC). Line the crust with foil and fill with metal pie weights or dried beans. Bake for 20 to 25 minutes. Carefully remove the foil and continue baking for 10 to 15 minutes, until golden. Cool completely before filling.

To Make the Filling:
Bring the water to a boil in a large, heavy saucepan. Remove from the heat and let rest 5 minutes. Whisk the sugar and cornstarch together. Add the mixture gradually to the hot water, whisking until completely incorporated. Return to the heat and cook over medium heat, whisking constantly until the mixture comes to a boil. The mixture will be very thick. Add about 1 cup (240 mL) of the hot mixture to the beaten egg yolks, whisking until smooth. Whisking vigorously, add the warmed yolks to the pot and continue cooking, stirring constantly, until mixture comes to a boil. Remove from the heat and stir in butter until incorporated. Add the lemon juice, zest and vanilla, stirring until combined. Pour into the prepared crust. Cover with plastic wrap to prevent a skin from forming on the surface, and cool to room temperature.

To Make the Meringue:
Preheat the oven to 375ºF (190ºC). Using an electric mixer beat the egg whites with the cream of tartar, salt and vanilla extract until soft peaks form. Add the sugar gradually, beating until it forms stiff, glossy peaks. Pile onto the cooled pie, bringing the meringue all the way over to the edge of the crust to seal it completely. Bake for 15 to 20 minutes, or until golden. Cool on a rack. Serve within 6 hours to avoid a soggy crust.