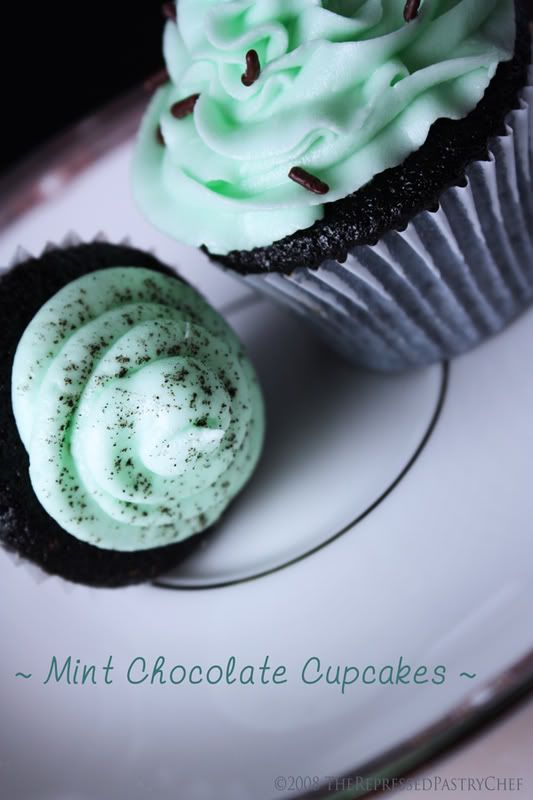 Believe it or not, here's yet another post about chocolate cupcakes. And this won't be the last since I'm still playing around trying to find "the one" that I'll add to my bag-o-tricks :) The recipe I used this time is so darn good I like to think I've hit my "Eureka!!" moment... but just last night I received another that, of course, I'll have to try. This one I'm sharing with you today is the closest I've come so far to finding "a keeper". For someone who's not all that big on chocolate, I've sure been baking with it a lot lately!

I'll freely admit that when I first read this recipe I was skeptical... very very skeptical. A cake recipe with no eggs? No milk? I was really scratching my head as to how this one would turn out. The batter is thin and easily pourable - and that worried me too. But the taste is great! And the texture? Well, I'd by lying if I didn't say it was the closest to that hard-to-duplicate texture of box cake mix... though the flavor is so much better!

Now I'm not a vegan... far far from it... but since the recipe has no eggs and no milk, does it qualify as vegan-friendly? Someone who knows these things please post a comment and let me know because I'm sincerely interested.

I realize the calendar shows June and St. Patrick's Day was about 2-3 months ago, but I recently had a hankerin for minty icing. Maybe it was that Mint Chocolate Chip ice cream I posted about here. To make these Mint Chocolate Cupcakes you can either put the mint extract in the batter itself... or put the mint extract in the icing. Maybe go all out and put it in both! But if you go that route, try to use a light hand with the amount of mint because too much can be overpowering for some folks.

Pair it with my favorite buttercream frosting that I posted about here and you've got yourself one tasty cupcake. I added a small amount of mint extract to the icing... and a very small amount of Wilton Gel Icing Color in Kelly Green to dress it up a little. I also dusted some with cocoa powder and dotted a few chocolate sprinkles on others. When I gave one of each to a couple in my neighborhood, they playfully teased each other with "well, which one do you want... sure they both have chocolate stuff on top but one has dust and one has chunks... make a choice" hahahaha :)

The recipe, as written, is enough to make a full cake. I halved it and it still made a whole lot of cupcakes... in excess of 2 - 3 dozen petite mini, mini and regular sizes. When trying out a new recipe for the first time I tend to cut it in half or even one- third to see how it works out. I figure if it's great I can always make more... but if it's pretty bad, I haven't wasted a lot of ingredients and gotten stuck with a whole lot of something that just doesn't taste very good! LOL! When I made this recipe, I was only disappointed in the fact I didn't make more... it was THAT good. Try it out for yourself... and tell me if you don't agree :)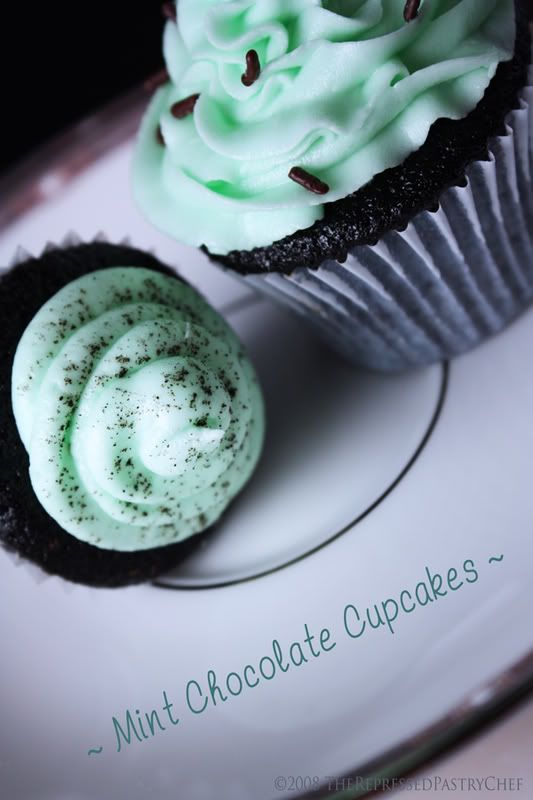 Mint Chocolate Cupakes
adapted from Amazon Chocolate Cake


Ingredients
3 cups flour
2/3 cups Hershey's Special Dark cocoa powder
2 teaspoons baking soda
2 cups sugar
1 teaspoon salt
2 cups cold water
1/2 cup plus 2 tablespoons vegetable oil
2 teaspoons vanilla extract
1 teaspoon mint extract
2 tablespoons white vinegar

Directions

Preheat oven to 350F

Sift together flour, cocoa, baking soda, sugar and salt together.

In a separate bowl whisk together the water, vegetable oil, vanilla extract, mint extract and vinegar.

In a large mixing bowl, combine 1/3 of the dry ingredients with 1/2 of the wet ingredients. After the mixture is thoroughly combined, add half of the remaining dry ingredients with the remaining wet ingredients. Combine thoroughly. Lastly add in the remaining dry ingredients. Once the mixture is thoroughly combined, continue to mix for another 2-3 minutes.

Pour into cupcake liners or for a full cake pour into a 9x13 cake pan prepared with baking spray. Tap the pan against the counter to break any air bubbles that exist.

Bake for 20 minutes (cupcakes) or 25-30 minutes (cake) or until a cake tester inserted into the center comes out clean.

Cool in pan for 5 minutes before turning out onto wire rack to cool completely.
Top with my favorite buttercream frosting and ENJOY!!.