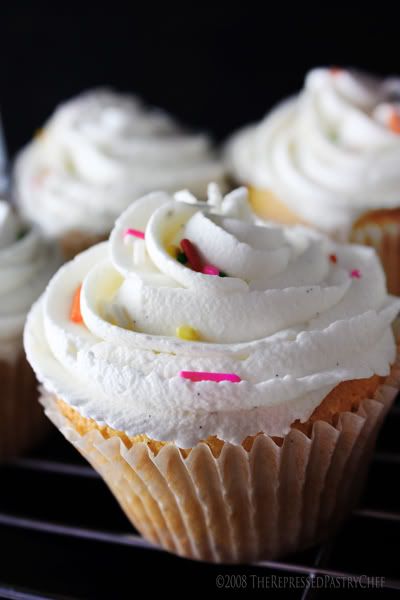 I've made a lot of cupcakes in the past 6 months. Dark chocolate cupcakes... milk chocolate cupcakes... marble cupcakes... red velvet cupcakes... lemon cupcakes... tropical cupcakes... "shirley temple" cupcakes... and classic, traditional vanilla cupcakes too.

To me, being able to bake a really good vanilla cupcake matters. When I get a new baking book one of the very first things I make from it is a simple vanilla cake recipe. Luckily most of my baking books have at least one ;-) A few weeks ago I picked up the book Hello Cupcake! and of course had to try out their vanilla cupcake recipe :)

While the book is full of creative, imaginative and fun decorating ideas, they also have recipes. And not just "from scratch" recipes but also recipes for jazzing up box cake mix as well... in case you want to go that route. What I tried was their "from scratch" recipe and I was underwhelmed with the results as I found them to be dry. Did I overbake them? Perhaps. But in my own defense, I made full-size, not mini, cupcakes and I took them out after only 15 minutes of baking. My rule is to never open the oven in the first 15 minutes. Does my rule need to be adjusted? I thought it was possible. Luckily I'd only made one tray as a test - so I made the other tray (this time with a few mini chocolate chips in the batter and I'll blog those at some point I'm sure! LOL) and baked only 13 minutes but still too dry for me.

I should mention that I included vanilla bean in the batter. I don't think that caused these cupcakes to be dry - but anything's possible.

Vanilla Bean Cupcakes
adapted from "Hello, Cupcake"
2 1/2 cup all-purpose flour
2 teaspoons baking powder
1/2 teaspoon baking soda
1/2 teaspoon salt
1/2 cup milk
1/2 cup vegetable oil
1 teaspoon vanilla extract
1 vanilla bean pod
1 stick unsalted butter, softened
1 cup sugar
3 large eggs

Preheat oven to 350F
Line 24 muffin cups with paper liners
Whisk together the flour, baking powder, baking soda and salt in a medium bowl.
Combine the milk, oil and vanilla extract in a small bowl. Scrape the insides of one vanilla bean pod into the same bowl.
In another medium bowl, using a stand or electric mixer on medium speed, cream the butter and sugar until light and fluffy
Add the eggs, one at a time, beating well after each addition.
Add 1/3 of the flour mixture... combine just until blended
Add 1/2 of the milk mixture... combine just until blended
Add 1/2 of the remaining flour mixture... combine just until blended
Add the remaining milk mixture... combine just until blended
Add the remaining flour mixture and combine just until blended. Ensure the entire mixture is blended.
Fill cupcake liners 2/3 full... as written the recipe states to bake 15-18 minutes or until a toothpick inserted in the center comes out clean. Be very careful of the bake time - check them at the 10 minute mark to be safe - do not overbake these or they will be dry.
Remove from oven and cool on wire rack for 10 minutes... then remove from pan and place on wire rack until cooled completely

Vanilla Bean Buttercream Frosting
This is very simple. Use my favorite buttercream icing recipe posted here and to it add the scraped inside of two vanilla bean pods. If you choose to scale the buttercream recipe in half, use one vanilla bean pod instead of two.

If you've made these cupcakes before using the Hello Cupcake! recipe, please let me know if yours were dry as well. I certainly don't want to think poorly of it if the dry result was because of me. If you give this recipe a try, I'd love to know your results too. I had high expectations that these cupcakes just didn't live up to. Oh well, at least the icing was fantastic ;-)

Have a delicious day!