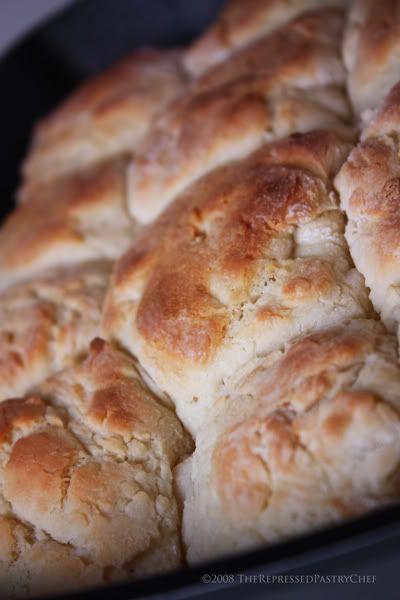 {yawn} I am so tired. Burning the candle at both ends... operating on less than 4hrs sleep/night for far too long... mega-pressure at work... Daring Bakers challenges... Tuesdays With Dorie recipes... Weight Watcher Wednesday recipes... husband... stepkids... family... earthquakes... yup, my life is downright stressful right now. I enjoy most of the things that keep me so busy I don't have time to sleep (emphasis on the word "most") but last night I came home and just felt like comfort food. Being burned out and too lazy to really make much of anything, I decided on buttermilk biscuits. These are quick, easy, go from thought-to-table in about 30 minutes and best of all they taste incredible (like ya spent all day on em! LOL)

The earthquake we had here in Southern California earlier this week was rather interesting. It's the first sizeable one we've had since I moved back to this area 5 years ago. I'm grateful for the moderate-quakes... the ones around 4.5-5.5... yes grateful because I believe it alleviates tension/pressure/stress along the fault lines and perhaps keeps us from having "The Big One" (like > 7.2) anytime soon. I wish something would alleviate my tension/pressure/stress ;-) haha! Not likely, I know. When the earthquake hit, DH tells me he was backing out of the garage and thought he had a flat tire... so he pulled back into the garage but the motion didn't stop. That's when he realized "earthquake!". Me? I was in the dentist's chair - nice... not! At least I was just sitting there, relaxed, watching TV, all bibb'd-up and waiting for him to come in but you know those chairs... just breathing makes them rock and roll. When the earthquake hit, I watched the street lamps, traffic signals and telephone poles outside just swaying like big ol palm trees... except trees they are not... they're made of metal and wood and not meant to sway! LOL. I could hear people gasping and ducking for cover... while I just sat there, riding it out. Pretty darn proud of myself for keeping my cool... but really, where was I gonna go and what was the point of going anywhere if nothing was falling, breaking, shattering around me. Eh, such is life in Southern California :) Like I said, I believe these moderate quakes relieve tension/stres/pressure... kinda like how these buttermilk biscuits relieved some of mine :)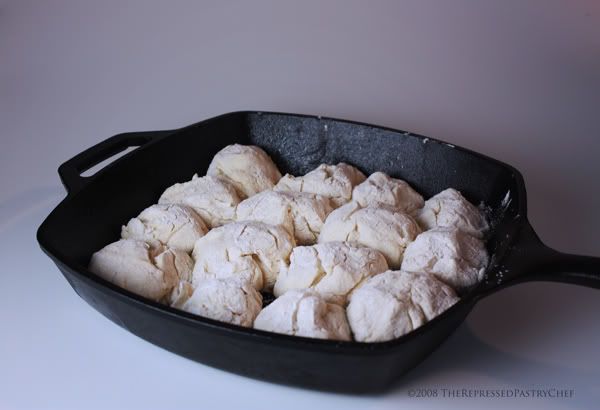 One of the things I like best about this recipe is it involves no yeast... meaning there's no waiting for the dough to rise. Makes it rather quick, that's for sure! I also like that they're baked in a cast iron skillet. I love my cast iron cookware. I've previously showed off one of my pans in this post and probably waxed poetic about them in other entries, too. Growing up, my mom had two very very old cast-iron skillets... I hated them with a passion because, well, first off they were old... and second off they were ridiculously heavy (hey, I was like 10 and how many 10 year olds have an appreciation for anything old! LOL... and I was like 10 so of course those things felt heavy as can be! LOL... did I mention I was like 10? hehehe). Mom got them from her mom... guess it was a nice family thing... and I was kinda expecting to get them from my mom one day since my sister isn't into cooking. Last Christmas mom surprised me with a set of my own... square skillet, round skillet, mini skillet... and then I added a scone/cornbread pan and some other enamel-on-cast iron pieces too. I can't really explain it but cooking with cast iron that just makes me feel good :)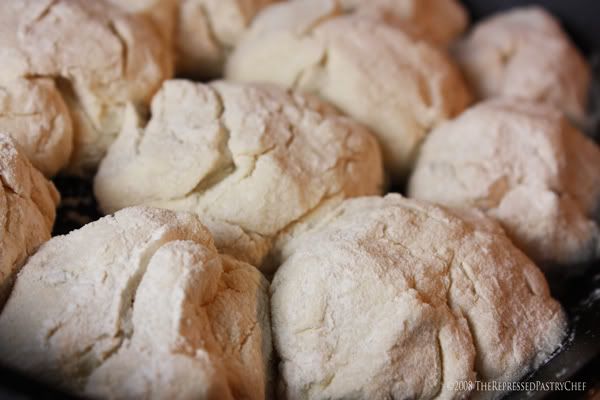 The recipe for these biscuits can be found here on AllRecipes.com and I've made them more times than I can count. The ingredient list is pretty short... flour, baking soda, salt, sugar, shortening, butter and buttermilk. I've made them by hand... but last night I took advantage of my new food processor and used it. Easy breezy, lemme tell ya. Though I have decided that the preparation time-savings realized with my food processor is pretty much in direct proportion to the extra amount of time required to clean that bad boy after using it. Holy crap does it take some time for me to clean it. But hey, I'm not complaining because I do love it beyond words :) :)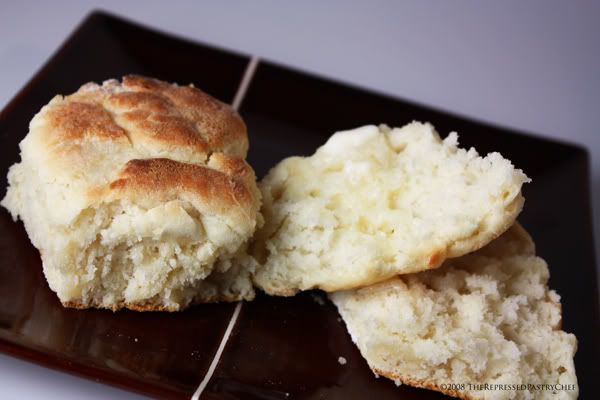 Mix the ingredients, drop by spoonful or scoopful into a skillet and let em bake for about 15-20 minutes... your whole house smells wonderful in the process... and slather 'em in a bit of butter or honey or honey butter or jelly or whatever floats your boat. But these are good... and very easy. Make some... your tummy (and your family!) will thank you


Have a delicious day!
Click to read the rest of "Buttermilk Biscuits - the easy way"!