It's Tuesday and that means it's time for another Dorie Greenspan recipe :) These apple cheddar scones come together easily, bake up beautifully and taste great! Serve with some honey butter and they're M'mmm M'mmm deelish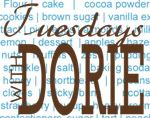 In my repeated perusing one of my favorite baking books - Dorie Greenspan's Baking From My Home To Yours, I have come across this recipe several times. While I admittedly just looooooove scones, to me they're a sweet bread, not a savory bread. And truth be told the idea of cheddar cheese and apples just didn't excite me. As much as I trust and respect Dorie Greenspan, I simply had no intention of trying out this recipe.

This week's Tuesdays With Dorie was hosted by Karina of The Floured Apron who chose, you guessed it, the Apple Cheddar Scones recipe! I'm actually really glad she did because like I said, I had no intention of baking these! LOL! But as a TWDer, I'm open to any recipe in this fantastic book.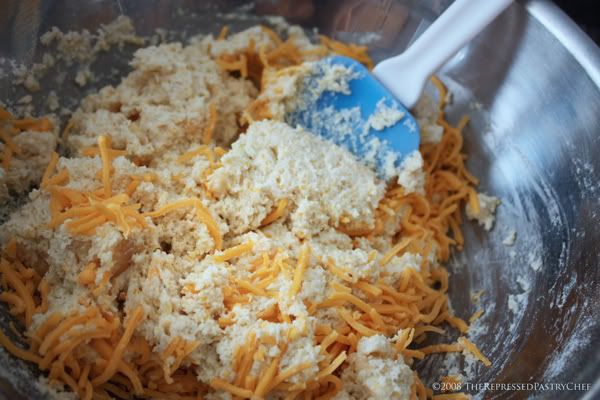 This recipe is so easy and so quick! You don't need a lot of time and you don't even need any kind of mixer... I made these with just two bowls, a fork and a rubber spatula. Could it be any easier?!?!?!!!! And quick? Just 20 minutes in the oven. I think it took me a grand total of 45 minutes from thinkin' to eatin' :) :) :) :) Dorie provides instruction of how to roll these out and cut into the appropriate shape before baking on parchment... but you know I can't possibly pass up an opportunity to use my super nifty cast iron scone pan so that's what I used!

As written, the recipe calls for either apple cider or apple juice and dried apples... but... I'm a rebel and instead used freshly diced apples figuring the natural juices in the fresh apples would compensate. Who knows if that really *really* worked but the end result tasted just great to me and DJ :) And to make the honey butter I just whipped some honey into softened (not melted) butter. Easy-breezy!

For dinner last night we bbq'd some ribs on the rotisserie, grilled up some corn, heated some baked beans... and enjoyed these apple cheddar scones. The texture is nothing like the sweet scones I've blogged about here and here. Along with all purpose flour, these include a bit of cornmeal for a much more rustic texture that makes them perfect as a dinner bread.

They're good... and they're different.... they're differently good!!!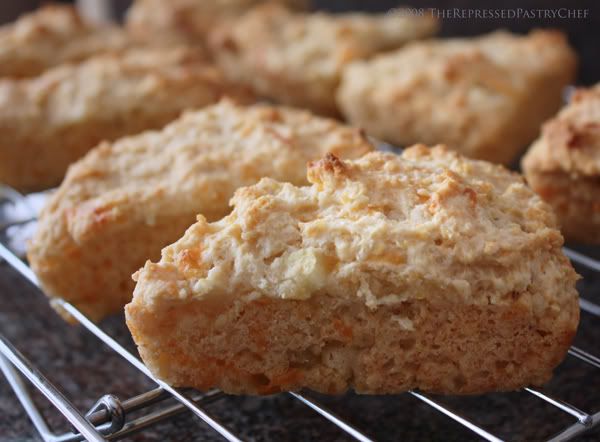 Check out the others who also bake Tuesdays with Dorie - and see what they came up with as well.

Have a delicious day!