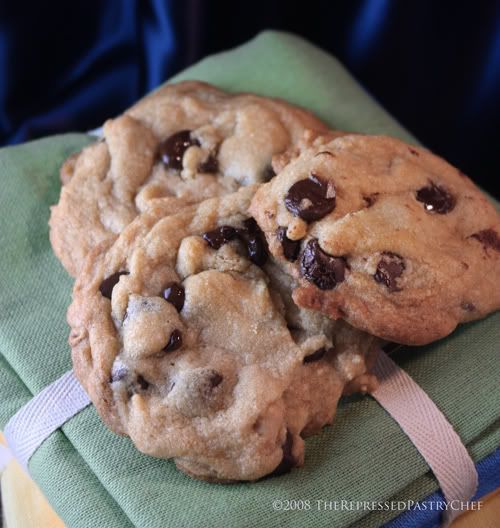 Before anyone starts to think I've become a little, oh, "obsessed" with the subject, this here is my final post about chocolate chip cookies. It is! Uh huh! Really!. Honest! This is it! And ya know why? Because in this post I'm going to share with you my tried-&-true, absolute favorite, most dependable, hands down favorite, never-failed-me chocolate chip cookie recipe. It's so good, I believe everyone needs to make it.

Admittedly, I am not a huge fan of chocolate. I won't go so far as to say I *dis*like it, but I'll never fight you for it. Lemon? Now that's a different story and beware... I'll kick off my shoes, tear off my earrings and throw down over a luscious, decadent, well made, lemon dessert.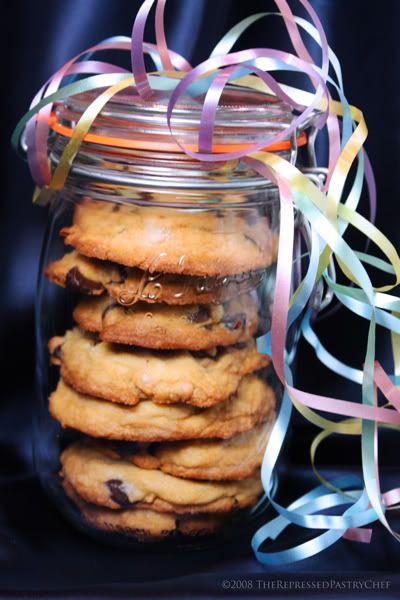 But talk of lemon decadence has no place in this post... this post is an homage to the chocolate chip cookie.

If you like your chocolate chip cookies, thin and crispy, might I suggest the Dorie Greenspan' Best Chocolate Chip cookie recipe that I posted about here. I'm not a fan... but others must be. Lord knows I do love me some Dorie Greenspan but that particular recipe, not so much.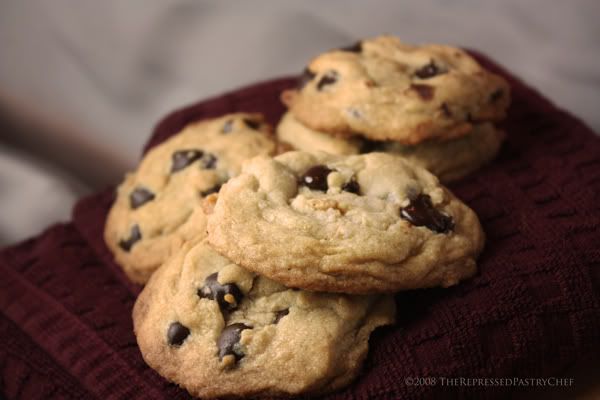 For me, the best chocolate chip cookie is one that doesn't spread... one that sets up nicely... one that is tall... with tons of texture... like the Deryl Bear Chocolate Chip Cookie Recipe.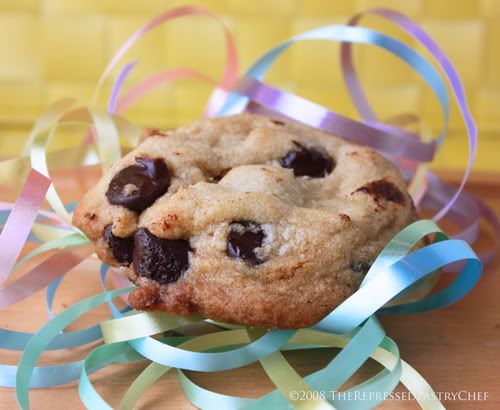 Em's Favorite Chocolate Chip Cookies
adapted from Deryl Bear's Chocolate Chip Cookies

Ingredients
1/4c unsalted butter
1/4c butter flavor Crisco (vegetable shortening)
1/2c brown sugar - packed
1/3c granulated sugar
1/2 teaspoon salt (omit if using salted butter)
1 teaspoon vanilla extract
1 egg
3/4c cake flour (Swan's Down and Softasilk are popular brands)
1c all purpose flour
3/4 teaspoon baking soda
1 1/2c semisweet chocolate chips

Directions
Preheat oven to 350F and position rack in the center.
Place a sheet of parchment or silpat on cookie sheet
In the bowl of a stand mixer fitted with paddle attachment, beat butter, shortening, brown sugar, granulated sugar, and salt until creamy and no butter flecks remain.
Beat in egg and vanilla until well blended.
Add flours and baking soda.
Combine well.
Using a rubber spatula, mix in chocolate chips until just combined.

Drop by heaping teaspoon onto prepared cookie sheet
Bake for 11-12 minutes - rotating the tray once during cooking.
Remove from oven and cool in pans for 2 minutes then transfer to wire rack to cool completely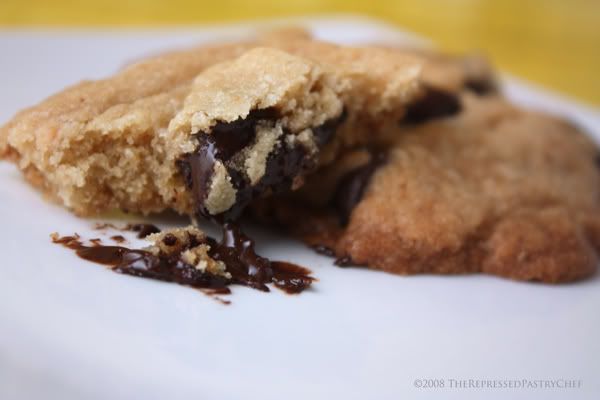 Don't worry... I totally get that not everyone will love this recipe as I do... and hey, that's okay. To each their own. Everyone has their opinion of "the best" chocolate chip cookie... and now I've shared mine... not just which one but also how to make it. And that's it, Regis, Deryl Bear Chocolate Chip Cookie... final answer.

Have a delicious day.