Dear Dorie... how do I love thee? Let me count the ways. I love your Perfect Party Cake that has saved me oh so many times. I love your Cream Puff Ring that has made me look like a "supah-stah" (thank you Molly Shannon). I love your Chocolate Pudding that is so fantabulous that mere words cannot express the feelings of a non-choco-holic like me. Your All American All Delicious Apple Pie and Good For Almost Everything Pie Crust have challenged me... but in a good way (hey, I received a food processor after my family heard my tales of woe trying to make the crust w/o one... and they had to hear it over and over and over again! LOL). Your Apple Cheddar Scones surprised me with their goodness. Your Cocoa-Buttermilk Birthday Cake has such wonderful texture. Your Double Crusted Blueberry Pie was a big hit with my friend's husband... a blueberry pie afficianado if ever one lived. Your Mixed-Berry Cobbler introduced this girl to the world of cobblers in general. Your Créme Brulée has wonderful silkiness and flavor that takes me back to delicious meals in wonderful restaurants of Paris. And among all those winners,  my love for your Best Chocolate Chip Cookies eh, not so much.

Sorry Dorie. You know I love you. But for me these cookies were a major league, grade A, full on disappointment.

I feel so bad about this cuz all of you know I have mad, fierce, wicked-love for my girl Dorie Greenspan. I gotta keep it real and tell ya these chocolate chip cookies were a tremendous flop for me. I wanted to love them... really, I did. But me no likey a flat chocolate chip cookie.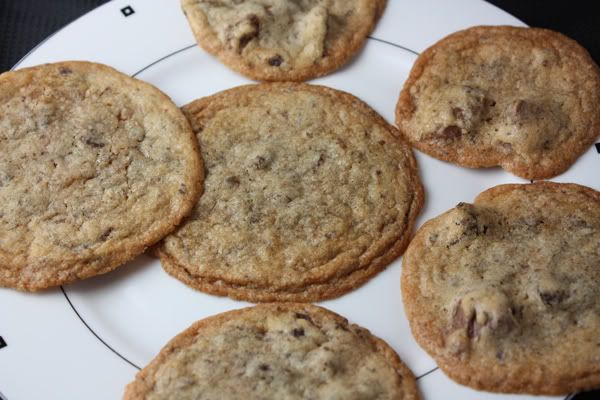 My go-to has always been to use half-butter and half-butter flavor Crisco (shortening) in any chocolate chip cookie recipe that uses butter as it's only fat. Now yeah, I know, some folks poo-poo shortening. To each their own. No one who's ever eaten my cookies has complained or spit them out. That's cuz they taste goooooooood :) When I made the Double Chocolate Chunk Peanut Butter Chip cookies the night before, the recipe upon which I based it called for all butter... and they weren't ridiculously uber-flat, alien-looking cookies... so I had hope... I had faith that an all butter chocolate chip cookie recipe didn't have to be flat! Granted, those were flatter than I like but... sadly... my hopes were dashed in using Dorie's all butter chocolate chip cookie recipe. These were the best looking of the 2-3 dozen cookies made :(

I didn't have a boat-load of useable chocolate so I kind of improvised by using a combination of semi-sweet chocolate chunks... along with some Hershey's Chocolate Marshmallow Kisses to reach the needed amount of chocolate.


Hershey's is now making all sorts of varieties of their "Kisses"... and when I find interesting ones, I buy them. Rarely do I have a clue just what I'll use them for but hey, chocolate of any variety will never go to waste in my household... DJ and his kids love it too much :)

Chocolate chip cookies are very personal. Some folks like 'em crispy... others like 'em chewy. Some folks like 'em flat... others like 'em tall. With the exception of using Marshmallow chocolate for SOME of the chocolate called for, I followed Dorie's recipe to a T. I don't play around with her recipes the first time... I like to baseline the first time against the recipe as written. I can think of no reason my cookies looked like this:


And what is up with the concentric circles? Do they tell the age of the cookie like the rings of a tree-trunk? LOL I dunno. I just dunno. But I know that I followed the recipe and ended up with a disappointing result.

Sorry Dorie... you know I love ya girl... but this chocolate chip cookie recipe, well, not so much.

Since I believe that Dorie wrote her book not only to share her lovely recipes but to also make a dime, I won't post her Chocolate Chip Cookie recipe here. I will, however, encourage you to buy her book Baking From My Home To Yours which is featured on the book-list on the right side of my page. You won't regret it!!  Or I supposed you could always search the internet... some else has probably already posted it.  But hey, support the publishing industry... and buy the book!!

Have a delicious day :)