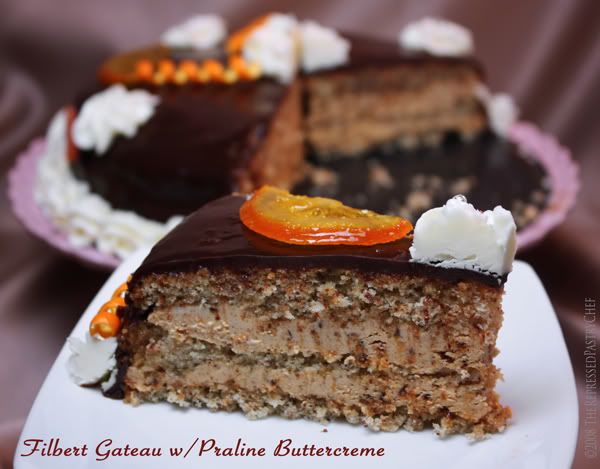 This month's Daring Bakers challenge was the Filbert Gateau with Praline Buttercreme from Great Cakes by Carol Walter. Not being a fan of hazelnuts, chocolate, orange and apricot this recipe initially had me scratching my head. But the end result is FANTASTIC! The components all meld together in a symphony of flavors that's hard to beat!

As I've come to expect from a Daring Bakers challenge, this month's recipe is full of a variety of different elements that all come together in phenomenal way. After I initially read thru the recipe... my first thought was "holy mother of pearl, what have I gotten myself into THIS time?!?!?!?"... and then I realized that's the same thought I have every month when I read the DB challenge! LOL

Making the gateau starts with toasting hazelnuts and combining them with a bit of flour in the food processor. Egg yolks and whites get whipped separately, then combined with the flour and some butter added at the end. This makes the gateau batter which is poured into a cake pan and baked.



This month's challenge gave me an opportunity to make swiss buttercreme for the very first time. I'd been a bit apprehensive about it before since it's more involved than traditional buttercream. For Swiss, egg whites are whipped in the bowl of a stand mixer just to the point before soft peaks begin to form. The bowl is then set on top of a saucepan containing boiling water (taking care so that the bowl does not touch the water), sugar is added and using an electric hand mixer the egg whites are whipped to the consistency of thick whipped marshmallows and a temp of about 120F. The bowl is removed from the heat and the whipped egg white / sugar mixture is slowly added to previously creamed butter along with vanilla extract and Grand Marnier for orange flavor. I gotta keep it real and be honest here so I'll tell ya the end result is so amazing that after tasting a more than generous amount for "quality control" purposes, my knees buckled, the earth moved and I needed a cigarette ;-) I will definitely make swiss buttercreme again and again and again. The method used in this recipe worked out beautifully!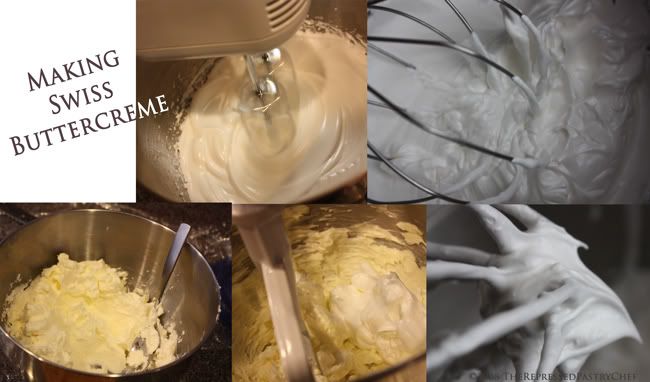 To make the praline paste slowly melt sugar in a heavy skillet until it turns a golden caramel color, add toasted hazelnuts, stir until the nuts are all coated, turn it out onto parchment paper and allow it to harden into a brittle. Then break up the pieces of brittle and pulse them in the food processor... I had to add a few teaspoons of water but it became praline paste!



I reserved some of the buttercreme to use for decorating the finished cake. The remainder of it was combined with the praline paste to become praline buttercreme which was used between the layers of the gateau.



Additional elements in this cake include an orange-flavored simple syrup (made with Grand Marnier), an apricot glaze and chocolate ganache (which I made using a combination of Ghirardelli bittersweet and semi-sweet chocolate)



Once you've gotten all the various parts made, it's time to assemble the cake :) The gateau is sliced into three layers; each layer is brushed with the tasty orange-flavored simple syrup... the bottom two layers are smothered in delicious praline buttercreme, the stacked tower is covered in the apricot glaze... and then... the entire cake is bathed in a pourable chocolate ganache.



I used fresh oranges for decorating since both the buttercreme and simple syrup were orange flavored. Orange peel was curled around a straw to form curls (my wonderful DH did this part)... and orange slices were candied using the method described in this post here.



My biggest disappointment with the whole thing is that the candied orange slices didn't have the "wow" factor I had hoped. I think it's because they're placed on the chocolate ganache. Perhaps against a light color they'd have more of a visual impact. But that one thing has nothing at all to do with the recipe... just my choice of decorations. Other than that, I'm super pleased with this month's challenge and I learned new skills that I'll be able to use in other applications. My sister, who dislikes nuts of all kinds said the flavor of this cake was just great... my DH said it was fantastic and helped himself to more than his fair share. Not that I can say anything because I certainly consumed quite a bit of this cake myself :) The orange syrup kept everything very moist and all of the flavors came together in a wonderful symphony of amazing taste. A lot of work? Yes, I won't lie, it sure was quite labor intensive but this is something I never would have attempted had it not been for the Daring Bakers!



Thanks to this month's host Chris of Mele Cotte - you can find the full recipe on her site. Please be sure to check out how the other Daring Bakers interpreted this month's challenge.

Have a delicious day!