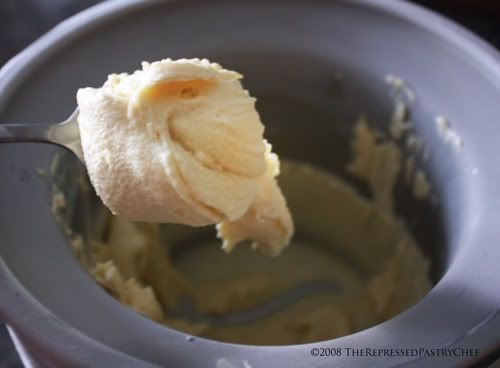 Okay I'll admit it... I have somewhat of a fascination with making ice cream lately. After getting the Ice Cream Maker attachment for my KitchenAid stand mixer, I've made lots and lots of ice cream. Plus it's summer and to me this is a season tailor made for ice cream :) And I'll also admit to having a rather insane crush on Alton Brown... the host of Food Network's Good Eats. When I came across AB's recipe for Vanilla Ice Cream well, come on, you know it simply was a MUST TRY.

This is decadent stuff. I'm talking straight out loaded with eggs, half-n-half and heavy cream. Since I'd never made a cooked custard ice cream with eggs, I decided to halve the written recipe. Just in case it really didn't work out I didn't want to waste a large amount of rather expensive ingredients.

Once you check out the recipe, you'll see it's somewhat labor intensive... and remember I'm laaaaaaaaazy... so this was quite a commitment for me ;-)

After cooking and chilling in the fridge overnight, it was time to let my ice cream maker work its magic. Usually it takes about 25-35 minutes before it's completed enough for ice cream to be transferred to the freezer. Not so with this recipe. After only about 10-12 minutes AB's Vanilla Ice Cream was done... done to the point of serious soft serve. And the taste was so good I immediately regretted not making the full recipe... I mean, I had trouble getting it to a container because I kept doing "quality control taste tests" baaaaaaaaahahahahah!

The taste was simply amazing. So rich... so creamy... so smooooooth. Really it's more than ice cream... if you ask me, this is frozen vanilla custard!!! This is not one I'd make for the kids since they really wouldn't appreciate all the goodness it contains. They prefer the quick stuff with just milk, cream, sugar and "stuff"... and truth-be-told that's A-OK by me since those are easier and far less expensive :)

I decided such a fantastic vanilla ice cream was worthy of being the centerpiece of a hot fudge sundae - complete with rainbow sprinkles and a maraschino cherry.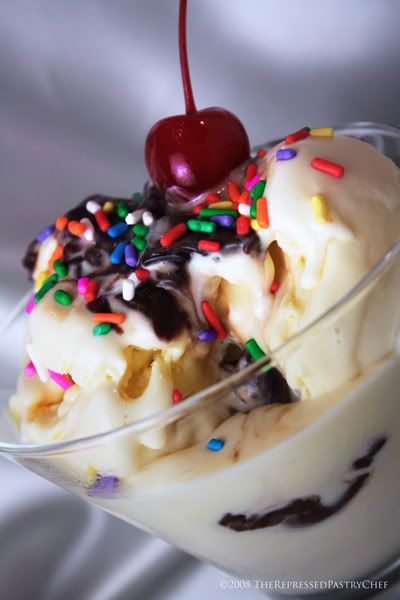 Frozen Vanilla Custard
(Alton Brown's Vanilla Ice Cream)

Ingredients
3 cups half-and-half
1 cup heavy cream
8 large egg yolks
9 ounces vanilla sugar
2 teaspoons pure vanilla extract

Directions
Place the half-and-half and the heavy cream into a medium saucepan, over medium heat. Bring the mixture just to a simmer, stirring occasionally, and remove from the heat.
In a medium mixing bowl whisk the egg yolks until they lighten in color. Gradually add the sugar and whisk to combine. Temper the cream mixture into the eggs and sugar by gradually adding small amounts, until about a third of the cream mixture has been added. Pour in the remainder and return the entire mixture to the saucepan and place over low heat. Continue to cook, stirring frequently, until the mixture thickens slightly and coats the back of a spoon and reaches 170 to 175 degrees F. Pour the mixture into a container and allow to sit at room temperature for 30 minutes. Stir in the vanilla extract. Place the mixture into the refrigerator and once it is cool enough not to form condensation on the lid, cover and store for 4 to 8 hours or until the temperature reaches 40 degrees F or below.

Pour into an ice cream maker and process according to the manufacturer's directions. This should take approximately 25 to 35 minutes. Serve as is for soft serve or freeze for another 3 to 4 hours to allow the ice cream to harden.

Have a delicious day :)