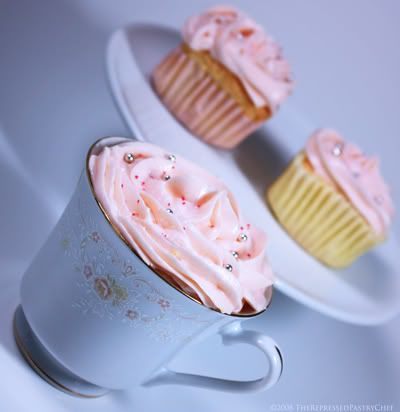 Recently I was browsing thru Sur la Table and came across Rose extract. Intriguing. On our honeymoon we frequented a nice champagne bar that served Rose Champagne. Not rosé champagne... but rose. Pretty much just a nice champagne poured over a pink rose petal... and a bit of rose syrup added in. The rose was delicate but distinct and to this day, DH remembers it well. So when I came across the small bottle of rose extract, I figured I had to buy it and see what I could come up with. Hmmm... could I find the right balance? Just the right item to showcase this wonderful extract. I mean, too much of it and it's like eating grandma's hand-soap... blecccch! But just the right amount? Ohhhh so lovely. DH's daughter absent-mindedly grabbed one of these chiffon tea-cakes w/rose buttercream icing and asked "what kind of frosting is this - I think it's the best ever". Coming from a mood-swingy 15 year old, that's quite a statement! LOL

The chiffon cake part is simply my boyfriend's recipe for Chiffon Cupcakes which I baked in a square shape using this pan here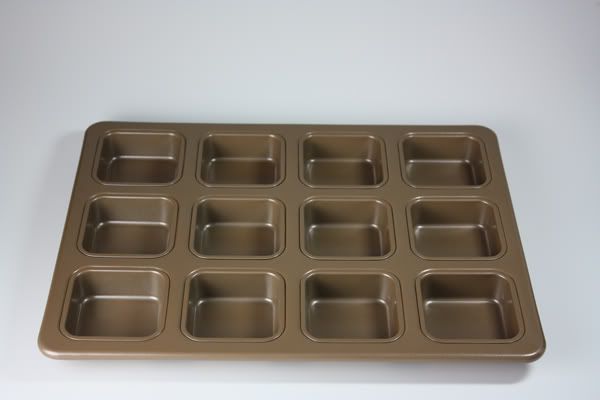 which I used for these lovelies, too. The method for making chiffon cake calls for separated eggs... the yolks blended in the batter and the whites whipped to stiff peaks then gently folded in. This makes for a very light cake with a distinct crumb.

In his recipe, my boyfriend (uhm... that's Alton Brown, btw) mentions baking these cakes in ovenproof coffee mugs. Cute idea... but our coffee mugs are functional (read: unattractive). Instead I reached into the china cabinet and pulled out these cute little tea-cups from a china set I've had since I stashed it away in my closet as a googly-eyed teenager dreaming of marrying prince charming (which I did btw... I married the nerdy-boy who lived across the street growing up... he's my prince charming... a total hack just like my boyfriend Alton Brown... yup... I have a thing for the nerdy-boys! LOL).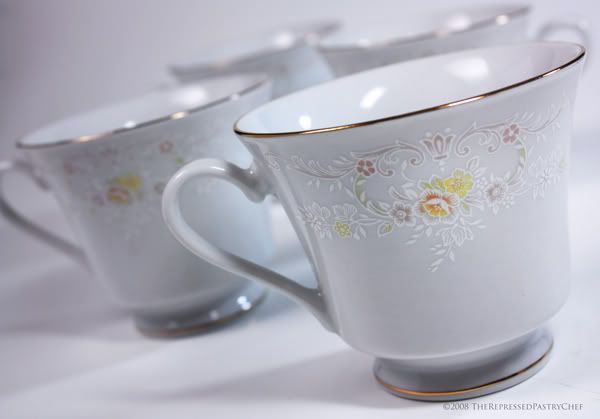 Were my tea-cups "ovenproof"? Heck I had no idea I just threw caution to the wind, loaded them with batter and baked 'em in the oven. Came out pretty good too :)

For the rose buttercream icing, I wanted something silky smooth... something creamy... something unforgettably dreamy. While the base recipe is not available online this fantastic gem of a frosting recipe came from my boyfriend's episode "Honey I Shrunk The Cake" which can be viewed here on YouTube (I tried imbedding a launchable link to it... didn't work so the clickable link is the best I can do... hey... come on... no hating... cut a girl some slack... I tried... I did! I did!). Quite arguably it's among the top two buttercream icing recipes I've ever tried. Fantastically good.  And with the addition of the rose extract, it beautifully complements the chiffon tea-cakes. (btw, click here for my #1 hands-down favorite buttercream icing)

Rose Buttercream Icing
Adapted from Alton Brown's Buttercream

Ingredients
6 oz butter (at room temperature)
2 oz shortening (at room temperature)
1 egg (room temperature)
16oz confectioner's sugar
3/4 tsp vanilla extract
1/4 tsp rose extract



Directions


Using a hand mixer (or in the bowl of a stand mixer) on high speed, combine butter & shortening until well blended.
Mix in the egg until well combined - about 2 minutes.
With the mixer on low begin to add the sugar in small amounts ensuring each addition is well blended before adding the next.
After the sugar is fully incorporated, add the vanilla and rose extracts.
Blend well on medium-high speed for 2-3 minutes until the frosting is light and fluffy.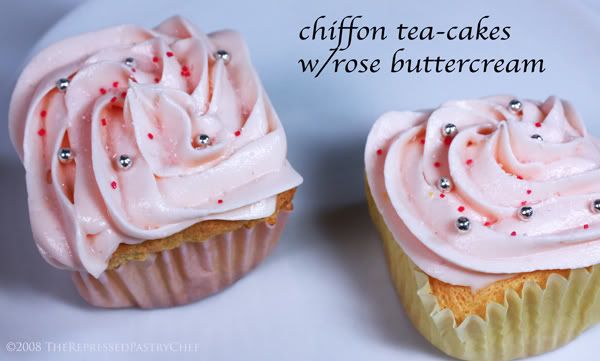 Have a delicious day :)