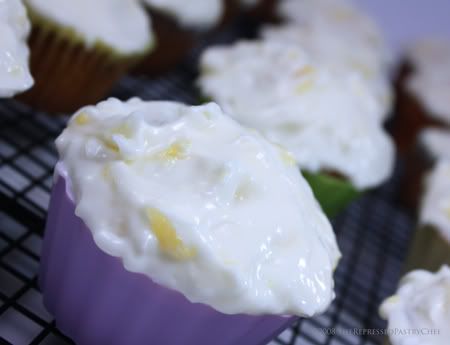 Ever since I went to Hawaii in March, I've been on a serious pineapple & coconut kick. DH has always always ALWAYS loved pineapple while I've thought it to be "fine". But something happened on vacation and I been eating pineapple like it was goin-out-of-style. Since that time we've consumed no less than 3 whole pineapples each week. I've found lots of ways to incorporate pineapple in some way in our meals and in my baking... and this coconut cupcake with pineapple cream cheese frosting is simply out of this world!

Recently, my baking buddy Jamie over at My Baking Addiction posted what she believed to be the best cupcakes she'd ever tasted. Well, that's quite a statement coming from another baker... so of course I had to try these out for myself. She made certain adjustments and then I made certain adjustments but the basic recipe is Ina Garten's coconut cupcakes. I used no almond extract at all... just coconut extract in the cake batter and fresh pineapple juice (along with freshly cut pineapple pieces) in the icing. The fresh fruit definitely impacts the "set" on the icing... even though it's still pretty thick, that comes from the fruit chunks, it's certainly not for piping. But that's okay, not every icing needs to be piped :) This one would be fantastic as a layer cake filling - in fact I'll probably try that at some point!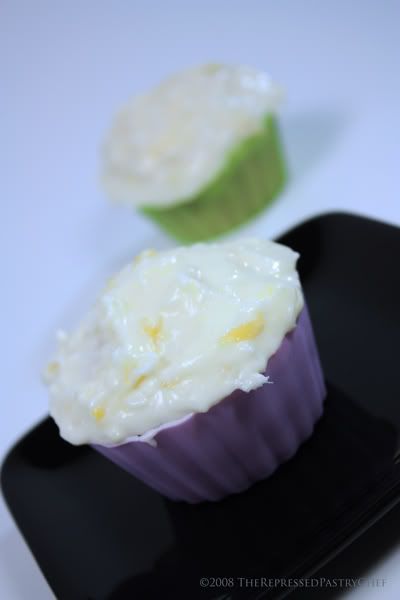 I sent Jamie an email earlier today telling her just how addictive these cupcakes are. They're fantastic... just fantastic. And personally I think it was all in the pineapple ;-)

Have a delicious day!