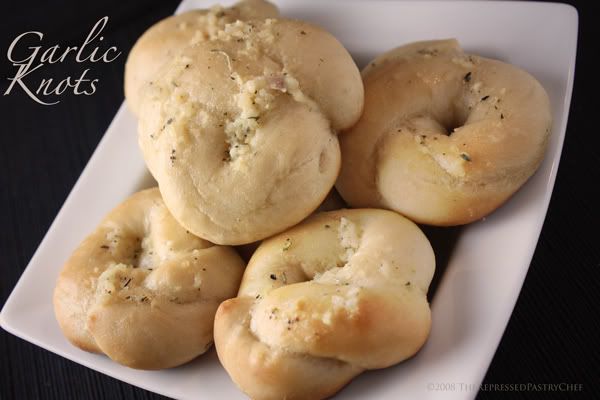 Hmmm... two bread-product entries in a row. Wonder if I'm trying to detox a bit from all the sugar-based items I made In July ;-) Don't get me wrong... my love of the sugar food group is unwavering. In fact, just yesterday I was at a fabulous little restaurant for a meeting and enjoyed the most decadently delicious slice of lemon cake. When I got home I told DH that we *must* go there together since it's hard to savor food when it's being consumed in a business meeting. Okay, at least for me it is - I mean having to think and talk and be witty, charming, professional, engaging... AND enjoy my food? Way too much going on - almost like brain overload! hahahaha. So for the moment I'm making breads... and these garlic knots are so good they need to land squarely at the top of your MUST MAKE THESE list.

These Garlic Knots may look really impressive... but they're not hard at all. In fact, most of the breads I make aren't hard since I don't have a whole lot of patience for all the resting and proofing and waiting that some breads call for. Always keep in mind that I'm definitely a lazy baker so very few things I blog about are uber-labor-intensive (Daring Baker recipes excluded of course! LOL).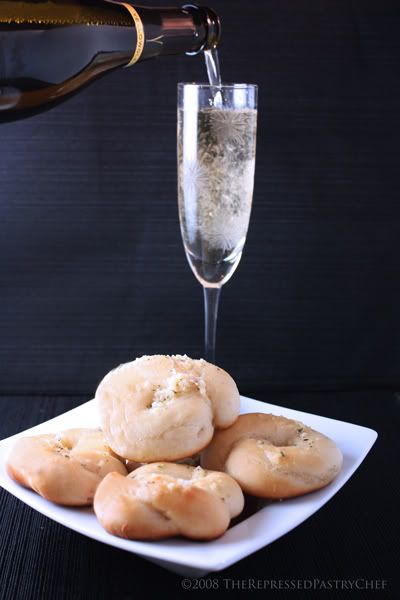 I found this recipe on the King Arthur Flour site and made some changes because, well, to be honest, I just didn't have all the ingredients. But they still came out incredibly good and my family devoured them in record time. It's Friday... time for the weekend... make these... and since there are no official holidays in August pour yourself a glass of bubbly... and make up your own reason to celebrate ;-)

Garlic Knots
Adapted from King Arthur Flour's Soft Garlic Knots

Ingredients

Dough

3 cups bread flour
1/4 cup milk
1 tablespoon sugar
2 teaspoons instant yeast
1 1/4 teaspoons salt
2 tablespoons olive oil
1 cup + 2 tablespoons lukewarm water

Glaze
2 to 4 cloves peeled, crushed garlic
2 tablespoons olive oil or garlic oil


In the bowl of a stand mixer combine the dry ingredients together then add the olive oil and water. Using the paddle attachment or dough hook, mix and knead to form a smooth, elastic dough, adding additional water or flour as needed. Transfer the dough to a lightly greased bowl, cover it, and allow it to rise for about 1 hour, until it's doubled in bulk.

Shaping: (click here to see the great pictorial of how to shape these) Divide the dough into 8 pieces, and roll each into a rope about 10 inches long; tie each rope into a knot. Place the knots on a lightly greased or parchment-lined baking sheet, cover, and let rise for 45 minutes to about an hour, until very puffy looking.

Glaze: Whisk together the garlic, oil and seasoning. Set it aside.

Baking: Bake the knots in a preheated 350°F oven for 15 to 18 minutes. They should be set, but only very lightly browned. Remove the knots from the oven, and brush or drizzle them with the seasoned oil. Eat the knots warm. Yield: 8 garlic knots.

Have a delicious day!