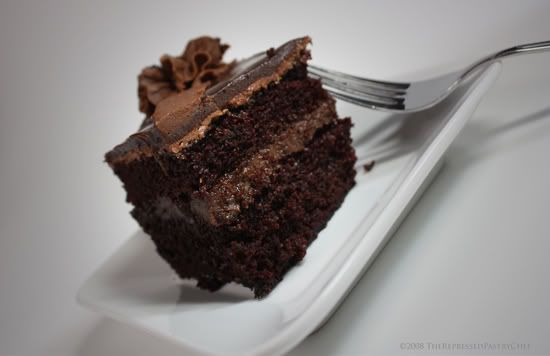 If you love cake... especially chocolate cake and truly think there's no such thing as too much chocolate well keep reading cuz I have a cake for you...

It all started with DS having a birthday this past week. Being a serious chocolate lover he requested a chocolate cake. That's all he cared about... that it was chocolate. But not just a regular chocolate cake. Oh no. He asked if I'd please make his cake and only use chocolate because that is his favorite.

I came up with an idea: a chocolate cake with chocolate pudding between the layers, chocolate buttercream frosting on the top layer, then bathed in chocolate ganache and decorated in more chocolate buttercream. Wow - that's mega-chocolate-overload in my book... but he LOVED IT and everyone else raved about it too. My mother raved. My mother-in-law raved. Friends, neighbors, my hair dresser and both presidential candidates all raved about this cake. Okay, so I'm fibbing about the presidential candidates but I betcha if they tasted it they would! I even got one comment that this cake would be a sure-fired cure for PMS ;-)

Honestly - the concept just came to me and it was a snap to carry out.

The chocolate cake? I used the recipe on the back of the Hershey's Cocoa Powder box.
The chocolate pudding? I used a milk chocolate version of Dorie's chocolate pudding which has been posted here
The chocolate buttercream? I used a milk chocolate version of the chocolate buttercream I posted about here
The chocolate ganache? I used the recipe posted here

Bake it. Slice it. Fill it. Frost it. Bathe it. Decorate it. See there... not very hard at all :) You can do it - I know you can. I've given you the recipes... and the techniques are straight forward and found throughout my blog. Go for it. Who knows, the presidential candidates might rave about your cake too =)

Have a delicious day!