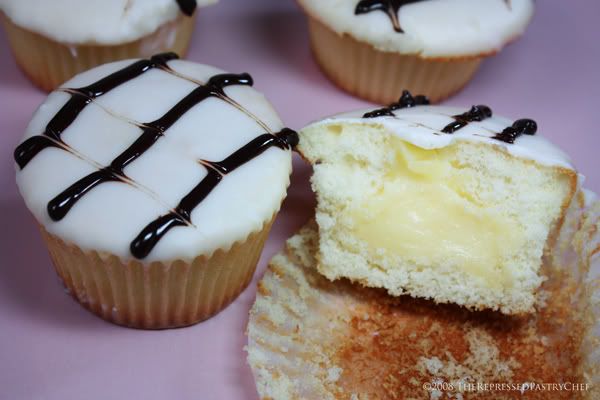 If you are a fan of cookbooks and haven't checked out the list of what's on my shelf (located in the right-hand sidebar) you might want to take a peek. I love cookbooks and this year have added more than I think previously ever even looked at! LOL! One of my latest additions is Baking At Home With The Culinary Institute of America... and slowly but surely it's becoming absolutely one of my favorites.

I was at Barnes & Noble one evening and had already picked up two or three other cooking/baking books when this one caught my eye. It's "coffee-table book" size and has gorgeous photos (oooooh ya know how good food photos just get me all drooly! LOL). A couple of the really nice things are the fact that it's a great mix of instructional/technique-based and recipes... and ... it lays flat when you open it (a really great feature for when you're laying it on a work surface or standing it up in a book holder)


In the book there's this beautiful photo of a finished cake. It's simple. It's elegant. It's stunning. I had to make it. Had to. But I'm not all into making full sized layer cakes, especially when it comes to an untested recipe... my preference is cupcakes. So the recipe for the Yellow Butter Cake was halved and the result was without a doubt the most amazing "plain" cake I've ever tasted. Ever. Ever in my whole life. And I'm not some teeny-bopper here. And I've consumed vast quantities MORE than my fair share of cake over the years! LOL. So believing this Yellow Butter Cake is the best "plain" cake I've ever tasted is saying a lot. A whole lot! It was so good that I consumed half a dozen cupcakes without frosting! Okay okay... they were 5 mini cupcakes and 1 regular sized so please don't think I ate six big ol honkin cupcakes! LOL But... I COULD HAVE! hahahah

After proclaiming these cupcakes to be "amazingly perfect" I thought they should be the cornerstone of something special.... hmmmm.... but what?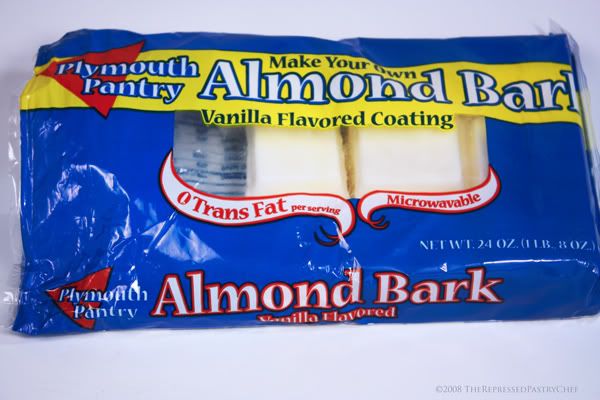 Well, In checking out Tastespotting the other day someone had posted Napoleon Cupcakes and they looked so pretty. Among my favorite pastries/desserts is the classic Napoleon. Decadent amounts of delicious pastry cream between layers of delicate phyllo topped with a vanilla glaze and those cute little chocolate designs. It's my idea of a heavenly food product! I just knew my "amazingly perfect yellow butter cake" cupcakes would be perfect for this! I'd previously made the pastry cream from this fantastic CIA book and knew it was a definite winner that would complement the butter cake nicely. For "frosting" I used some melted (and thinned) vanilla coating that I use for making peppermint bark. And the cute little lines are just some melted chocolate :) The cake and pastry cream are made ahead of time and cooled before "assembly" takes place.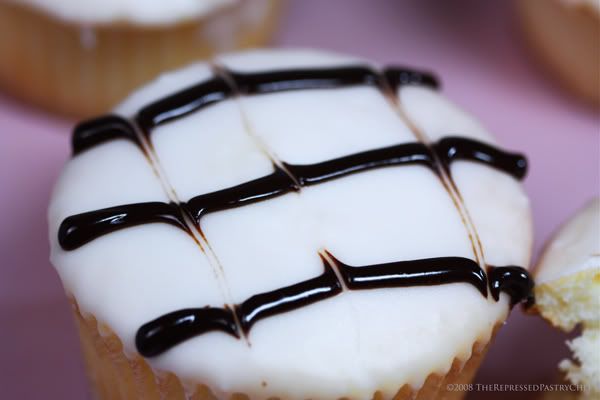 Really, you can use any recipe you like for pastry cream - tons are available to you. Heck, use vanilla pudding if ya like!! You can also use any cake recipe you like for the cupcakes. Have a favorite poured fondant or vanilla coating? Go for it. I'm sharing this recipe for the cake because I personally find it to be a knockout that I think everyone should have in their baking repertoire. After the cupcakes are baked and cooled... and the pastry cream is made and chilled... just load a pastry bag fitted with your choice of tip and poke it into the cupcake and fill it with the cream. If you fill the cupcake with an excessive amount of cream, it will start to back up out of the top of the cupcake... uhm... not that this happened to me or anything ;-) After your vanilla glaze is melted and at the consistency you wish, just take ahold of the cupcake and dip it in upside down. Let some of it drip off into the bowl before turning it right side up... otherwise it will just dribble down the sides of your cupcake wrapper. Once the top is "set" (and I stuck them in the freezer so they'd set more quickly... I'm impatient! LOL) take your melted chocolate and pipe three lines of it on each cupcake... drag a toothpick thru a total of three times. The first time in one direction, next in the opposite direction, and the third one in the same direction as the first one. That creates the signature "napoleon brackets" :)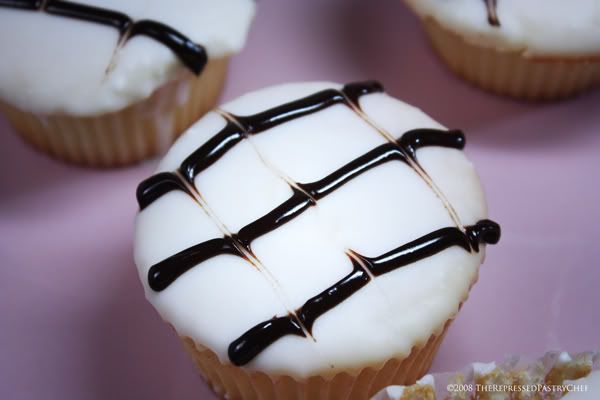 Yellow Butter Cake
Baking at Home with The Culinary Institute of America
makes two 8" layers

Ingredients
3 ½ c cake flour
2 c sugar
1 Tbsp baking powder
½ tsp salt
1 c (2 sticks) butter, unsalted, diced, at room temperature
1 c whole or low-fat milk (divided use)
4 large eggs
2 large egg whites
2 tsp vanilla extract

Method
Preheat the oven to 350F. Coat two 8" cake pans lightly with cooking spray

Sift the flour, sugar, baking powder and salt into the bowl of a stand mixer fitted with the whisk attachment or a large mixing bowl. Add the butter and ½ cup of the milk. Mix on medium speed until smooth, about 4 minutes, scraping down the bowl with a rubber spatula as needed.

In a separate bowl, blend the eggs, egg whites, the remaining ½ cup milk and the vanilla extract. Add to the batter in 3 additions, mixing for 2 minutes on medium speed after each addition. Scrape down the bowl between additions.

Divide the batter evenly between the two pans. Bake until the layers spring back when touched lightly in the center, 35-40 minutes.

Remove the layers from the oven and cool completely in their pans on wire racks. Release the sides and bottom of the layers from the pans with a narrow metal spatula or a table knife before unmolding and finishing with fillings and icings.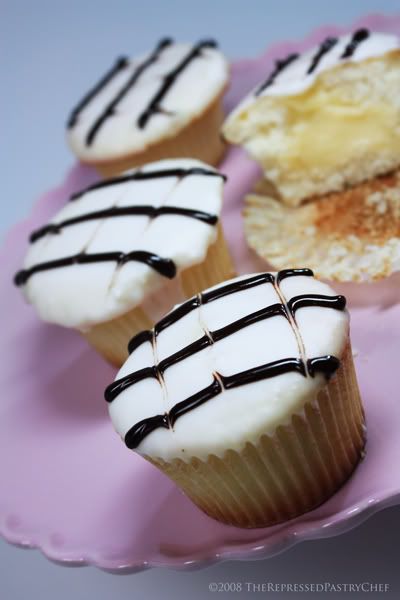 Okay so if Napoleon Cupcakes don't float your boat, at least make the cake. Really. It's the best "plain" cake I've ever had. It's a holiday weekend so that means you've got plenty of extra time on your hands. Go ahead... make the butter cake. You'll be glad you did.

Have a delicious day :)