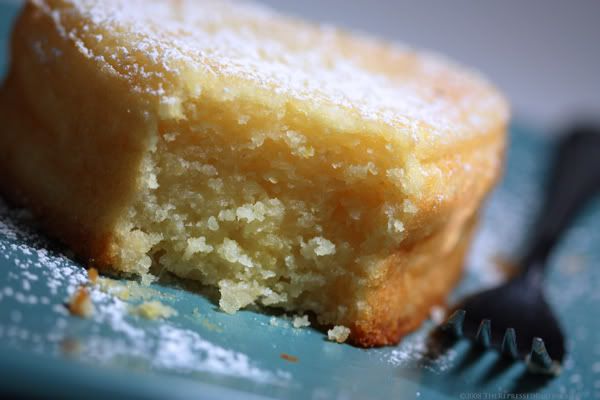 I've never tried any of Nigella Lawson's recipes... and I'm not quite sure why. But I've seen a few pictures of this cake... and Lord knows I love lemon desserts... so I thought I'd give this particular recipe a try.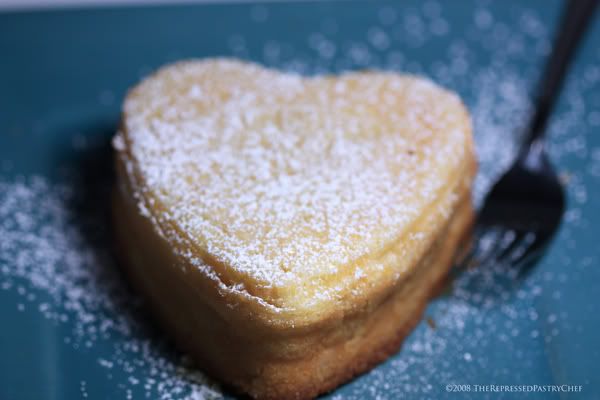 Nigella's Damp Lemon -&- Almond Cake

Ingredients
1 cup butter

3/4 cup sugar
4 large eggs
1/3 cup cake and pastry flour
1 1/3 cups ground almonds
1 tsp almond extract
zest and juice of two lemons

Directions
Preheat the oven to 350F; line the bottom of one 8" (or four 4") springform pan with parchment paper (I didn't use parchment, I just lightly sprayed the 4" springform pans with baking spray)

Cream together the butter and the sugar until almost white. Beat in the eggs, one at a time, adding a quarter of the flour after each addition. When all the eggs and flour have been incorporated, gently stir in the ground almonds, then the almond extract, lemon zest and juice. Pour the mixture into the prepared cake pan and bake for about 1 hour, checking after 50 minutes - you may have to cover the cake loosely with foil after 30 minutes so the top won't burn. (I made these in 4" springform pans and total baking time was 35-40 minutes)
The cake is ready when the top is firm and a skewer comes out clean when inserted in the center of the cake. Don't overbake the cake or it won't be damp.
Remove the cake from the oven and let it stand for 5 minutes in the pan; then turn out onto a wire rack and leave till cool.
Dust with confectioners' sugar before serving.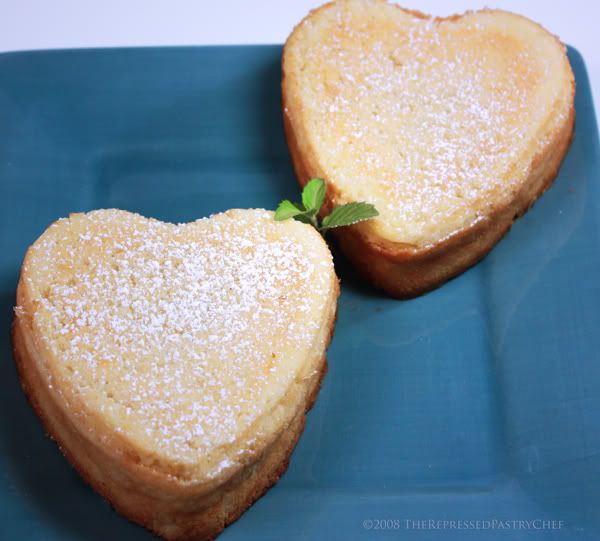 For me, this just didn't hit the spot. Not enough lemon flavor... and I guess I didn't grind my almonds finely enough because the texture was just too nutty for me. But... on the other hand, my DH dislikes lemon, loves almond and he really liked this cake. Not sure that I'd make it again since there are so many other lemon cakes which really turn me on. If I were to try it again, I'd dramatically increase the lemon... and grind those almonds to powder - LOL!

Have a delicious day :)