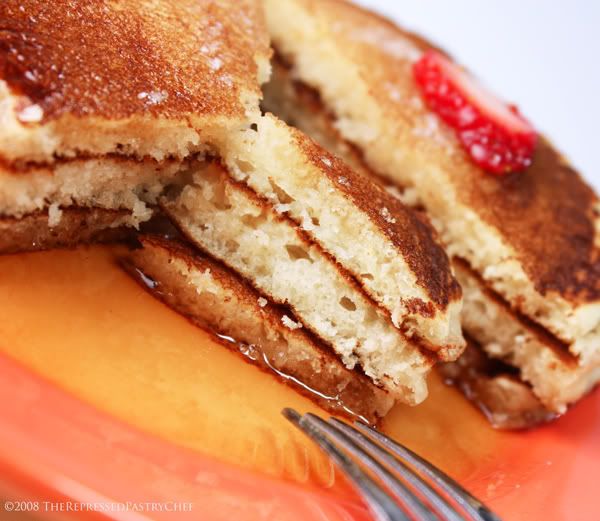 Pancakes are among my all-time favorite foods. Morning? Night? Doesn't matter. I just love pancakes. For me it's a real treat going out for breakfast or Sunday brunch and enjoying really good, well made, tasty, flavorful pancakes. But until recently, I didn't enjoy making them because they just never came out "right". Late last month I spent a weekend trying various recipes and finally... FINALLY... I found a clear-cut winner... one that beat the rest and exceeded my high expectations :)

I admit it, I'm a pancake snob. My family doesn't share my devotion... my love... my craving for pancakes. That's okay, I say, more for me!! And OMG when I have pancakes they require a boatload of maple syrup... and preferable a few slices of crispy bacon or a couple of sausage links... or patties. I'm easy ;-) In all honesty, for some reason I'm not a fan of maple flavor... but... when it's on pancakes (or waffles), I'm all over it. Go figure.

In my private "weekend pancake cook-off" I tested recipes from Mark Bitman, CIA, Betty Crocker, various internet sites, family recipes... and found my absolute favorite was from my old standby Joy of Cooking. I want a pancake that has some flavor to it - a pancake that's light and fluffy - one that's simple, basic, not fussy and doesn't require a dozen prep steps and hours of time. Some recipes I tried had no flavor. Some had no rise. But the Joy of Cooking recipe was a clear winner and it's the one I've added to my recipe file.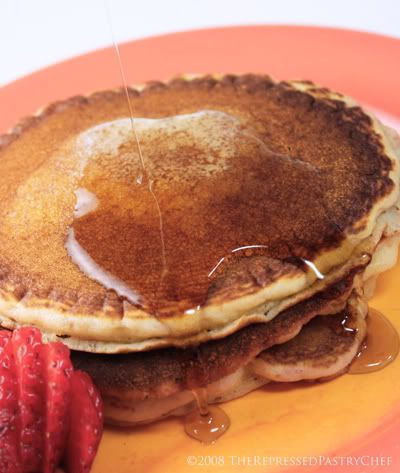 Buttermilk Pancakes
Joy of Cooking

Dry Ingredients
1 1/2 cups all purpose flour
3 tablespoons sugar
1 teaspoon baking powder
1/2 teaspoon baking soda
1 teaspoon salt

Wet Ingredients
1 1/2 cups buttermilk
3 tablespoons butter, melted
2 eggs
1/2 teaspoon vanilla extract

Directions
Whisk the dry ingredients together in a large bowl. In another bowl, combine the wet ingredients. Mix the wet ingredients quickly into the dry ingredients. Don't overbeat. Give just enough quick strokes with a whisk to barely moisten the dry ingredients. Ignore small lumps. Cook on hot griddle and serve immediately.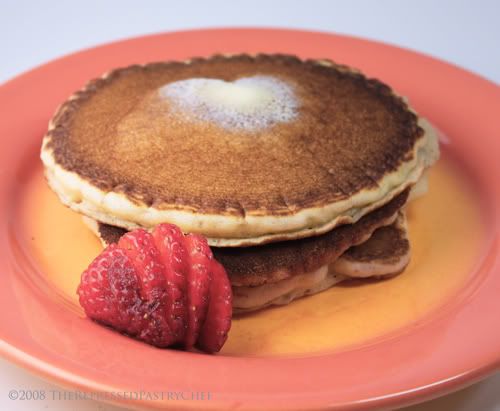 If you're looking for a good, basic, easy to make buttermilk pancake recipe, try this one. I think you'll be glad you did.

Have a delicious day! :)