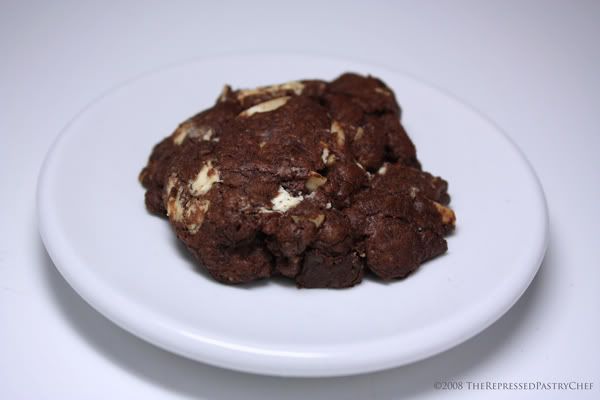 Yes it's Tuesday and time again for another Dorie Greenspan recipe. This week it's "Chocolate Chunkers"... and if you ever thought there's no such thing as "too much chocolate", well, check it out cuz **this** is a cookie for you!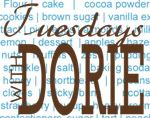 This week's host of TwD is Claudia over at Fool for Food and she chose Dorie's Chocolate Chunkers. Dorie may call these cookies but there's more "stuff" than "dough". The hubs said these had more of a uber-fudgy brownie texture than anything... and seeing as how they're totally packed with an assortment of chocolates, that makes absolute sense. Let's see... it's got bittersweet chocolate... semisweet chocolate... white chocolate... unsweetened chocolate... cocoa powder. Holy chocolate overload Batman - - - this is a true chocoholic's cookie-dream come true!

The recipe also calls for raisins (which I left out) and nuts (I used almonds). I made a half batch and still got 19 cookies about 2 1/2" in diameter and they're so rich that one or two is more than enough. Hey, what am I saying... if you're a serious chocoholic, one or two would never be enough! LOL. Unbaked, the cookies are Ah-MAYYYYY-Zing - that's for sure. And while they will come in dead last when competing for the title "Most Photogenic Cookie", you should definitely make them if you're looking for something that is sinfully, richly, decadently chocolate.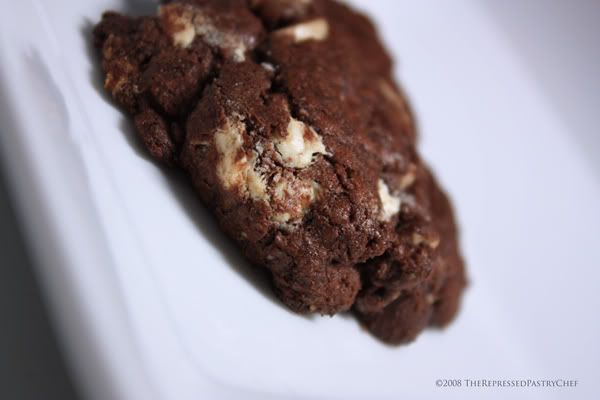 Chocolate Chunkers
from Dorie Greenspan's book Baking From My Home To Yours

1/3 cup all purpose flour
¼ cup unsweetened cocoa powder
½ tsp. salt
¼ tsp. baking powder
3 tablespoon unsalted butter – cut into three pieces
6 oz. bittersweet chocolate, coarsely chopped
2 large eggs, at room temperature
2/3 cup sugar
1 tsp. pure vanilla extract
6 oz. semisweet chocolate, chopped into chunks or 1 cup chocolate chips
6 oz. milk or white chocolate, chopped or 1 cup chocolate chips
1 ½ coarsely chopped nuts ( I used pecans)
1 cup moist, plump raisins (dark or golden) or finely chopped, moist, plump dried apricots

Center a rack in the oven and preheat oven to 350 degrees F. Line 2 baking sheets with parchment paper or silicon mats.

Sift together flour, cocoa, salt and baking powder.

Set a heatproof bowl over a saucepan of simmering water. Add the butter, bittersweet chocolate and unsweetened chocolate and heat stirring occasionally, just until melted-the chocolate and butter should be smooth and shiny, but not so hot that the butter separates. Remove the bowl from the heat and set on the counter to cool.

Beat eggs and sugar on medium high speed for about two minutes until they are pale and foamy. Add vanilla and scrape down bowl. Reduce mixer to low speed and add melted chocolate, mixing only until incorporated. Add dry ingredients until they disappear into the dough, which will be thick, smooth and shiny.

Scrape down the bowl and mix in the semisweet and white or milk chocolate chunks (or chips), nuts, and raisins. Drop dough by heaping tablespoons leaving about an inch of space between mounds of dough. Bake one sheet at a time for 10-12 minutes. The tops of the cookies will look a little dry, but the interiors should still be soft


You can check out the rest of the TwD members by clicking here.

Have a delicious day :)