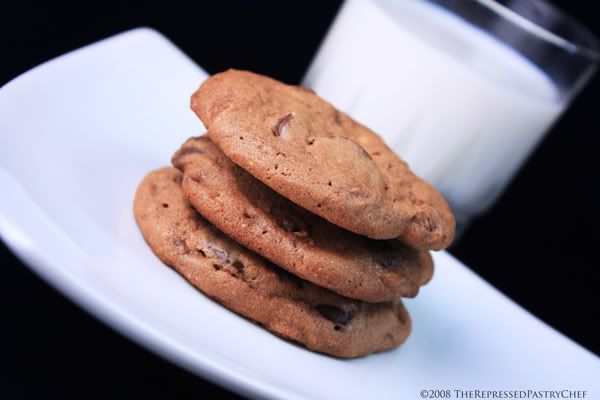 It's Tuesday and once again I'm baking up a Dorie Greenspan recipe. This week is another cookie - this time it's chocolate-y goodness... with a twist!

This week's TwD host was Rachel of Confessions of a Tangerine Tart and what an interesting cookie she chose. Among the ingredients are malted milk powder and Whoppers Malted Milk Balls.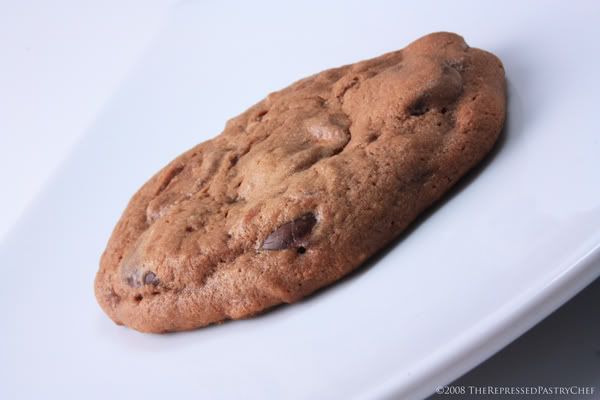 Several people indicated they had trouble finding the malted milk powder but I found it in the grocery store in the section with hot cocoa and chocolate milk. It comes in both vanilla and chocolate but I bought vanilla figuring the cookie recipe itself had plenty of chocolate from the chocolate chips, cocoa powder and malted milk balls candy. It didn't seem to me I needed to use chocolate malted milk powder for *more* chocolate flavor.

The cookies were not difficult to make at all... the most time consuming part was cutting the whoppers in half. Sure, I coulda just run them thru the food processor or bashed them with a rolling pin but I wanted my cookies to have some height... some texture... so I cut each little malted milk ball in half hoping it would help. Oh, I should mention that once again instead of all butter I used half butter and half butter-flavor-crisco to equal the amount of butter called for in the recipe.
Hey, I hate FCS (flat cookie syndrome) so I used my half -n- half method to avoid it and once again it seemed to work beautifully as my cookies weren't flat :) I think they tasted better the second day but I still wouldn't say I'm a "fan" of these. The Hubs liked them but didn't like how the malted milk balls (Whoppers) turned into "toffee" consistency. And I have to agree with that. I don't care for candy that sticks in my teeth and when the Whoppers are baked in this cookie, they turn all sticky chewy (not to be confused with ooey gooey which I don't a'tall ;-) My good friend Rich (aka "Mr. Crankypants") remarked they were "interesting" which, to me, is a very non-committal remark! LOL Overall I don't think this is a cookie I'd make again... unlike last week's Chunky Peanut Butter Oatmeal Chocolate Chipsters. I'm still getting requests to make those cookies again... soon!!




But if you're looking for a chocolate chip cookie that's just a little bit out of the ordinary but still mainstream, give these a try. And take a moment to check out the other TwD bakers this week and take a look at their Chocolate Whopper Malted Drop cookies. If you're looking for the recipe check Rachel's blog Confessions of a Tangerine Tart.

Have a delicious day!