It's nearing the end of the month which means it's time to reveal the Daring Bakers Challenge. This month I stepped completely outside of my usual world of cookies, cakes and all things sweet and back into the realm of breads and yeast. The challenge for September was to make these crispy, crunchy, tasty Armenian-style crackers. Savory or sweet, these crackers are quite the versatile treat!

The hosts for September were Natalie and Shel and they chose a gluten-free recipe... with options for non gluten-free. I chose to go the gluten route :) Making the dough is not difficult at all... flour, salt, yeast, sugar, vegetable oil and water - mix it up, roll it out and let it bake. You can make these in the afternoon to go with your favorite dip or spread that night.




The trick to getting crackers instead of flatbread is to roll out the dough thin... very thin... very very *very* thin... to the point where you can almost read the newspaper through it ;-) Without a doubt the hardest part for me was getting the toppings to stick. The recipe instructed us to mist the rolled-out dough with a bit of water before applying the spices/seeds/etc... and advised that a little seasoning goes a long way. I regret that I didn't use more because I would have liked a more intense flavor. No problem, it's a lesson-learned for next time :)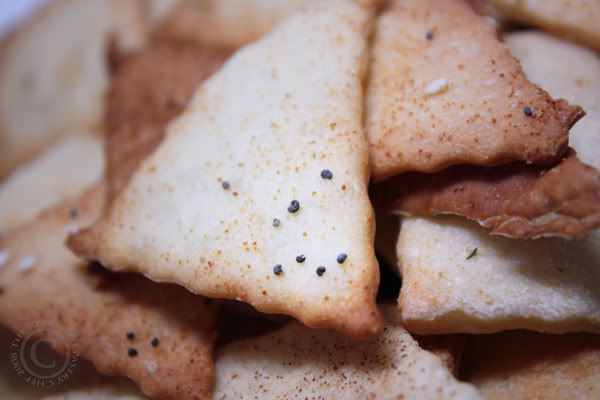 I made a single sheet-pan and used four different kinds of flavorings...
onion
garlic, sesame -&-poppy seed
rosemary, paprika, black pepper, oregano
cinnamon sugar

As for toppings... to be honest, dips and spreads don't go over well in our household but I still came up with something extremely tasty...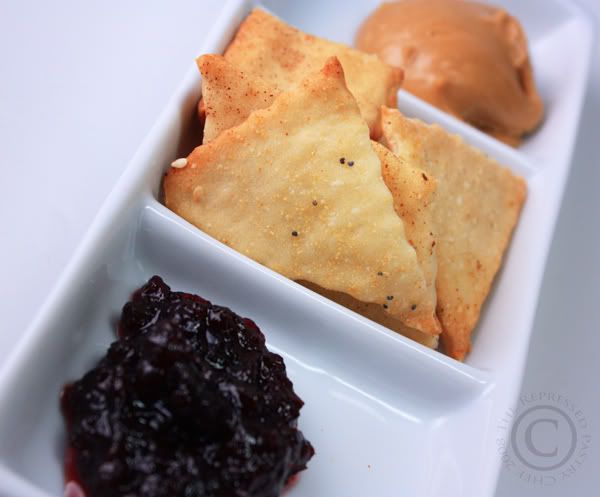 Yup... that's right... peanut butter and jelly... cranberry-spice jelly to be more precise :)




Say whatcha want, but pb&j on these crackers is M'mmm M'mmm Good!!




Please drop by and visit the other daring bakers and see how they did with this month's challenge as well. I'm sure they made some fabulous combinations!!! If you'd like the recipe, visit the site of either of our hosts Natalie and Shel

Have a delicious day :)