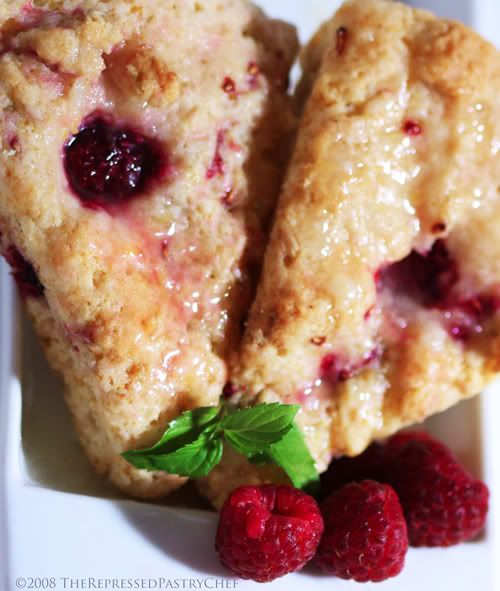 Sadly, the end of the summer fruit season is approaching. But it's not done yet!!! These lemon-glazed raspberry scones come together quickly and are sure to be a crowd pleaser.

If you ask me, raspberries have been really expensive this summer. Though that hasn't stopped me from buying a couple of pints every few weeks or so. With the exception of the seeds, I love everything about red raspberries. I've never tried black raspberries... do you think they're similar enough that I'd like them too? Maybe I'll have to buy a pint today and see :)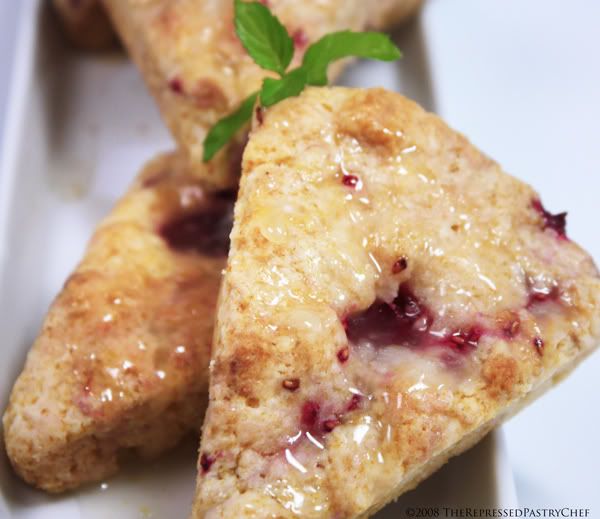 To make these lemon glazed raspberry scones I adapted a Tyler Florence recipe for blueberry scones. I love blueberry scones but didn't have any fresh blueberries on hand... just a bag of frozen Trader Joe's Wild Blueberries. I did have fresh raspberries so that's what I used. Other than that the recipe is the same and can be found here.

In general, I love scones. I mean, I've got seriously mad love for them. I think this is my fourth blog posting with a scone recipe. If you're interested click here to see all of them. I even have a cast iron pan specifically for making scones although it can be used for making cornbread too... and I do :) In this recipe, the tartness of the lemon glaze is nicely balanced by the sweetness of the raspberries. When I made it, I halved everything and still I think there was way waaaaaaaaay too much glaze. Too bad I didn't have something else already made that I could use it on because the glaze is good and tart... just the way I like it. I didn't use the quantity of berries the recipe indicated... I just added in a small handful. Feel free to adjust to your liking. I did... and I loved them!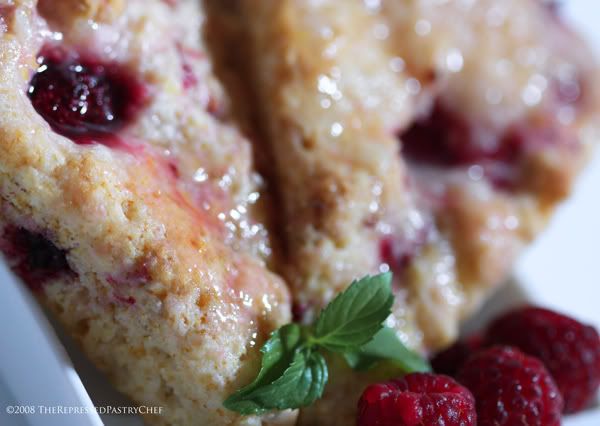 Have a delicious day!