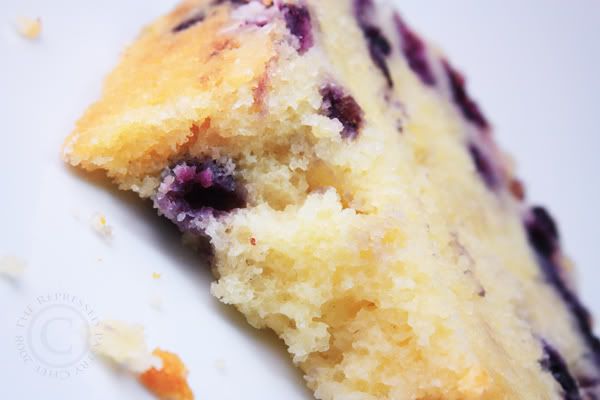 Until recently, wild blueberries weren't even on my radar. I thought there was only one kind of blueberry - silly me. A few months ago I made my first blueberry pie and just to be different I decided to make it with wild blueberries. Completely different experience - different size and different taste. The other day I promised my coworkers something with lemon since I've been baking a lot of chocolate things lately. I decided on a lemon blueberry cake... but... along the way something happened... things just didn't turn out as planned... and I ended up with a Wild Blueberry Cake (albeit with a Lemon Glaze!).


I wanted something lemony.... really, reeeeeeeeeeally lemony. I've had a certain recipe saved for quite a while now but just haven't made it. I tend to shy away from new recipes that gobble up a lot of ingredients - - - say 4 sticks of butter... 6 eggs.... 4 cups of flour... 3 cups of sugar. Whew, that is a significant quantity of staples if you ask me! LOL! And what if the recipe stinks, even though it's well rated? I'd be really unhappy to "waste" ingredients that way. But I decided to take a chance and make the recipe.... and....

... and I was not pleased. The original recipe is for a Blueberry-Lemon Pound Cake and I followed the recipe exactly as written with the exception of adding more lemon extract, more lemon zest and fresh lemon juice. Remember I wanted something really lemony :)

The cake took about 30 minutes longer to bake than the recipe indicated - that's 50% longer and to me a substantial difference in time! I used the precise type and size of pan indicated - but it overflowed :( It's called a "pound cake" but the texture was off for me... definitely heavier than a regular cake but not dense enough for what I expect in a true Pound Cake. And the lemon taste I so wanted was definitely present in the batter but pretty much missing altogether once baked. I ended up making almost a full cup of lemon glaze to give it something of a lemon flavor. I was completely and totally 100% underwhelmed. I was ready to toss the cake in the bin... but...

... but I had promised my co-workers and I did not want to disappoint. So I took it to work... and it was devoured with high praises and many many thanks. Go figure! Maybe it was the awesome lemon glaze I added that saved it because without that, the cake definitely underwhelmed me. But since it was such a big hit at work, I'm sharing the recipe here... with the modifications that I made. Maybe my expectations were too high, after all, my co-workers really liked it :)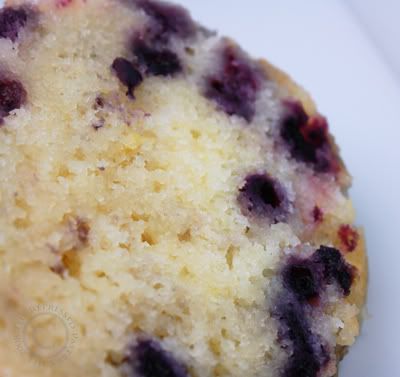 Wild Blueberry Cake with Lemon Glaze

Ingredients
4 sticks of butter (2 cups) at room temperature
3 cups granulated sugar
1 cup milk at room tempterature
6 eggs
1 tablespoon lemon extract
1 tablespoon baking powder
4 cups all purpose flour
zest of one whole lemon
1/2 cup fresh lemon juice - divided use
1/2 cup powdered sugar
2 cups wild blueberries - fresh or frozen

Directions
Preheat oven to 350F

Prepare a 10" Bundt pan with baking spray.

In a large bowl, combine flour and baking powder - set aside.

Using a stand mixer fitted with paddle attachment, cream butter and granulated sugar for about 2-3 minutes until light and fluffy. Add the eggs, one at a time, making sure each one is fully incorporated before adding the next. After all the eggs are in, add the lemon extract, lemon zest and 1/4c of lemon juice and combine well. Add the flour mixture in three parts, alternating with the milk in two parts - begin and end with the flour mixture. Don't overmix, just ensure all ingredients are well incorporated. Using a rubber spatula, fold in the blueberries. The batter will be quite thick, spoon into the prepared pan.

Bake for 1 hour then check for doneness - you will probably need an additional 30 minutes of baking time (at least I sure did). Bake until a cake tester or long thin knife inserted into the center comes out clean. Cool in pan for 15 minutes, then invert onto a wire rack to cool completely.

For the glaze, mix the remaining 1/4 cup lemon juice and the powdered sugar and drizzle over warm cake for maximum flavor.


Have a delicious day!!