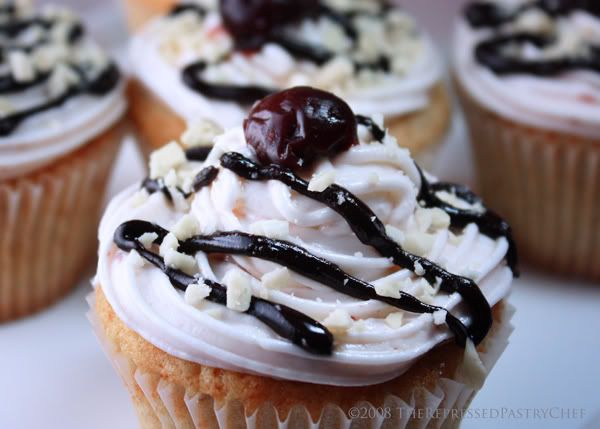 I made these cupcakes a few weeks back. They're extremely tasty... especially if you're a fan of almond since the cherry adds a nice variation. I never quite got around to posting them perhaps because I thought the pictures really didn't turn out well. They're not hideous, but they're not "good". I was reading another baking/food blog the other day and she posted something she didn't feel was gorgeously photographed but shared it anyway because the recipe was worth it. Well, that sums up my feelings today... the photography isn't stellar but the cupcakes are so tasty that I simply have to share!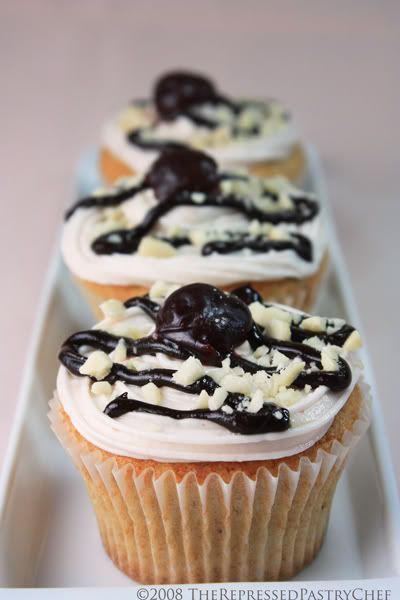 Cherry Almond Cupcakes

Ingredients
2 cups flour
2 teaspoons baking powder
3/4 teaspoon salt
1/4 cup unsalted butter at room temperature
1 cup + 2 tablespoons sugar
2 eggs, at room temperature
1 teaspoon vanilla extract
1/2 teaspoon almond extract
1/2 cup milk
20 fresh cherries, pitted and halved (divided use)


optional crushed almonds for garnish and melted chocolate for decorating


Directions
Preheat oven to 300F
Line 18 muffin tins with paper liners
Set aside 18 cherry halves

Sift together the flour, baking powder and salt and set aside
In the bowl of a stand mixer fitted with paddle attachment, combine butter and sugar and beat until fluffy (about 2 minutes). Add eggs and extracts, beating well after each addition. Add one-third of the dry ingredients, then half the milk; repeat and mix until well combined. Add in the remaining cherries that were not set aside and mix only until cherries are well distributed. Spoon batter into prepared muffin tins about 3/4 full. Bake for 15 minutes or until a toothpick inserted in the center comes out clean. Cool in tins for 10 minutes, then remove and let cool completely on a wire rack before frosting.

For the frosting make a half-batch of the buttercreme icing recipe found here and mix in a few fresh cherries (about a half-dozen to a dozen depending on personal preference), pitted and chopped very small (almost to the point of being mashed).

Once the cupcakes have been frosted, garnish each with a half-cherry, some crushed almonds and a drizzle of melted chocolate.

Enjoy!