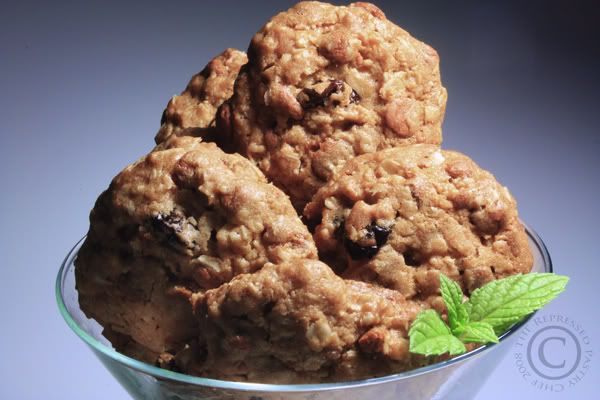 When I lived in the Washington DC area, my favorite breakfast on a cold winter morning was oatmeal. But it had to be a cold morning... it had to be a morning when I didn't have to rush off to work... and my oatmeal had to be full of brown sugar, cinnamon and raisins. Now I'm back in the suburbs of the Los Angeles area and here a "cold winter morning" is when the temperature is in the neighborhood of 60 degrees (hardly cold if you ask me! LOL). Since our weather doesn't afford me the chance to enjoy oatmeal very often I thought I'd transform that favorite breakfast into a cookie. Turns out, it's a very good cookie at that!!

We're undergoing a lot of, uhm, turmoil at work. Interesting choice of words since "turmoil" is an understatement. One of the most recent changes (and exceptionally minor in comparison to everything else) has been a completely new seating arrangement.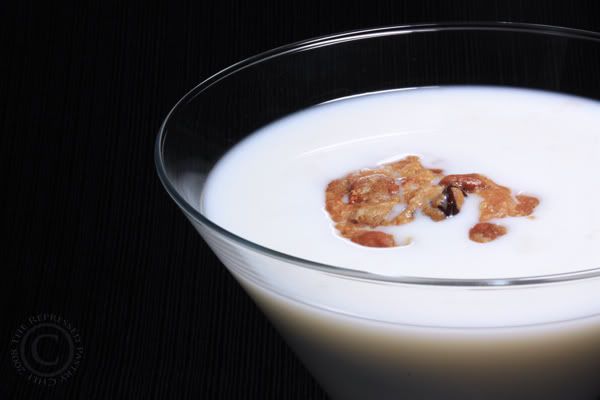 I spend my days in a cube farm and I used to have a great location, window view and all. But that all changed a couple of weeks ago and now I am so far removed from a window view that fire & brimstone could rain down from the sky and I'd never know it. Sad but true. One very nice thing about my new cube location is "the neighborhood"... the people there are very very nice and best of all they love to eat my baked goods :) YAY!!! Yesterday I brought them muffins (which I shall post about very soon... I promise) and they were a big hit. Today I'm bringing them cookies. I hope they like them - I know the hubs and I sure did :) :)





Cinnamon Raisin Oatmeal Cookies

Ingredients
1/4 cup butter, softened
1/2 cup butter flavored shortening
1/2 cup light brown sugar, packed
1 large egg
1 1/2 teaspoon vanilla extract
1 1/2 cups rolled oats
1 cup all-purpose flour
1/2 teaspoon baking soda
1/4 teaspoon salt
1/2 cup raisins
2 cups cinnamon baking chips

Directions
Preheat oven to 350 F.
Line cookie sheets with Sil-pat, silicone baking mat or parchment paper.
In the bowl of a stand mixer fitted with paddle attachment, cream the butter, shortening and brown sugar. Add the egg and vanilla then mix until ribbony smooth. Add in the flour, salt and baking soda - mix until thoroughly combined. Add the cinnamon baking chips and mix to combine. Stir in the rolled oats.

Roll tablespoon size mounds of dough into balls and place on prepared cookie sheet. Flatten slightly.
Bake for 14 minutes in the preheated oven.

Remove from oven and cool on pan for 3-5 minutes then remove to wire rack and cool completely.

Enjoy!