Now that I'm sitting among really nice "neighbors" at work, I've been re-invigorated in my baking. Last weekend I bought a couple of bananas with the intention of making banana muffins. They were barely ripened when I bought them... still just a tinge of green... but I figured a few days at home and they'd start getting brown soon enough. Well, in the process of waiting, The Hubs got rather impatient and asked if I'd please make them "soon". I had intended on making chocolate chip muffins that night but ended up with these instead ;-) Since even the smell of coffee does a number on my stomach... and I'm allergic to bananas... and I'm not a big fan of chocolate.... well, this was a great muffin to make because it held absolutely no temptation for me! LOL!! Apparently the same can't be said for those who ate them because they were gobbled up with glee and I got tons of praise from loads of smiling faces :)

If you're into baking and have a Cost Plus World Market store near you, I recommend checking them out. They have all sorts of interesting things you won't find in the regular grocery store. For example... Lyle's Golden Syrup. I've read about this but never found it in the grocery store but at CPWM one night, they had it so I grabbed a jar and ran off like a thief in the night! Okay, so that's a little exaggerated... but that jar is now mine after a stop at the check out counter of course ;-) I can't remember why I wanted it so badly but I'm sure it was in a recipe or two that I came across and wanted to try. Trouble is, now that I have it, I can't recall what the recipes are or where I found them :( Hey, if you've got some recipes that include Lyle's Golden Syrup, help a blogger out and leave a comment for me will ya? Thanks! LOL

Recently on a trip to CPWM, I came across a big bag of E.Guittard Cappuccino baking chips. I'm not one who can resist baking chips, especially those that are slightly out of the ordinary so of course I bought them (having absolutely NO idea of when or how I'd use them LOL!). So as the Chocolate Chip muffins I had wanted to make suddenly included bananas at the request of DH I decided to throw caution to the wind and incorporate his next suggestion of a coffee-flavored base... and since those cappuccino baking chips were staring at me rather forlornly from the pantry, yeah, I threw those in too! LOL! DH loved the batter, I mean, he licked the paddle clean and then started in on cleaning the bowl... with his fingers!!! Wow - that's saying something because he rarely cares for that, usually preferring to wait for the finished product.

After it was all baked, he proclaimed this muffin to be so good and so delicious in flavor that he would actually BUY it in a store. O-M-G! I won't say he's cheap because he's definitely not, but the times when he will spend money on something like that which he considers to be absolutely unnecessary and "foo-foo" are ridiculously few and far between. He'd rather save the moolah and buy something at ManLand (aka Home Depot for those who don't know! LOL!!). So, for my wonderful husband to say he'd actually spend money and buy these muffins at a retail location can only mean one thing.... YOU GOTTA MAKE 'EM!!!

I suspect they're best eaten warm when the chocolate chips are all melty and gooey but those who have eaten them say they're just plain good - warm or at room temperature. Eh, go figure. And if you don't happen to have cappuccino baking chips, no worry, you can always omit them. It's all good :)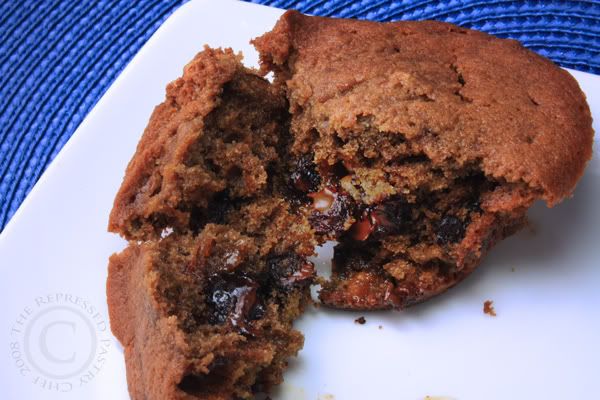 Mocha Cappuccino Chocolate Chip Banana Muffins

Ingredients
1 cup butter
1 1/4 cups granulated sugar
1 egg
2 bananas
2 tablespoons instant coffee dissolved in 1/2c warm (not hot) water
1 teaspoon vanilla extract
3 all-purpose flour
1/4 teaspoon salt
1 1/2 teaspoon baking powder
1 1/2 teaspoon baking soda
1 cup semisweet chocolate chips
1 cup cappuccino baking chips

Method
Preheat oven to 350 F
Spray muffin tins with baking spray.
In the bowl of a stand mixer with paddle attachment, combine butter and sugar until light and fluffy. Add the egg and combine well. Add the banana and combine well. With the mixer on low speed, slowly add the dissolved coffee, then the vanilla and combine well. Add flour, salt, baking powder and soda and mix just until combined. Add chocolate chips and the cappuccino chips and mix to incorporate. Fill muffin tins 2/3 full and bake for about 20 minutes or until a toothpick inserted in the center contains moist crumbs. Do not overbake. Cool in pan 5 minutes then remove to wire rack to cool completely.

Have a delicious day!